Cultural Arts > Museums


More Museums Listings... | Submit Listing Changes/Additions | Send this link to a friend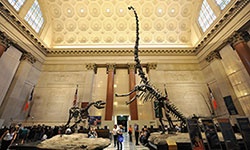 200 Central Park West

212-769-5100
www.amnh.org
A museum for the 21st century, with a rich and storied past. It is one of the greatest natural history museums in the world, with over 40 exhibition halls. Highlights include the Rose Center for Earth and Space featuring the most technologically advanced Space Show in the world, the dinosaur halls, the Akeley Hall of African Mammals, and the acclaimed Hall of Biodiversity. Open daily.
Upcoming Events at American Museum of Natural History:
Visit the Activity Planner for More Great Activities
CityGuideNY.com Articles About American Museum of Natural History:
Click Here for Money Saving New York City Offers!
Advertising | Add a Calendar Event | Bookmarks | Company News | Contact Us | Jobs @ City Guide
Suggest a Listing
For More Content Visit: Concierge Choice Awards | Promenade Magazine | NY Metro Parents Magazine
Bar Bat Mitzvah Book | NYC Activities | NYC Dining | NYC Discounts | NYC Events
NYC Museums | NYC Shopping | NYC Theater