Restaurants > Seafood


More Seafood Listings... | Submit Listing Changes/Additions | Send this link to a friend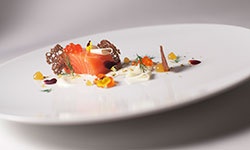 538 Madison Ave.

212-980-5908
caviarrusse.com
Caviar Russe offers the ultimate in top-tier dining and specialty-food shopping. Stop at the raw bar to taste a variety of caviars by the spoon, sit down in the dining room for an elegant lunch or dinner, and visit the boutique to pick out the perfect gift to bring your dinner party hosts.
Obviously, caviar is the star here and you will find varieties from around the world, from Caspian Sea Osetra to the North American Hackleback. The aforementioned Caspian Sea Osetra is the best seller at Caviar Russe, which serves as the largest caviar importer in the United States and is actively involved in efforts to preserve the endangered sturgeon and promote aquaculture alternatives.
Chef Christopher Agnew has created a $150 tasting menu that features caviar served with King Crab, followed by Hamachi, Sea Urchin Risotto, Rouget, Milk-Fed Veal, and a seasonal dessert. The menu is ever-changing; two current a la carte favorites are the Maine Lobster served with zucchini, basil, radicchio, and prosciutto and the Foie Gras Terrine with rhubarb, balsamic, and brioche.
If you prefer to spread a velvety foie gras on your morning brioche, visit the boutique with its array of specialty foods. If you need something for a party, artisanal smoked salmon and sturgeon are at your fingertips—you'll find everything you need from the caviar to the blini. And what nicer gift than an assortment of caviar, along with accompaniments and mother of pearl spoons, in a gift bag? Lunch and dinner Monday to Saturday, noon to 10pm; Sunday, noon to 4pm. – Marian Betancourt
Visit the Activity Planner for More Great Activities
CityGuideNY.com Articles About Caviar Russe:
Click Here for the New York City Activity Planner!
Advertising | Add a Calendar Event | Bookmarks | Company News | Contact Us | Jobs @ City Guide
Suggest a Listing
For More Content Visit: Concierge Choice Awards | Promenade Magazine | NY Metro Parents Magazine
Bar Bat Mitzvah Book | NYC Activities | NYC Dining | NYC Discounts | NYC Events
NYC Museums | NYC Shopping | NYC Theater