Restaurants > Pizza


More Pizza Listings... | Submit Listing Changes/Additions | Send this link to a friend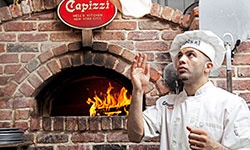 547 Ninth Ave.

212-695-6900
capizzinyc.com
Where an old-fashioned wood-burning oven cranks out some of the world's best-tasting pizza! Featuring whole roasted garlic, roasted red peppers, portobello mushrooms & many other toppings to die for! Also offering salads and antipasti. They shop the world to bring you the best, regardless of price. Mon.-Thurs., 11:30am-midnight; Fri. & Sat. til 1am; Sun., noon-10pm.
Related Links:
Capizzi Pizzeria & Wine Bar review (Review) Visit the Activity Planner for More Great Activities

CityGuideNY.com Articles About Capizzi Pizzeria & Wine Bar:
Click Here to Purchase Tickets to NYC Shows & Attractions!
Advertising | Add a Calendar Event | Bookmarks | Company News | Contact Us | Jobs @ City Guide
Suggest a Listing
For More Content Visit: Concierge Choice Awards | Promenade Magazine | NY Metro Parents Magazine
Bar Bat Mitzvah Book | NYC Activities | NYC Dining | NYC Discounts | NYC Events
NYC Museums | NYC Shopping | NYC Theater