Sightseeing > Attractions


More Attractions Listings... | Submit Listing Changes/Additions | Send this link to a friend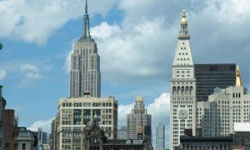 350 Fifth Ave.

212-736-3100
www.esbnyc.com
One of the magnificent seven wonders of the modern world offers a romantic nightcap and an opportunity to watch the stars come out over the greatest city in the world.
Whether you're Sleepless in Seattle or having An Affair to Remember, the 86th Floor Observatory is one of the most romantic spots in all of NYC. $27 adult; $24 seniors (62+); $21 youth (6-12); children 5 and under are free. Open daily 8am-2am; last elevator at 1:15am.
Related Links:

Visit the Activity Planner for More Great Activities
CityGuideNY.com Articles About Empire State Building:
Click Here for the New York City Activity Planner!
Advertising | Add a Calendar Event | Bookmarks | Company News | Contact Us | Jobs @ City Guide
Suggest a Listing
For More Content Visit: Concierge Choice Awards | Promenade Magazine | NY Metro Parents Magazine
Bar Bat Mitzvah Book | NYC Activities | NYC Dining | NYC Discounts | NYC Events
NYC Museums | NYC Shopping | NYC Theater