Theater > Broadway


More Broadway Listings... | Submit Listing Changes/Additions | Send this link to a friend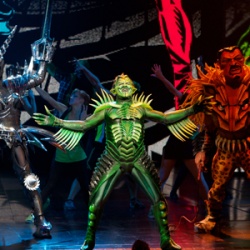 213 W. 42nd St.

877-250-2929
spidermanonbroadway.marvel.com
(2 hrs., 45 mins.) A new take on the mythic tale of Peter Parker, a teenager whose unremarkable life is turned upside-down -- literally -- when he's bitten by a genetically-altered spider. Bullied by classmates and tortured by a crush on Mary Jane, he discovers he has suddenly been endowed with astonishing powers. Featuring music and lyrics by Bono and The Edge of U2. Tues.-Thurs., 7:30; Fri. & Sat., 8; Wed., 1:30; Sat., 2; Sun., 3.
Visit the Activity Planner for More Great Activities
CityGuideNY.com Articles About Spider-Man, Turn Off the Dark:
Click Here for the New York City Activity Planner!
Advertising | Add a Calendar Event | Bookmarks | Company News | Contact Us | Jobs @ City Guide
Suggest a Listing
For More Content Visit: Concierge Choice Awards | Promenade Magazine | NY Metro Parents Magazine
Bar Bat Mitzvah Book | NYC Activities | NYC Dining | NYC Discounts | NYC Events
NYC Museums | NYC Shopping | NYC Theater