Sightseeing > Tours


More Tours Listings... | Submit Listing Changes/Additions | Send this link to a friend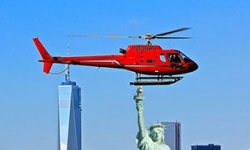 Pier 6

212-967-6464
www.libertyhelicopterstours.com
Coupon (click here): 15% off select tours

For a once-in-a-lifetime experience, take a Liberty Helicopter sightseeing tour of New York City. There are 4 spectacular tours to choose from catering to every budget and each offering a different route. See famous NYC landmarks from a unique point of view! Private charter also available. Downtown at Pier 6 & the East River (open 365 days a year from 9am-5pm). For reservations call 800-542-9933 or 212-967-6464 or visit libertyhelicopter.com.
SAVE 15% OFF TOURS WITH CODE CGNY15. Click here to purchase.
Related Links:

Visit the Activity Planner for More Great Activities
CityGuideNY.com Articles About Liberty Helicopter Tours:
Click Here for the New York City Activity Planner!
Advertising | Add a Calendar Event | Bookmarks | Company News | Contact Us | Jobs @ City Guide
Suggest a Listing
For More Content Visit: Concierge Choice Awards | Promenade Magazine | NY Metro Parents Magazine
Bar Bat Mitzvah Book | NYC Activities | NYC Dining | NYC Discounts | NYC Events
NYC Museums | NYC Shopping | NYC Theater