Sightseeing > Attractions


More Attractions Listings... | Submit Listing Changes/Additions | Send this link to a friend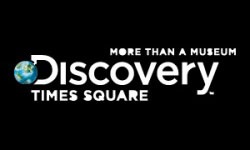 226 W. 44th St.

866-987-9692
www.discoverytsx.com
Discovery Times Square (DTS) is New York City's first large-scale exhibition center presenting visitors with limited-run, educational and immersive exhibit experiences while exploring the world's defining cultures, art, history and events. More than a museum, DTS has featured a renowned line-up of exhibitions including Titanic: The Artifact Exhibition, Leonardo da Vinci's Workshop, King Tut: Tutankhamun and the Golden Age of the Pharaohs, Pompeii The Exhibit, Dead Sea Scolls, Harry Potter the Exhibition and CSI: The Experience.
Upcoming Events at Discovery Times Square:
Visit the Activity Planner for More Great Activities
CityGuideNY.com Articles About Discovery Times Square:
Click Here for the New York City Activity Planner!
Advertising | Add a Calendar Event | Bookmarks | Company News | Contact Us | Jobs @ City Guide
Suggest a Listing
For More Content Visit: Concierge Choice Awards | Promenade Magazine | NY Metro Parents Magazine
Bar Bat Mitzvah Book | NYC Activities | NYC Dining | NYC Discounts | NYC Events
NYC Museums | NYC Shopping | NYC Theater