Restaurants > Steakhouse/Seafood


More Steakhouse/Seafood Listings... | Submit Listing Changes/Additions | Send this link to a friend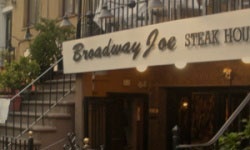 313 W. 46th St.

212-246-6513
larivistanyc.com
The best beef, steak, pasta, and seafood in town. 20% discount on food and beverages. Open 7 days a week for lunch, dinner, and late night dining. Theatre groups, private parties from 10 to 75 budgeted. Celebrity & sports hangout. 50 years in Broadway's Theatre District. Children?s menu available. Open 11am-midnight. All cards.
Visit the Activity Planner for More Great Activities
CityGuideNY.com Articles About La Rivista featuring Broadway Joe Steak:
Click Here for the New York City Activity Planner!
Advertising | Add a Calendar Event | Bookmarks | Company News | Contact Us | Jobs @ City Guide
Suggest a Listing
For More Content Visit: Concierge Choice Awards | Promenade Magazine | NY Metro Parents Magazine
Bar Bat Mitzvah Book | NYC Activities | NYC Dining | NYC Discounts | NYC Events
NYC Museums | NYC Shopping | NYC Theater