Theater > Broadway


More Broadway Listings... | Submit Listing Changes/Additions | Send this link to a friend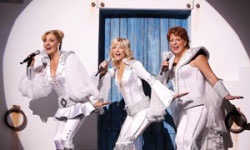 Broadhurst Theatre, 235 W. 44th St.

212-563-5544
mammamianorthamerica.com
Set on a mythical Greek isle, this long-running Broadway musical incorporates 22 of ABBA's greatest hits into a story about a daughter's quest to discover which of three men from her former girl-group mother's past is her father. The fact that the search takes place on the verge of her wedding day — and much to her mom's surprise — only adds to the wildly witty fun. Call or visit website for scheduled performances.
Related Links:

Visit the Activity Planner for More Great Activities
CityGuideNY.com Articles About Mamma Mia!:
Click Here for Money Saving New York City Offers!
Advertising | Add a Calendar Event | Bookmarks | Company News | Contact Us | Jobs @ City Guide
Suggest a Listing
For More Content Visit: Concierge Choice Awards | Promenade Magazine | NY Metro Parents Magazine
Bar Bat Mitzvah Book | NYC Activities | NYC Dining | NYC Discounts | NYC Events
NYC Museums | NYC Shopping | NYC Theater