Restaurants > Thai


More Thai Listings... | Submit Listing Changes/Additions | Send this link to a friend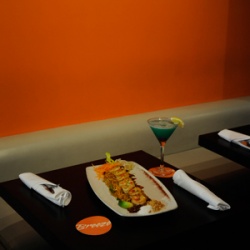 661 Ninth Ave.

212-262-7777
www.breezenyc.com
Breeze brings "fantasy" to Thai food by combining it with a touch of French richness, offering a fresh, unique take on one of the zestiest cuisines in the world. Served in a hypnotic environment with dancing silhouettes created by candlelight, an artsy decor, and soothing music, the tantalizing food has been praised by The New York Times (best appetizer: Wild Mushroom Dumplings), Grub Hub (most craved entree: Pad Thai), Time Out NY, Newsday, City Guide, HX, Next, Talkin'. Open daily, lunch & dinner. All cards.
Visit the Activity Planner for More Great Activities
CityGuideNY.com Articles About Breeze:
Click Here for Money Saving New York City Offers!
Advertising | Add a Calendar Event | Bookmarks | Company News | Contact Us | Jobs @ City Guide
Suggest a Listing
For More Content Visit: Concierge Choice Awards | Promenade Magazine | NY Metro Parents Magazine
Bar Bat Mitzvah Book | NYC Activities | NYC Dining | NYC Discounts | NYC Events
NYC Museums | NYC Shopping | NYC Theater