Restaurants > Japanese


More Japanese Listings... | Submit Listing Changes/Additions | Send this link to a friend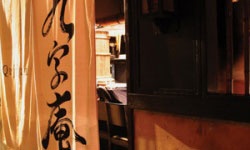 25 Hudson St.

212-274-8500
www.ninjanewyork.com
The recreation of a hidden 18th-century Japanese ninja village. A one-of-a-kind, very entertaining dining experience combined with spectacular high-end contemporary Japanese cuisine. Dishes are created by very experienced Japanese chefs and served by a ninja staff. Mon.-Thurs., 5:45-11pm; Fri. & Sat., 5-11pm; Sun., 5-10pm. All cards.
Related Links:
Ninja New York review (Review) Visit the Activity Planner for More Great Activities

CityGuideNY.com Articles About Ninja New York:
Click Here for the New York City Activity Planner!
Advertising | Add a Calendar Event | Bookmarks | Company News | Contact Us | Jobs @ City Guide
Suggest a Listing
For More Content Visit: Concierge Choice Awards | Promenade Magazine | NY Metro Parents Magazine
Bar Bat Mitzvah Book | NYC Activities | NYC Dining | NYC Discounts | NYC Events
NYC Museums | NYC Shopping | NYC Theater