Shopping > Toys


More Toys Listings... | Submit Listing Changes/Additions | Send this link to a friend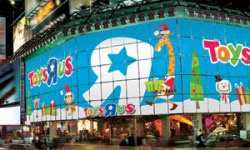 1514 Broadway

1-800-869-7787
toysrustimessquare.com
The Center of the Toy Universe! The 110,000-square-foot toy store features a 60-foot indoor Ferris Wheel, a 4,000-square-foot Barbie dollhouse, a 20-foot animatronic T-Rex dinosaur & much more! This huge toy emporium is guaranteed to delight visitors with an unrivaled shopping experience, an unbelievable array of toys, the best in customer service & one of the most amazing retail presentations in the world. Regular store hours: Mon.-Sat., 10A-10P; Sun., 11A-8P.
Visit the Activity Planner for More Great Activities
CityGuideNY.com Articles About Toys R Us Times Square:
Click Here to Purchase Tickets to NYC Shows & Attractions!
Advertising | Add a Calendar Event | Bookmarks | Company News | Contact Us | Jobs @ City Guide
Suggest a Listing
For More Content Visit: Concierge Choice Awards | Promenade Magazine | NY Metro Parents Magazine
Bar Bat Mitzvah Book | NYC Activities | NYC Dining | NYC Discounts | NYC Events
NYC Museums | NYC Shopping | NYC Theater