Sightseeing > Attractions


More Attractions Listings... | Submit Listing Changes/Additions | Send this link to a friend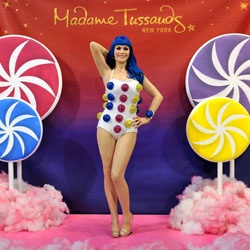 234 W. 42nd St.

1-866-841-3505
www.madametussauds.com/newyork
Come face to face with the newest additions to Madame Tussauds this fall! Katy Perry has arrived, portrayed from her sold-out California Dreams tour in 2011! In celebration of her first English album in six years, Celine Dion will also be on display this fall. Lastly, Samuel L. Jackson has been re-waxed as Nick Fury and will be joining the Marvel Experience at Madame Tussauds New York!
Madame Tussauds gives you the ultimate celebrity experience with over 85,000 square feet of interactive entertainment in the heart of Times Square. Get up close with over 220 shockingly lifelike wax figures of the biggest stars and icons in entertainment, sports and history. From Marilyn, to Madonna, to Gaga, there is a star for every generation.
There's more!! Marvel Entertainment's most iconic Super Heroes are featured in wax as part of Madame Tussauds' 4D Marvel Experience! Stand alongside The Hulk, Spider-Man, Iron Man, Captain America and Thor before beginning your 4D adventure with our ultra-sensory interactive super heroes film.
Related Links:

Visit the Activity Planner for More Great Activities
CityGuideNY.com Articles About Madame Tussauds New York:
Click Here for the New York City Activity Planner!
Advertising | Add a Calendar Event | Bookmarks | Company News | Contact Us | Jobs @ City Guide
Suggest a Listing
For More Content Visit: Concierge Choice Awards | Promenade Magazine | NY Metro Parents Magazine
Bar Bat Mitzvah Book | NYC Activities | NYC Dining | NYC Discounts | NYC Events
NYC Museums | NYC Shopping | NYC Theater