Cultural Arts > Museums


More Museums Listings... | Submit Listing Changes/Additions | Send this link to a friend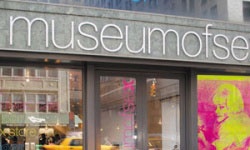 233 Fifth Ave.

212-689-6337
www.museumofsex.com
The most stimulating museum in New York. Current exhibitions include: a rare Milton Greene photographic essay of Linda Lovelace; The Sex Lives of Animals - Unusual and graphic. What they won't show on Animal Planet; Spotlight: Highlights from the Permanent Collection - Picasso, Haring, and so much more now on display in their newly renovated gallery. Present this to receive $4 off admission. Sun.-Thurs., 10am-8pm; Fri.-Sat., 10am-9pm. Adults: $17.50 + tax; seniors/students: $15.25 + tax.
Upcoming Events at Museum of Sex:
Visit the Activity Planner for More Great Activities
CityGuideNY.com Articles About Museum of Sex:
Click Here for Money Saving New York City Offers!
Advertising | Add a Calendar Event | Bookmarks | Company News | Contact Us | Jobs @ City Guide
Suggest a Listing
For More Content Visit: Concierge Choice Awards | Promenade Magazine | NY Metro Parents Magazine
Bar Bat Mitzvah Book | NYC Activities | NYC Dining | NYC Discounts | NYC Events
NYC Museums | NYC Shopping | NYC Theater