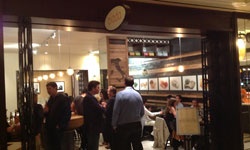 Conveniently located at the concourse level of the Plaza Hotel, Piada combines the classics of the Italian culinary tradition with a handpicked selection of wines and pre-dinner cocktails.
Piada's signature product is a warm flatbread sandwich stuffed with a variety of cured meats and cheeses and some vegetables.
At Piada, you can expect the warmest greetings and the best Italian recipes, like ricotta and spinach ravioli with tomato sauce or well-aged prosciutto di Parma with mozzarella di bufala...