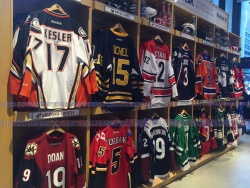 Inside Scoop: NHL Powered by Reebok NHL Store
Hockey fans and fanatics will enjoy spending some leisure time at NHL Powered by Reebok—the world's only NHL flagship store, located in the heart of Manhattan. This unique all-things-hockey retail and entertainment space brings the sport of hockey to life through its game-inspired architecture and incredible selection of gear.
The NHL's top talents make frequent exclusive visits to the shop, and the actual Stanley Cup trophy can be found touring through here as well. Another in-store attraction is the host of high-def projection screens and monitors, which display live in-game footage and NHL Network programming. There's also an on-air studio where NHL LIVE (weekdays, 5-7pm) and The NHL Hour with Commissioner Gary Bettman are broadcast.
Of course the vast selection of merchandise can't be beat! The mix includes customizable hockey jerseys, loads of fan apparel and footwear for all NHL teams, and interactive displays including the latest and greatest NHL video games.
While at the store, fans will also enjoy seeing larger-than-life graphics that highlight NHL players. For an extra shot of adrenaline, the retail space boasts the world's only NHL-themed Starbucks.
NHL Powered by Reebok Photos
NHL Powered by Reebok Videos
Video of Dwayne "The Rock" Johnson visiting the NHL Store.