NFL Experience Times Square
20 Times Sq. (Seventh Ave. at 47th St.)
212-216-0908
Inside Scoop: NFL Experience Times Square
NFL Experience Times Square takes visitors on a hero's journey from fan to player to champion 365 days a year. Highlights include:
• Step into "The Stadium" and transport yourself onto the playing field with "Gameday." This fully immersive, 4D film lets you experience all the hits, speed, snow, and wind of an NFL game, with exclusive content from NFL Films.
• Learn the strategy behind game-winning plays from a hologram of a great football mind. Prepare by studying the X's and O's, then huddle up in a VR experience to call the play, read the defense, and get the play off in time, all while the coach is yelling at you from the sidelines.
• Test your skills as an NFL quarterback by passing to your favorite receiver. Each football tracks your speed, accuracy, and completion percentage and compares it against your favorite QB.
• See yourself in the game—literally! NFL Experience's digital mirror lets fans "Suit Up" to go full motion on gameday in their favorite NFL team's uniform!
• Augmented reality cameras let guests experience a Super Bowl win through the eyes of a pro. You can get a photo with the Vince Lombardi Trophy, explore Super Bowl rings, take to the field to experience the glory of victory and even celebrate with your own Touchdown Dance!
NFL Experience is open daily from 9am to midnight. Find NFL Experience on Facebook, Twitter, Instagram, YouTube, and Snapchat.
NFL Experience Times Square Photos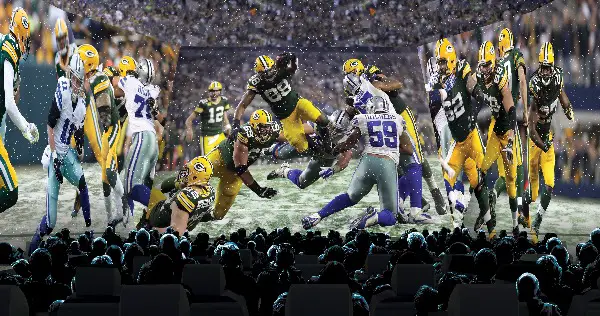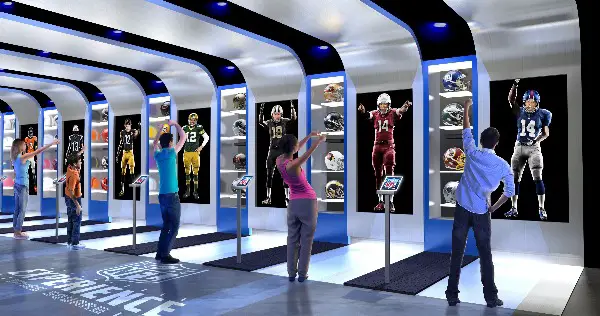 NFL Experience Times Square Preview Video
Looking for Group Tickets of 12 or More?
Got a group headed to New York? City Guide provides free expert planning assistance and buying services-just complete the quick form below.