Newsies
208 W. 41st St.
866-870-2717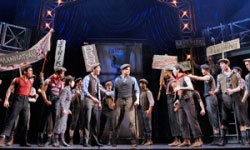 Set in New York City at the turn of the century, Newsies is the rousing tale of Jack Kelly, a charismatic newsboy and leader of a ragged band of teenaged 'newsies,' who dreams only of a better life far from the hardship of the streets. But when publishing titans Joseph Pulitzer and William Randolph Hearst raise distribution prices at the newsboys' expense, Jack finds a cause to fight for and rallies newsies from across the city to strike for what's right. Mon., 7; Wed., 2 & 7:30; Fri., & Sat., 2 & 8; Sun., 1 & 6:30. Call or visit website for variations in playing schedule.
Looking for Group Tickets ?
Got a group headed to New York? City Guide provides free expert planning assistance and buying services-just complete the quick form below.