Where to Mark the Great American Eclipse in NYC
August 10, 2017 - by Chelsey Grasso
For those of you who haven't heard, the Great American Eclipse will be occurring this Monday, August 21st. Watch as the moon sets itself between the sun and the earth, causing a temporary blockage of sunlight, something that hasn't happened across the US in 99 years. Not sure where to view the spectacle in New York City? Try out one of these five top-notch locations to take part in the festivities.
Best of NYC Eclipse Events: Intrepid Sea, Air & Space Museum (Midtown West)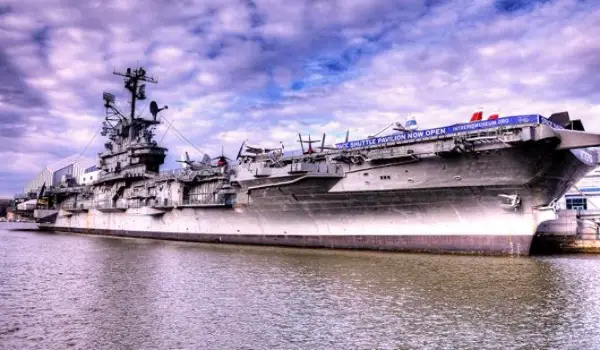 The flight deck of the legendary aircraft carrier Intrepid will be open for clear views of the eclipse. (You can also catch a live feed of NASA's coverage of the path of totality in the museum's theater.) A limited supply of free NASA-approved eclipse glasses will be on hand. Some fast facts: the eclipse begins at 1:23pm and reaches its maximum at 2:44pm.New York City will see the moon cover 71% of the sun. Educators will be on hand on the flight deck and special Tour Guide Talks will take place at 12pm and 2:30pm. Pier 86, W. 46th St. and 12th Ave., 212-245-0072, intrepidmuseum.org
Best of NYC Eclipse Events: Hotel Americano (Chelsea)

Get a front-row seat of the solar eclipse on top of Hotel Americano's rooftop. Guests of the Great Solar Eclipse Party will be given glasses for eye protection and have access to the hotel's pool lounge beds for an additional fee. While you sit back and relax, enjoy a Solar Eclipse Black Martini or La Piscine's signature cocktail, Le Grand Fizz, and let the countdown begin. 518 W. 27th St., 212-216-0000, hotel-americano.com
Best of NYC Eclipse Events: American Museum of Natural History (Upper West Side)
Leave it to the American Museum of Natural History to offer a live NASA broadcast of the total solar eclipse on August 21st. Just because New York City isn't in the eclipse's "path of totality," that isn't stopping the museum from presenting visitors to the Rose Center for Earth and Space with all the information it can. Happening from noon to 3pm, if you're looking for an educational experience in NYC, this is the place to be. Central Park W. 79th St., 212-769-5100, amnh.org
Best of NYC Eclipse Events: Magnum Dipping Bar (Meatpacking District)
Interested in indulging in a sweet treat to help celebrate the solar eclipse? Head over to the Magnum Dipping Bar, where exclusive "dark toppings" will be available to guests, including dark chocolate crisp pearls, black lava sea salt, chopped brownie bits, and espresso sugar. The best part about all this? It's buy one, get one free! Choose between vanilla bean or chocolate ice cream, pick your chocolate dip, and layer on the toppings to create your own special creation. 875 Washington St., 646-395-7463, magnumicecream.com
Best of NYC Eclipse Events: Pioneer Works (Brooklyn)
Red Hook cultural space Pioneer Works connects its Science Studios with the Amateur Astronomers Association of NY for a public viewing of the eclipse. The event will take place in the Pioneer Works's garden and they'll have solar-viewing glasses and telescopes with proper solar filters. Noon to 3pm. 159 Pioneer St., 718-596-3001, www.pioneerworks.org
Best of NYC Eclipse Events: Todt Hill (Staten Island)
If you've been waiting for an excuse to head out to Staten Island, then this is your chance. Todt Hill has the highest natural elevation in the entire city, meaning it'll provide an ideal and picturesque view during the eclipse. Thanks to its city views, you'll even get the unique experience of watching darkness take over the cityscape momentarily while the sun partially disappears for a brief spell. You can't beat a 401-foot hill this August 21st.
Best of NYC Eclipse Events: The Metropolitan Museum of Art (Upper East Side)

Image Credit: Teri Tynes/Flickr
The Metropolitan Museum of Art is sure to be a happening spot during the solar eclipse, particularly on top of their rooftop. While you wait for the solar eclipse to take place, enjoy the breathtaking views of Central Park. As if the killer view won't be enough, The Met has a "pay as you can" policy, so you don't have to break the bank to witness this monumental moment in astrological history. 1000 Fifth Ave., 212-535-7710, metmuseum.org
---
Cover image: Michail Kirkov/Flickr
Looking for Free Group Planning Services?
Get free advice on planning your group's trip to New York.
RESTAURANTS

Beloved midtown spot takes inspiration from local tradition,...

THEATER

Kander and Ebb's "musical vaudeville" in which Roxie Hart ga...

SHOPPING

The world's largest source of cameras, camcorders, and more ...

SIGHTSEEING

Start by ascending to the top of the tallest building in the...