The 2019 Tonys: A Broad-Stroked Broadway Broadcast
June 11, 2019 - by Griffin Miller, Theatre Editor
Another Tony broadcast tucked in for the night (or year, if you will) as I try to lull the observational comic doing battle with my id to sleep. Fortunately, I'm no Jerry Seinfeld and so I proceed as an observational critic.
The Opening. Host James Corden, done up ho-hum casual—to let us know he would soon be Velcro-ed into something more va-va-voom—sits on a weirdly square sofa being James Corden (which is always a very good thing), bursting into song. And then come the ensemble guys and dolls, pouring out of aforementioned sofa "…and quick and fast they came at last and more and more and more"—a spoken comic break here and there—until the casts of every Broadway musical fill the ginormous Radio City stage in a mammoth salute to Broadway (even though it doesn't pay as well as TV!).
Amusing High Points: Corden's patter about the challenges of going to Broadway (from leg room to rest rooms); first pop-up with Bryan Cranston, "Not going to take it anymore"); infectious energy that spilled into the post-number standing ovation.
Happy to Report: No outside shots, which never work, or forcing the host to hop around on a pogo stick. Just a Broadway-musical-as-the-world-imagines-it-will-be: big, glitzy, and with a stage teeming with eye-catching everything.
Not So Great: Break with Corden suddenly remembering this isn't a rehearsal; nothing particularly cool, creative or inspiring.
Grade: B
The Set Up: In addition to the awards, performances from nominated musicals and In memoriam portions of the program, this year's show included:
Comedic situations posed by Corden to stars in the audience: "Show us your loser face" (scary & embarrassing); pseudo feuds between two celebs (please make it stop). Overall: big fat D.
Rest room number with Corden and last year's hosts, Sara Bareilles and Josh Groban: a definite high point revamping lyrics from a Be More Chill song. Maybe it ran a little long, but it was fun with a nice Neil Patrick Harris cameo/punctuation point. A-.
Shots of upcoming stars backstage looking at call board (inoffensive and sometimes sweet). B.
Nominated playwrights talking about their shows (nice concept, iffy context). Heidi Schreck delivered part of her show's opening monologue, adding something interesting at the end; Jez Butterworth talked about Ireland's "Disappeared" and "Troubles" that were the foundation for The Ferryman, etc. The Best: Tarell Alvin McCraney (Choir Boy) and Mart Crowley (The Boys in the Band)—both get A+ for touching on heartbreaking gay issues and truths surrounding characters (McCraney) and original cast (Crowley). And Taylor Mac (Gary: A Sequel to Titus Andronicus) gets a solid A for being Taylor and dressing the part. Overall grade: B.
Return from every other commercial break: Announcement of awards given earlier (Best Scenic Designs; Choreography, etc.) with a snippet of acceptance speeches. Not the worst way to slip these in. B+.
The Musical Numbers: I always like to see how the Broadway's mega-musicals tweak (or not) their production numbers for the Tonys. Since this is their way of attracting new audiences, the smarter choices the better.
The Cher Show's Stephanie J. Block (center) won for Best Leading Actress in a Musical. Photo by Joan Marcus.
Interestingly, this year the time allotment seemed unbalanced—unless this was the choice of the shows themselves, which would be odd. For example, The Cher Show's presentation seemed fairly short (but included a fabulous parade of Tony-winner Bob Mackie's costumes), while Kiss Me, Kate! (introduced by, but not including, its leading lady, Kelli O'Hara), presented the entire "Too Darn Hot" number from the show. Great number, but very long. Also full-throttle-long was the montage piece for Ain't Too Proud—The Life and Times of the Temptations, but this gets a pass being the first out of the gate and setting a high precedent for all that followed.
Very fun was the Beetlejuice number that started with someone pulling the pin from the Alex Brightman grenade and sending him full throttle into his title character's mutated (lots of current season Broadway references) musical monologue. The show wisely chose its savvy opening number as a backdrop.
Hadestown didn't translate so well, which is kind of understandable, considering its subtle undertones and romantic through lines, but it definitely had its moments.

The original set of Oklahoma! It won for Best Revival of a Musical. Photo by Teddy Wolff.
Oklahoma!, which kicked off solo with Ali Stroker singing "I Can't Say No" and morphed into the title song, is simply not built for a mondo stage, so the prerequisite intimacy for this unique production got lost as the performers amped up their performances. Thankfully, the spirit and concept prevailed.
Included in the evening—although not a Tony nominee for Best Musical—was Choir Boy, offering a sliver of the show as well as a taste of its singular a cappella music. As it turned out, this was a very special performance.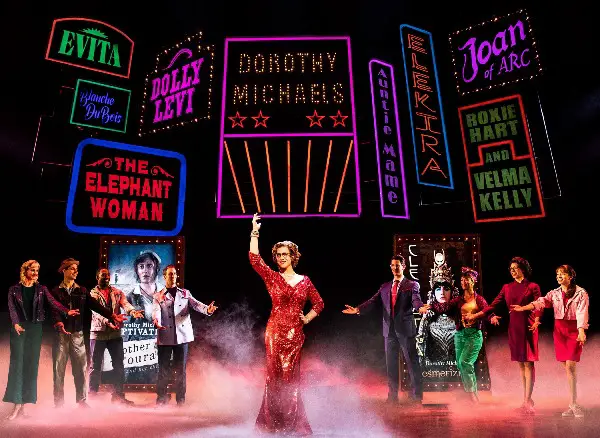 Santino Fontana shines in Tootsie. He won for Best Lead Actor in a Musical. Matthew Murphy, 2019.
Finally, both Tootsie and The Prom used their time to build up to a reveal. Tootsie: Tony winner Santino Fontana's red sequined transformation to Dorothy Michaels; The Prom to a smartly timed lesbian kiss. Both were extreme crowd pleasers and a theatrical shout out to this month's WorldPride. (There were, as to be expected, gay, racial, political, and feminist moments throughout the show. These are, after all, the Tonys and the perfect podium. I'm sure some would have like there to have been more, but personally, I was not disappointed.)
Musical Numbers Overall Grade: A-ish
The Ferryman won for Best Play and Best Direction of a Play, by Sam Mendes. Fra Fee, Tom Glynn-Carney, and Conor MacNeill. Photo by Joan Marcus.
The Awards: As usual, I wasn't a superstar when it comes to predictions, although I was better than usual. I struck out with Best Revival of a Play (I picked The Waverly Gallery over winner The Boys in the Band); and Best Direction of a Play (I truly believed they'd give it to Bartlett Sher for To Kill a Mockingbird, but it went to Sam Mendes for his part in The Ferryman sweep. My two biggest regrets—and I should have seen both of these coming, shame on me big time—were Best Performance by a Leading Lady in a Musical, Stephanie J. Block for her amazing Cher; and the Best Featured Actress in a Play that went to Celia Keenan-Bolger's memorable Scout in Mockingbird.
Boys in the Band won for Best Revival of A Play.
Otherwise, I nailed it (see winners below).
As for winners and acceptance speeches, well, they're all up on YouTube by now with many being especially relevant and poignant (check out Best Leading Actress in a Play, Elaine May; Best Featured Actor in a Musical, Andre De Shields; and his director, Rachel Chavkin). And by all means see Ali Stroker's beautiful acceptance for Best Featured Actress in a Musical speech, delivered from her wheelchair, acknowledging her pride at breaking the disability barrier that has stood in the way of performers since pretty much forever. She dedicated her win to every kid with a disability who had, up to now, failed to see "…themselves represented in this arena."
A perk for me in the presenter sector were some really fine choices. But my favorites were for two of the musical number introductions. Oklahoma! was announced by veteran actress Shirley Jones, who starred as Laurie in the film version; and Aasif Mandvi, who played Ali Hakim in the 2002 Broadway revival. Catherine O'Hara, who played Delia in the movie on which the musical was based, showed up in a black-and-white-stripe-homage-to-Beetlejuice gown. Yay, Catherine.
Awards—selection & presentation: B+.
So that's it…except, maybe my favorite fashion picks:
Laura Linney's black gown dotted with what looked like mini sparkling stars from my home perch; and Billy Porter's flamboyantly perfect red tux–into-ballgown creation made, as I've been told, from a Kinky Boots curtain. A+ to both!
2019 OFFICIAL LIST OF TONY WINNERS
Best Musical: Hadestown
Best Play: The Ferryman
Best Revival of a Musical: Oklahoma!
Best Revival of a Play: The Boys in the Band
Best Book of a Musical: Robert Horn, Tootsie
Best Direction of a Play: Sam Mendes, The Ferryman
Best Direction of a Musical: Rachel Chavkin, Hadestown
Best Leading Actor in a Play: Bryan Cranston, Network
Elaine May won Best Leading Actress in The Waverly Gallery. Photo by Brigitte Lacombe.
Best Leading Actress in a Play: Elaine May, The Waverly Gallery
Best Leading Actor in a Musical: Santino Fontana, Tootsie
Best Leading Actress in a Musical: Stephanie J. Block, The Cher Show
Best Featured Actor in a Play: Bertie Carvel, Ink
Best Featured Actress in a Play: Celia Keenan-Bolger, To Kill a Mockingbird
André De Shields won for Best Featured Actor in Hadestown. Photo by Matthew Murphy.
Best Featured Actor in a Musical: André De Shields, Hadestown
Best Featured Actress in a Musical: Ali Stroker, Oklahoma!
Best Scenic Design of a Play: Rob Howell, The Ferryman
Best Scenic Design of a Musical: Rachel Hauck, Hadestown
Best Costume Design of a Play: Rob Howell, The Ferryman
Best Costume Design of a Musical: Bob Mackie, The Cher Show
Best Lighting Design of a Play: Neil Austin, Ink
Best Lighting Design of a Musical: Bradley King, Hadestown
Best Sound Design of a Play: Fitz Patton, Choir Boy
Best Sound Design of a Musical: Nevin Steinberg & Jessica Paz, Hadestown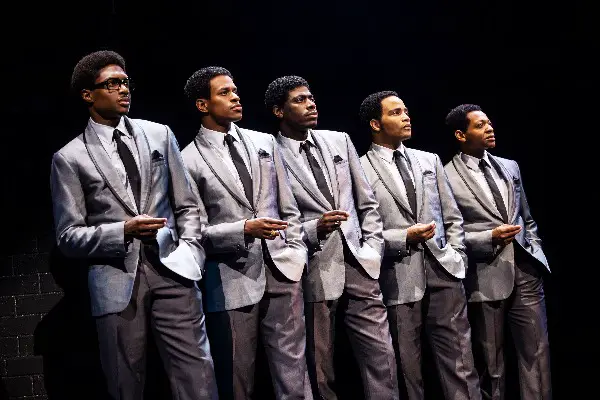 Ephraim Sykes, Jeremy Pope, Jawan M. Jackson, James Harkness, and Derrick Baskin in Ain't Too Proud, which won for Best Choreography. Photo by Matthew Murphy.
Best Choreography: Sergio Trujillo, Ain't Too Proud—The Life and Times of the Temptations
Best Orchestrations: Michael Chorney & Todd Sickafoose, Hadestown
Special Tony Award for Lifetime Achievement in the Theater: Rosemary Harris, Terrence McNally, Harold Wheeler
Isabelle Stevenson Award: Judith Light
Regional Theater Tony Award: TheatreWorks Silicon Valley
Special Tony Award: Marin Mazzie, Jason Michael Webb, Sonny Tilders, and Creature Technology Company
Tony Honors for Excellence in the Theater: Broadway Inspirational Voices—Michael McElroy, Founder, Peter Entin, FDNY Engine 54, Ladder 4, Battalion 9, Joseph Blakely Forbes
Looking for Free Group Planning Services?
Get free advice on planning your group's trip to New York.
RESTAURANTS

Multi-concept restaurant offering modern Japanese cuisine, a...

THEATER

In a heartbeat, 38 planes with 6,579 passengers were strand...

SHOPPING

Specializing in the great vineyards of California, France, A...

SIGHTSEEING

Hop aboard these environmentally friendly twin-hulled catama...