You know the Flatiron District for its famous wedge-shaped building, as well as attractions like Eataly and Madison Square Park and great dining like Obicà Mozzarella Bar, Pizza e Cucina. But Flatiron is getting a lot more fun this holiday season, as the Flatiron 23rd Street Partnership hosts 23 Days of Flatiron Cheer. Each day from December 1 to 23, local businesses are celebrating the holidays with a series of giveaways, free walking tours, free fitness classes, performances, and an interactive art installation on Flatiron Plaza. Below are the offerings currently on the schedule during 23 Days of Flatiron Cheer this December.
23 Days of Flatiron Cheer in NYC: Live on the Flatiron Public Plaza

Fridays and Saturdays during the 23 Days of Flatiron Cheer, the plaza in front of the Flatiron Building will be hopping with holiday gladness. From noon to 4pm every Friday and Saturday, there will be free hot drinks distributed by local vendors, opportunities for free gifts, and a food bank. Throughout these events, you can have a coffee from Made Nice, lavender hot cocoa from Maman, and hot chocolate from Shake Shack. (A full schedule of hot beverages is available on the website.) Spin the Flatiron prize wheel, and win exciting swag from local businesses. You can also donate to Food Bank for New York City to help New Yorkers in need this winter. All events will take place on the Flatiron North Public Plaza at Fifth Avenue and 23rd Street.
23 Days of Flatiron Cheer in NYC: Happy in Flatiron Plaza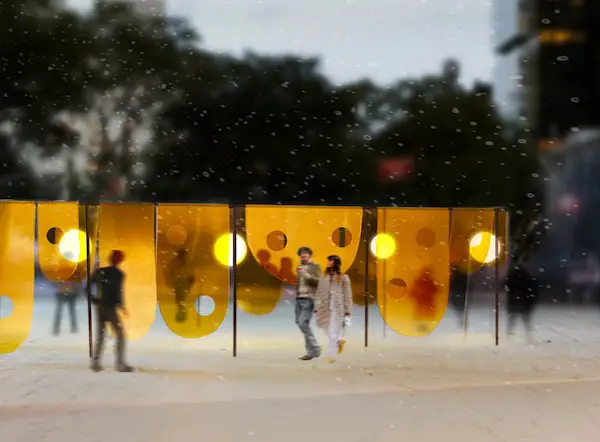 For an extra dose of cheer, a piece of public art will grace in the Flatiron Plaza throughout the season. As part of the annual Flatiron Plaza Holiday Design Competition, Studio Cadena won the top prize and has already unveiled their design on Flatiron Plaza. The piece is called Happy, a choice designer Benjamin Cadena described like this: "We all wish each other happiness during the holidays. This installation physically manifests this well wishing to all who visit Flatiron." Happy consists of an open metal frame shaped in a wedge to reflect the famous building behind it. This metal frame is draped with golden vinyl sheets, all in the shape of smiley faces. The piece, which rewards viewers who see it from far away and those who examine it up close, is at once reflective and jaunty: a perfect tone for the winter holidays.
23 Days of Flatiron Cheer in NYC: Free Walking Tours
Throughout 23 Days of Flatiron Cheer, professional tour guides will give free walking tours of the historic district and its namesake building, which was designed by Daniel Burnham and completed in 1902. Other historic locations include the New York Life Insurance Building, the MetLife Clock Tower Building that overlooks Madison Square Park, and the Beaux-Arts Appellate Courthouse. These tours are currently available every Sunday at 11am and meet at the tip of the Flatiron Building on 23rd Street and Fifth Avenue. Visit flatirondistrict.nyc/free-walking-tour for more information.
23 Days of Flatiron Cheer in NYC: Free Fitness

Wednesdays during Flatiron Cheer are Winter Wellness Wednesdays, offering free fitness classes at local studios. Wednesday, December 5 at 2 pm, try your hand at the barre at exhale spa. December 12 at 5pm, pull out your warriors 1 and 2 for vinyasa yoga at Athleta Flatiron. December 19 at 5:15pm, it's kickboxing at Tiger Schulmann MMA. RSVP using the links embedded above.
23 Days of Flatiron Cheer in NYC: Sony Square NYC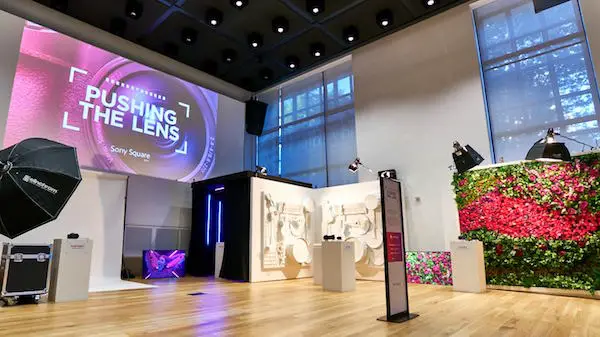 Sony Square NYC on Wednesday, December 12 will ring in the holidays with new cutting-edge products from Sony and a partnership with the new movie Spider-Man: Into the Spider-Verse, in theaters now. In addition to trying out some new tech, attendees will get some Sony swag. Located on the east side of Madison Square Park, Sony Square NYC offers unique experiences combining tech, design, entertainment, and performance. It's open seven days a week for anyone looking for a fun, hands-on experience with technology. This Sony Square NYC event will be held from 6 to 8pm on December 12.
23 Days of Flatiron Cheer in NYC: MoMath Giant Kaleidoscope
The National Museum of Mathematics (MoMath) in Flatiron will set up a life-sized kaleidoscope in Flatiron Plaza on Saturday, December 17, from 4 to 8pm. There will also be a hot drink, a snack, and the prize wheel to add to the festivities. MoMath invites kids and adults to explore interactive exhibitions based on mathematics—and to have fun doing it!
23 Days of Flatiron Cheer in NYC: #HappyinFlatiron
Each day of 23 Days of Flatiron Cheer, one lucky social media user will win prizes from local businesses. As you play in Flatiron Plaza this holiday season, use the hashtag #HappyinFlatiron, and you'll be entered to win! You might win a fitness membership, gift certificate, tickets to local events, or other surprises!
For up-to-date information on 23 Days of Flatiron Cheer, visit flatirondistrict.nyc/holiday2018. Follow the Flatiron/23rd Street Partnership on Twitter, Instagram, and Facebook @FlatironNY.