New York isn't called the city of dreams for nothing. As well as being a land of opportunities, it's also a place where you're never very far from the hub of action.
Everywhere you turn in New York provides something fascinating to cast your eyes on. From the bustling streets and amazing architecture to the bright neon lights and downtown cobblestone streets, New York makes a fast-paced getaway with so much to see and do.
If you're heading to New York, make sure you take up the opportunity to visit the most Instagrammable places. There are so many Insta-worthy corners, it's just about finding out where they are…
The Flower District
Source: Instagram @afloralfrenzy


If you thought you had seen some of the world's prettiest floral displays, you were wrong. New York's flower district takes up one long block, dedicated to flower display after flower arrangement, known to some as 'The Flower Market.'
Strolling through this district is like being in a captivating floral heaven. Leafy greens and color popping petals line each side of the street, and the fragrance is simply out of this world.
Try to visit early in the morning before the crowds appear, and so you also have the best pick of the florals for your photo opportunity!
Pietro NoLita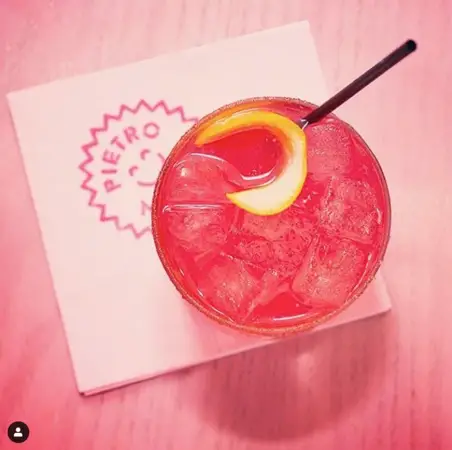 Source: Instagram @pietronolita
New York may be filled with high-end dining and drinks establishments, but you don't have to order an entire three-course meal. There's nothing wrong with enjoying a Cappuccino or a cocktail and leaving the food menus to one side.
However, if you have had some luck with lottery gambling or are feeling a little flush, don't be afraid to treat yourself to lunch or dinner in one of the most Instagram-worthy eateries. Pietro NoLita is one of them, with an interior covered pink from top to toe. It serves up Italian inspired food and drink but looks like a princess's palace. It's will delight your taste buds just as much as it will your Instagram feed.
Washington Street DUMBO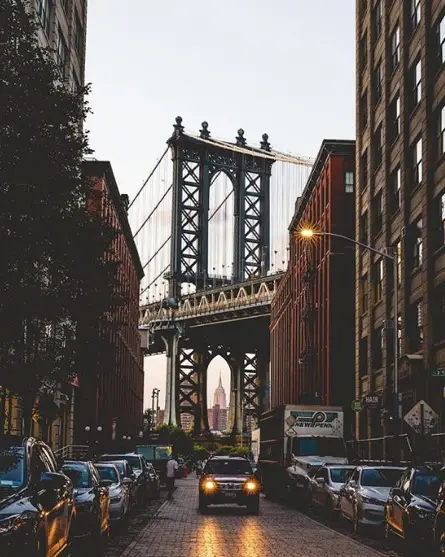 Source: Instagram Gilbrtortiz
Most people are aware of the popular photographic spot located at the intersection of Water Street and Washington Street. It's known to many as the DUMBO, short for "Down Under The Manhattan Bridge."
It's a quirky neighborhood loved for its meandering cobbled streets and stylish loft apartments. However, it's gazing opportunity to admire the Manhattan Bridge, and Empire State Building is the most common reason people visit.
If you want to bring some amazing food into your Instagram location shots, there's a cute pizza place called the Nearby Front Street Pizza right next to the views.
The Flatiron Building
Now, this is a building that is both mesmerizing and iconic. Constructed back in 1902, this unique building sits between Broadway and Fifth Avenue and Broadway. It's splat bang in the center of one of the hippest neighborhoods, filled with tech start-ups, independent boutiques, and markets.
The strangely flat and narrow building is surrounded with pedestrian-friendly paths, allowing you to stop off for an Instagram shot set up in front of the building.
SoHo Dessert Spots

Source: Instagram @rach.bires
What is possibly more appealing than scrolling through mouth-watering desserts on Instagram? Show them the best of the best by visiting two of New York's yummiest dessert locations.
For this, head to SoHo, the location of many favorite French eateries offering pastries and macarons to drool over.
Both Ladurée and Sweet Moment have interiors filled with stunning Parisian detail. If it's colorful desserts, latte art and expertly blended drinks that you want to capture, these need to be on your must-visit list.
Just remember to include those #FoodPorn, #NewYorkNewYork, and #StreetPhotography hashtags, and you're on your way to one attractive Instagram feed!