59E59 Theaters: Off-Broadway in a Central Location
March 22, 2017 - by Mari Gold
To see excellent theater at reasonable prices, look into the transparently named 59E59 Theaters, at 59th Street between Park and Madison Avenues. Since 2004, this Off-Broadway (and Off-Off-Broadway, which is based on theatre size) venue has presented acclaimed live performances six days a week, 50 weeks a year. As a bonus, this is an "uptown" theater, making it easily accessible to visitors and midtown theatre fans. Read on for the best of the spring and summer season at 59E59.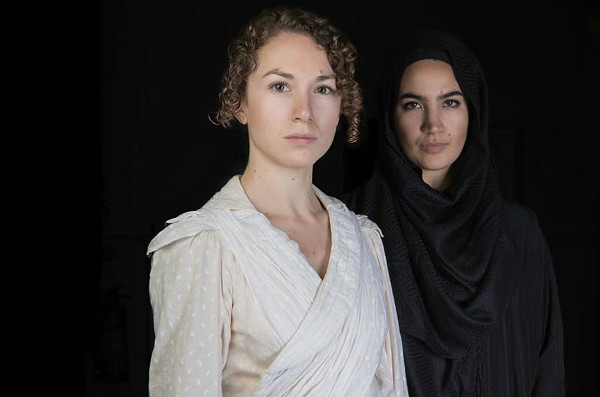 Echoes
Beginning April 4 and running through July 2, Brits Off Broadway offers tickets starting at $25. This year's festival opens April 4–23 with A Gambler's Guide to Dying, an intergenerational tale about what we live for and what we leave behind; a double bill of Echoes, about a jihadi bride and a Victorian pioneer, and Angel, the true story of a famale resistance fighter feared by ISIS that run April 11–May 7. Fossils, April 25-May 14, is set in Scotland where a Loch Ness discovery draws a science researcher in search of her father.
From May 9–June 4, Iphigenia in Splott reworks the legend with a healthy dose of drink, drugs and drama, setting it in the Splott district of Cardiff, Wales. Meanwhile on the continent in Rotterdam, from May 17–June 10 a gay woman deals with her partner's transition. My Eyes Went Dark tells of a man who seeks revenge after losing his family in a plane crash. A couple on a first date via an app must communicate on a broken down without their devices in Underground, June 13–July 2. Anchoring the festival are two British comedies from two different centuries: the U.S . premiere of J.B. Priestley's The Roundabout, April 20-May 28, and a madcap comedy of manners, Invincible, June 1–July 2.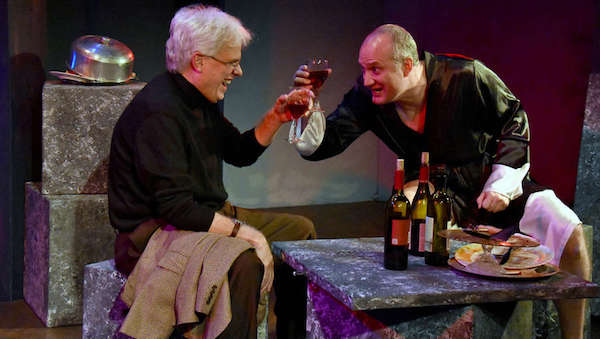 Before the onslaught of the Brits, from March 9-April 1 59E59 offers Sam & Dede or My Dinner with Andre the Giant, a story of playwright Samuel Beckett and his neighbor, a kid so big he couldn't fit on the school bus.
Until April 9, audiences can experience the world of art auctions by becoming rival bidders with "cash" in hand in an interactive work as performers around them bring art auction roles—deep-pocket collectors, art dealers, artists, critics, and auctioneers—to life in Beneath the Gavel.
There are plenty of restaurants nearby so visitors can grab a bite before or after the show. Cute E:BAR is tucked into 59E59, with champagnes, wines, specialty cocktails named for hit shows, and a selection of snacks—just one more reason why New Yorkers and out-of-towners love this theater option.
Theater A, the largest, seats 195; Theater B holds 95, and Theater C, a blackbox, handles 50-70 depending on how much room is occupied by the stage area. Shows take place at all three theaters with performances often overlapping. 59 E. 59th St. 212-753-5959, 59E59.org.
Looking for Free Group Planning Services?
Get free advice on planning your group's trip to New York.
RESTAURANTS

Multi-concept restaurant offering modern Japanese cuisine, a...

THEATER

In a heartbeat, 38 planes with 6,579 passengers were strand...

SHOPPING

An array of quality branded merchandise showcasing HBO's® aw...

SIGHTSEEING

The 9/11 Memorial honors the nearly 3,000 people killed in t...