Calling ALL fans of The Avengers (Iron Man, The Hulk, Captain America, Thor and others), science and state-of-the-art technology. This exhibit is for YOU!


Now at Discovery Times Square, in association with Victory Hill Exhibitions and Marvel Entertainment and in collaboration with the National Aeronautics and Space Administration (NASA) and the National Academy of Sciences, the Marvel Avengers S.T.A.T.I.O.N. (Scientific Training and Tactical Intelligence Operative Network) is open! The sprawling, 10,000-plus-square-foot spectacle — a $7.5 million exhibit world premiere that took two years in the making — grants fans a simulated experience of training to be agents of S.H.I.E.L.D.
Visitors of all ages are exclusively recruited to join S.H.I.E.L.D. Upon entering S.T.A.T.I.O.N headquarters, "recruits" receive a special ID card and are briefed. They are then taken deep into the Marvel cinematic universe, where they will experience first-hand the vast array of intelligence files, classified studies, and experiments that explores the history and scientific origins of Marvel's The Avengers.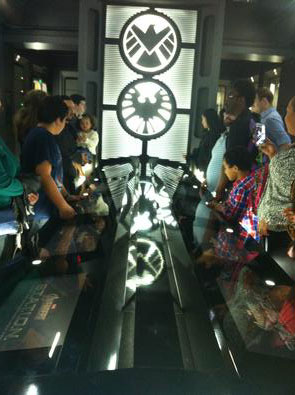 Recruits will also be given unprecedented access to some of S.H.I.E.L.D.'s most highly guarded artifacts recovered after the Battle of New York such as:
Captain America's Birth Pod, the Tesseract Portal Device, Loki's Sceptre, Thor and Hydra's costumes, a hermetically sealed Chitauri and much more.
Exhibition visitors will map out the stars to:
Find Asgard
Learn to operate Iron Man's suit; there are stations where visitors can have actual brain scans done (that detect changes in voltage levels)-these scans can even be posted to Facebook!
Witness the neurological effects of Bruce Banner's transformation into the Hulk (great way to learn about different parts of the brain)
Test arm strength against Captain America
Tickets to the exhibit are $27 ($19.50 for kids ages 3-11). The exhibit will be at Discovery Times Square through Jan. 4, 2015. For tickets to Marvel's Avengers: S.T.A.T.I.O.N., visit www.discoverytsx.com/exhibitions/avengers. Tickets are also currently available for purchase at the box office. For information on purchasing tickets for groups of more than 10, call 855-266-5387.