Sightseeing is hard work, even on a hop-on hop-off bus tour—hard enough that you'll earn every snack break and pit stop. Fortunately, New York stays stocked 24 hours a day, and if you want to refuel you won't have to wander too far from the bus route. To help you keep up your strength and make the most of your time, here are our picks for the best snack and refreshment stops when you're on a hop-on hop-off bus tour of New York.
Where to Snack Near the American Museum of Natural History
Shake Shack is a growing chain that has become NYC's favorite for old-fashioned burgers, fries, and malts. Just follow the delicious aroma to 77th and Columbus Ave., across the street from the AMNH.
Vegetarians will revel in the menu at Blossom, a creative vegan restaurant. Even hardcore carnivores won't miss the meat on the house's nachos and "bacon cheeseburgers." Columbus Ave. between 84th & 85th Sts., blossomnyc.com
Where to Snack Near the Apollo Theater
If you're traveling with children, they may be excited that Chuck E. Cheese's is just a block away from the Apollo Theater (2nd floor, St. Nicholas Ave., Harlem, chuckecheese.com). But if you want to get a real flavor of Harlem, stroll east to Golden Krust Bakery and order up some Jamaican food. The bright yellow patties (jerk-spiced meat wrapped in pastry) are a great grab-and-go snack. 121 W. 125th St., goldenkrustbakery.com
Where to Snack Near Broadway's Theater District
Frank Sinatra's favorite, Patsy's Restaurant, on 56th St. between Broadway and Eighth Ave., is still serving Neapolitan specialties over 70 years after it opened its doors. The lobster fra diavolo over linguine is highly recommended. 236 W. 56th St., 212-247-3491, patsys.com
At last count, there were 2,000 Irish bars in NYC, and one of the biggest is Emmet O'Lunney's. With more than a dozen big-screen TVs, this is a great place to watch the big game. 50th St. btw. Broadway & Eighth Ave., emmettolunneys.com
Where to Snack Near the Cathedral of St. John the Divine
Hungarian bakeries once dotted Manhattan, but the Hungarian Pastry Shop on Amsterdam at 111th is one of the few that remain. Columbia students line up seven days a week for cakes, pies, pastries, and specialty coffees. 1030 Amsterdam Ave., 212-866-4230
You might associate Harlem with soul food restaurants, but these days they are few and far between. A little ways south, on the Upper West Side, lies one of the best: Miss Mamie's Spoonbread Too. Chicken is the thing here—either fried, smothered, or bar-b-qued. 366 W. 110th St., spoonbreadinc.com
Where to Snack in Chinatown
How do you eat a dumpling filled with boiling hot soup? They'll teach you at Shanghai Cuisine on Bayard St. at Mulberry, where you can sample authentic regional Chinese dishes as well as universal favorites. 89 Bayard St., 212-732-8988
Taipan Bakery specializes in Portuguese custard tarts in flavors including green tea and papaya, as well as colorful cakes and savory pastries. 194 Canal St., taipanbakeryonline.com
Where to Snack Near Columbus Circle/Lincoln Center
Believe it or not, you can fit fine dining into a day of sightseeing. At Nougatine, in the Trump International Hotel, celebrated chef Jean-Georges Vongerichten serves up an express three-course lunch, with a view of Central Park included at no extra charge. 1 Central Park West, 212-299-3900, jean-georgesrestaurant.com
Indie Food and Wine in the Film Society of Lincoln Center is popular with Julliard students, who flock for a menu of creative sandwiches, light plates, soups, and salads. 144 W. 65th St., indiefoodandwine.com 
Where to Snack Near the Empire State Building and Koreatown
Panera Bread is a quick, affordable, kid-friendly place to refuel on sandwiches, soups,  and pastries. Unlimited refills on coffee and tea, and free WiFi too. Fifth Ave. at 30th St., panerabread.com
A great way to experience the flavors of Koreatown without shortchanging your sightseeing time is Woorijip, a cafeteria-style restaurant with a staggering variety of dishes to eat in or take out. 12 W. 32nd St., 212-244-1115, woorijipnyc.com
Where to Snack in the Flatiron District
Eataly is a ginormous food hall dedicated to all things Italian. Ride the elevator to Eataly's rooftop Bierreria for craft beer, homemade sausages and a lovely view. On your way out, grab a cup of hazelnut chocolate bicerin for just $2. 200 Fifth Ave., eataly.com
Where to Snack in Greenwich Village
Bosie Tea Parlor is an unpretentious place to get high tea in NYC. It's jammed on weekends, but otherwise an oasis of civility, serving delicate scones and pastries (try the aptly-named Teatime), with high-quality teas. 10 Morton St., 212-352-9900, bosienyc.com
Where to Snack Near the High Line
New York's unique elevated park traverses some of NYC's trendiest watering holes. Le Bain, the Standard Hotel's "grass"-covered rooftop terrace offers incredible views up and down the Hudson. For a more casual experience, there's also a beer garden, with sausages and pretzels to complement the suds. 848 Washington St., 212-645-7600, standardculture.com/lebain
Where to Snack on the Lower East Side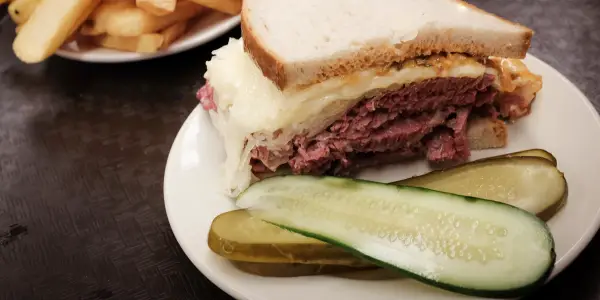 Katz's Deli is the gold standard of New York delicatessens and the best place to learn the nuances of corned beef versus pastrami. (Just ask.) And while a Jewish grandmother would have rolled her eyes at a pastrami reuben, it's delicious. 205 E. Houston St., 212-254-2246, katzsdelicatessen.com
New York is the last bastion of the bialy—tender, onion-stuffed cousin of the bagel —and Kossar's Bialys are made by hand all day long. Light and tender, strictly kosher, and less than $1. Following a closing for renovation, they've spruced up and reopened. 367 Grand St., 212-473-4810, kossars.com
Where to Snack Near the Metropolitan Museum of Art
Go ahead…plop on the grass and drink a cocktail at the Met's Roof Garden Café and Martini Bar. Summertime installations change annually but the treetop view remains as intoxicating as the drinks served from 5:30 to close on Fridays and Saturdays. 1000 Fifth Ave., 212-535-7710, metmuseum.org
Where to Snack in Rockefeller Center
From Ben and Jerry's to Chipotle, many of the food and drink establishments at the foot of Top of the Rock are comfortably familiar. For a purely NYC experience, grab a bite at 'wichcraft, a co-creation of Top Chef host Tom Colicchio, then pop into Jacques Torres Chocolate for the best chocolate chip cookies in town. 30 Rockfeller Center, 212-664-1804, mrchocolate.com
Where to Snack Near SoHo/Little Italy/NoLiTa
photo: flickr/star5112
Café Habana, at Prince and Elizabeth St., is a lively place to eat Cuban/Mexican food;Habana to Go next door is cheaper and faster. You will dream about the grilled corn on the cob smeared with mayo, rolled in queso, and dusted with chili powder. 17 Prince St. at Elizabeth St., 212-625-2001, cafehabana.com
Fugetaboutit. You can't leave NYC without eating a cannoli. Caffe Palermo is acclaimed for their flaky, crisp pastry and rich but light ricotta cream filling. (We've got nine more great cannoli stops here.) 148 Mulberry St., 212-431-4205, caffepalermo.com
Where to Snack at the South Street Seaport
The name says it all at Made Fresh Daily, where the food practically smiles at you. Vegetarians will be very happy here. 226 Front St., 212-285-2253, madefreshdailybakeshop.com
El Luchador, a repurposed garage at 87 South St., is a Mexican taqueria long on both flavor and atmosphere (check out the Airstream trailer parked outside). Inexpensive, informal, and fun. 87 South St., 646-398-7499
Where to Snack Near Times Square/42nd Street
Live music is not the only reason to visit B.B. King Blues Club & Grill. Inside,  Lucille's Bar & Grill serves a Southern-inspired menu (and cocktails) from 11am to midnight. 237 W. 42nd. St, bbkingblues.com
Lunch like a New Yorker by customizing a fresh salad to go at Chop't, on Broadway between 40th and 41st Sts. With 48 toppings and 28 dressings, the combinations are endless. 11. W. 42nd St., 646-867-1412, choptsalad.com
Where to Snack Near the United Nations
The United Nations Delegates Dining Room offers a buffet that changes daily to represent member countries. Make reservations at least 24 hours in advance and enjoy. 1 United Nations Plaza, delegatesdiningroom-un.com
Dag's Patio Café, across the street from the UN in Dag Hammarskjold Plaza, serves hamburgers and hot dogs with a signature "Dag" sauce. Loads of outdoor seating and beer and wine too. 342 E. 47th St., 917-471-4827
Where to Snack Near the World Trade Center/Battery Park
Hudson Eats is a supersized food court with handpicked local purveyors, sited along the water across from One World Observatory. Brookfield Place, 200 Vesey St., brookfieldplaceny.com
You can't go wrong with the luminously fresh fish at Blue Ribbon Sushi (blueribbonrestaurants.com)  and baguettes laden with creative toppings at the Cambodian fusion Num Pang Sandwich Shop (pictured above).
---
Looking to see the city? CitySightseeing has more than a dozen bus tour options, featuring unobstructed views from unique top-deck vantages.