Blues and Jazz in New York City This Week - January 13-January 20
January 13, 2019 - by CG Directory Editor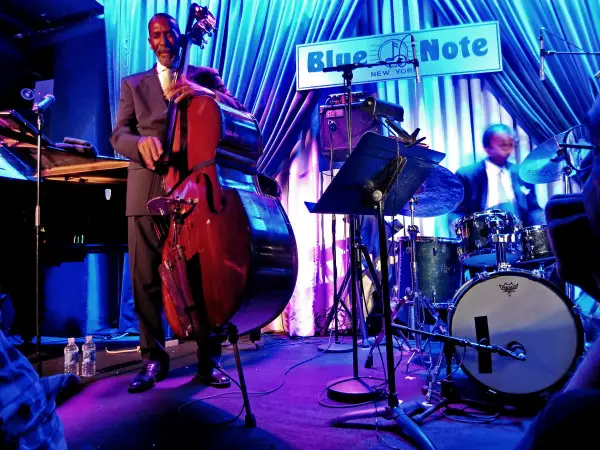 Photo: Flickr/Zhang Yu

Music fans in NYC can find all the latest blues and jazz shows and performances in City Guide's calendar. With newer venues like Dizzy's Club Coca-Cola joined by world-famous classics like the Village Vanguard and Birdland, you'll find jazz from hard bop to progressive. The blues also live in NYC, at great spots like Terra Blues.


The Black Soul Experience - The Groove
January 13, 2019 - New York
Welcome to The Black Soul Experience, a high-powered, intense live show. R&B, funk, soul, soca, hip-hop, reggae, and house will keep you dancing in the aisles all night long! Featuring your host, bandleader, and veteran musician at the Groove, Antwon Robinso, alongside Tracey Nicole. Backed by the finest musicians in NYC.
The Afro Latin Jazz Orchestra - Birdland
January 13, 2019 - New York
Grammy Award winning pianist, composer and educator Arturo O'Farrill -- leader of the "first family of Afro-Cuban Jazz" (NY Times) -- was born in Mexico and grew up in New York City. Son of the late, great composer Chico O'Farrill, Arturo was Educated at Manhattan School of Music, Brooklyn College Conservatory and the Aaron Copland School of Music at Queens College. He played piano in Carla Bley's Big Band from 1979 through 1983 and earned a reputation as a soloist in groups led by Dizzy Gillespie, Steve Turre, Freddy Cole, Lester Bowie, Wynton Marsalis and Harry Belafonte. The Afro Latin Jazz Orchestra is the resident large format ensemble of the nonprofit Afro Latin Jazz Alliance (ALJA) founded by Arturo O'Farrill in 2007 and dedicated to preserving the music and heritage of big band Latin jazz, supporting its performance for new audiences, and educating young people in the understanding and performance of this important cultural treasure. For more information about the orchestra and other ALJA initiatives, please visit us at www.afrolatinjazz.org
Bach To The Future' Concert Series: Classical guitar solo: Tali Roth - St John's in the Village
January 13, 2019 - New York
"BACH TO THE FUTURE" CONCERT SERIES A SUNDAY SERIES OF BEAUTIFUL MUSIC IN THE VILLAGE! Attend individual concerts for inspiration every Sunday afternoon -- or, subscribe to our series, to support the work of the Foundation for the Revival of Classical Culture; Its "Bach To The Future" Music/Science Program for Students; and the new Foundation for the Revival of Classical Culture Youth Chorus. Accepting new student applications for the chorus -- ages 12 to 18! http://www.ffrcc.org! To Subscribe: https://www.ffrcc.org/bach-to-the-future-page SUN, JANUARY 13: Classical guitar solo: Tali Roth PROGRAM: Barrios -An alm for the love of god; Pipo - Cancion y Danza; J.S.Bach - D minor chaconne; Albeniz- Torre bermeja & Asturias One of the world's leading and most charismatic guitarists, Tali Roth has been hailed by Classical Guitar magazine as "an extraordinary solo and chamber musician" and by The New York Times as a "marvelous classical guitarist
Julie Kurtzman, violin - 92Y
January 13, 2019 - Upper East Side
Juliet Kurtzman began playing the violin at age 7, and was quickly discovered as a child prodigy. At the age of ten, she began winning competitions, and soloing with orchestras such as the Houston and Dallas Symphonies. Throughout her youth, she performed extensively throughout the US in solo recitals and with orchestras. At age 17, she began her studies at the Curtis Institute in Philadelphia, with Jascha Brodsky. Shortly after, she made her Carnegie Hall debut. After graduating from Curtis, Juliet moved to Europe, where she performed and taught throughout Spain and Switzerland. For 8 years, she was first violin in the Luzern Symphony Orchestra, and played regularly with the Zurich Chamber Orchestra. Currently, Juliet resides in NYC, where she is on the faculty at the Lucy Moses School, the Special Music School and at 92nd Street Y. She also has a variety of private students of different ages and levels, going from beginners to advanced, some of whom have won competitions and performed with professional orchestras in New York City. Aside from the classical music where she specializes, Juliet has begun diversifying styles and genres of music in her violin playing. She has ... (read more)
Nick Collins/Reid Taylor Group - Smalls Live
January 13, 2019 - New York City
REID TAYLOR bass Reid Taylor started playing bass after moving to Washington DC and was taught/ mentored by Edward 'Butch' Warren and Steve Novosel.
Christopher Mcbride - Minton's Playhouse
January 13, 2019 - New York,
Singer Meets Saxophonist During performances, quiet policy is enforced
Steel House - Village Vanguard
Through January 13, 2019 - New York
Ed Simon (piano) Scott Colley (bass) Brian Blade (drums) Three well-known instrumentalists are building a new band called Steel House. The foundations of this house are deep and strong, the roof sturdy. Inside is one big, light-filled room occupied by the three leaders: Edward Simon on piano, Scott Colley on acoustic bass, and Brian Blade on drums. Each man is a world-class jazz player with his own robust composing, recording, and performing career. Since meeting in New York in the early 1990s, they have shared stages and studios, playing many different styles of music together. They decided to form (build) Steel House to create a dedicated place for their own musical explorations. The music of Steel House embraces both silence, and emerging from that stillness, conversation. The communication among Simon, Colley, and Blade stays nimble, focused on moment-to-moment interaction. Musical structure is minimal, poetic, and full of purpose. Walls of genre, category, and style are torn down. Light and space abound. We can hear them down the street now, Simon, Colley, and Blade building their Steel House. The music is infectious. It is everything you wanted – spirited and serious, cari... (read more)
Mingus Orchestra: Celebrating 10 Years at Jazz Standard - Jazz Standard
January 14, 2019 - New York
With its striking blend of "jazz" and "non–jazz" instrumentation, the Mingus Orchestra is a showcase for its namesake's fearless engagement with classical, "Third Stream," and other sounds. "Gospel fervor, flamenco tinges, fog–bound moodiness, bebop complexity, the joy and despair of the blues, Schoenber­gian atonality, were all bound together by Mingus. A driven skipper, sometimes more crazed than Ahab, he conducted from the bridge, shouting praise, condemnation, and love." – Doug Ramsey in Jazz Masters: Reflections on the Music & Some of Its Makers (1989, University of Arkansas Press)
Vanguard Jazz Orchestra - Village Vanguard
January 14, 2019 - New York
Every Monday Night since 1966 the Vanguard Jazz Orchestra Is the Current Title for the Band That Began Its Life as the Thad Jones/Mel Lewis Jazz Orchestra in 1966 and Has Performed Continuously for over 50 Years.
Anthony Hamilton - Kings Theatre
January 19, 2019 - Brooklyn
A night of soul and R&B is heading to the Kings Theatre when Anthony Hamilton with special guest Jazmine Sullivan hit the stage.
Emmet Cohen Trio with Ron Carter - Village Vanguard
Through January 20, 2019 - New York
Emmet Cohen (piano) Ron Carter (bass) Evan Sherman (drums) Connecting older generations of musicians to younger musicians and audiences is one of Cohen's major projects, and it has come to fruition on his Master Legacy Series Albums — the first of which was a collaboration with Jimmy Cobb, who played drums on Miles Davis' "Kind of Blue," and the second with Ron Carter, the most recorded jazz bassist in history.
Looking for Free Group Planning Services?
Get free advice on planning your group's trip to New York.
MORE Activity Planner ARTICLES
RESTAURANTS

Multi-concept restaurant offering modern Japanese cuisine, a...

THEATER

In a heartbeat, 38 planes with 6,579 passengers were strand...

SHOPPING

The sweetest experience in Times Square!...

SIGHTSEEING

Manhattan's premier all-glass, European-inspired dining crui...