Blues and Jazz in New York City This Week - July 8-July 15
July 8, 2018 - by CG Directory Editor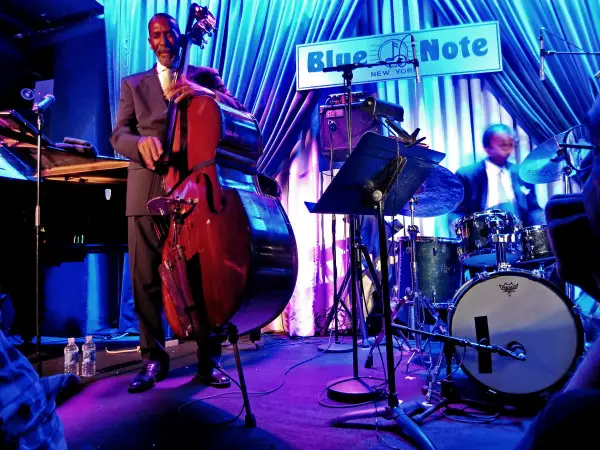 Photo: Flickr/Zhang Yu

Music fans in NYC can find all the latest blues and jazz shows and performances in City Guide's calendar. With newer venues like Dizzy's Club Coca-Cola joined by world-famous classics like the Village Vanguard and Birdland, you'll find jazz from hard bop to progressive. The blues also live in NYC, at great spots like Terra Blues.


Bottomless Boogie Brunch - The Red Lion
July 08, 2018 - New York
George Coleman Quintet - Jazz Standard
Through July 08, 2018 - New York
George Coleman Sr - tenor saxophone; Peter Bernstein - guitar; Harold Mabern - piano [7/4 only]; Jeb Patton - piano [except 7/4]; Gerald Cannon - bass; George Coleman Jr. - drums.
Lee Ritenour - Blue Note Jazz Club
Through July 08, 2018 - New York
Growing up in L.A. in the 60?s, Grammy award winning guitarist Lee Ritenour received a rich cross section of exposure to jazz, rock and Brazilian music. From one of his first sessions at 16 with the Mamas and Papas to accompanying Lena Horne and Tony Bennett at 18, his forty year eclectic and storied career is highlighted by a Grammy Award win for his 1986 collaboration with Dave Grusin, Harlequin; 17 Grammy nominations; numerous #1 spots in guitar polls and the prestigious "Alumnus of the Year" award from USC. He has recorded over 40 albums, with 35 chart songs, notably the Top 15 hit "Is It You," which has become a contemporary jazz radio classic. In the 90s, Ritenour was a founding member of Fourplay, the most successful band in contemporary jazz, with keyboardist Bob James, bassist Nathan East and drummer Harvey Mason. The first Fourplay album in 1991 spent an unprecedented 33 weeks at No. 1 on Billboard's contemporary jazz chart. Adding to this legacy is his latest CD Smoke 'n' Mirrors; the recently completed Grammy nominated recording Amparo, (a follow-up with Dave Grusin to their highly-successful 2001 Grammy Award nominated contemporary classical crossover CD) and producer ... (read more)
Barry Harris - Village Vanguard
Through July 08, 2018 - New York
It's one thing to admire and study the music of the bebop era. But Barry Harris lived it, becoming one of Detroit's best jazz pianists in the 1950s before relocating to the New York area — and eventually moving into the New Jersey estate where Thelonious Monk himself resided. At [over] 80, Harris still speaks bebop as his musical language, though it's transformed in his hands into something supple, round, warm.
Latin Jazz Big Band Night featuring: The Bronx Conexión - Nuyorican Poets Café
July 10, 2018 - Manhattan
The Bronx Conexión is a driving 20-piece Latin-Jazz Big Band lead by drummer/ percussionist, Victor Rendón. The ensemble, with its home base at Lehman College, brings a group of veteran musicians with a wide variety of experience in the field. The Bronx Conexión keeps the tradition of Tito Puente, Machito, Mario Bauza, among others, with it's own rendition of popular tunes as well as original compositions and arrangements by various members in the band. Admission: $10 general admission/$7 with Student ID at the door/$25 two tickets plus two drinks
Open Mic Featuring Guest Host & the Sugar Bar All Star Band - Ashford & Simpson's Sugar Bar
July 12, 2018 - New York
Presenting a fresh alternative to the mundane, Ashford & Simpson's Sugar Bar is an intimate, full-service restaurant, showcasing local and international talent. Performances run from R&B/soul to jazz to Caribbean to traditional African rhythms.
Free Rein Summer Tour 2018: Rebelution, Stephen Marley, Common Kings - Ford Amphitheater at Coney Island Boardwalk
July 12, 2018 - Brooklyn
Hot Jazz / Cool Garden Summer Concert Series - Louis Armstrong House Museum
July 14, 2018 - Corona
Cassandra Wilson - Blue Note Jazz Club
Through July 15, 2018 - New York
Cassandra Wilson is a jazz musician, vocalist, songwriter, and producer from Jackson, Mississippi. Described by critic Gary Giddins as "a singer blessed with an unmistakable timbre and attack who has expanded the playing field" by incorporating blues, country and folk music into her work. She began playing piano at six, guitar by the age of twelve and was working as a vocalist by the mid-'70s, singing a wide variety of material. After moving to New York City in the early 80's, Cassandra met saxophonist Steve Coleman and became one of the founding members of the M-Base Collective. She signed with Blue Note Records in 1992 and released a landmark album titled "Blue Light 'Til Dawn" which would pave the way for a new generation of jazz singers seeking an approach and repertoire that challenges the supremacy of the American Standard songbook. Wilson has continued interpreting in fresh and creative ways vintage blues, country and folk music up until the present day. Her awards include: two Grammys, the Django D'Or, The Edison Music Award, a marker on the Mississippi Blues Trail, and the 2012 Echo Award for Jazz. She also performed one of the leading roles in Wynton Marsalis' "Blood o... (read more)
Russell Malone Quartet - Village Vanguard
Through July 15, 2018 - New York
Obviously, we are in the capable hands of a master. Absolutely fluid touch and beautiful integration between moving lines and harmonic cadences. The sound of the instrument is well-balanced throughout the entire register. The relaxed quality of everything that 's being played gives it such a warm feeling. To play that stuff is extremely hard. This is an absolute master, the best of the best.
Polly Gibbons - Birdland
Through July 28, 2018 - New York
With warm, soulful vocals and an innate blues sensibility, Polly Gibbons has been likened to many of the jazz and soul greats, but with her own fun, unique style of storytelling. This summer, Polly opened for jazz great George Benson and the "Empress of Soul" Gladys Knight on their sold out UK tours. London Jazz News said of Polly's show at Royal Albert Hall in June that "listening to her open up with soul and passion is a joyous experience." British London-based vocalist Polly Gibbons is one of the most respected and talked about young singer/songwriters of her generation. Being nominated for the prestigious BBC Jazz Award back in 2006 with no album release to her name, was a clear indication of just how special a singer and performer Polly is. Much esteemed by her contemporaries, Polly has built a reputation as an original and gifted voice. With warm, rich, soulful vocals and an innate blues sensibility, Polly has been likened to many of the jazz and soul greats bringing her own storytelling and earnest depth alongside unique humor and fun to performances. Polly's influences are brilliant, broad and inspired - from the poetry of Joni Mitchell and Leonard Cohen, to the be-b... (read more)
Sunset Jazz Concerts - Lyndhurst Concert Lawn
Through August 23, 2018 - Tarrytown
Relax on our great lawn and enjoy cool music by hot jazz artists! Grounds open at 4 pm, music starts at 6:30. $5 per person parking fee. Canceled by 3 pm if rain – check website for latest information.
Looking for Free Group Planning Services?
Get free advice on planning your group's trip to New York.
MORE Activity Planner ARTICLES
RESTAURANTS

Beer hall casual meets craft cocktails with a healthy dose o...

THEATER

Kander and Ebb's "musical vaudeville" in which Roxie Hart ga...

SHOPPING

An array of quality branded merchandise showcasing HBO's® aw...

SIGHTSEEING

Hop aboard these environmentally friendly twin-hulled catama...