Blues and Jazz in New York City This Week - June 17-June 24
June 17, 2018 - by CG Directory Editor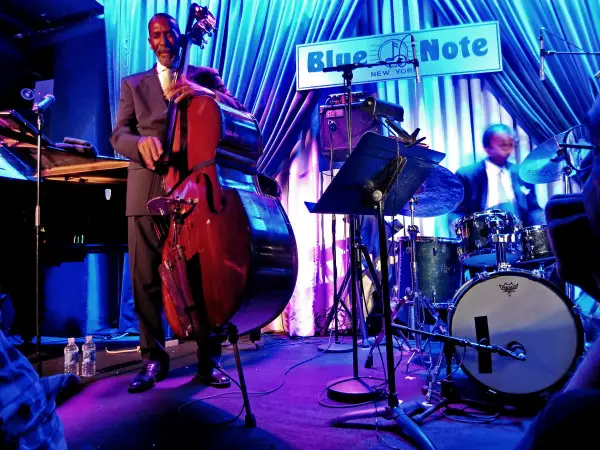 Photo: Flickr/Zhang Yu

Music fans in NYC can find all the latest blues and jazz shows and performances in City Guide's calendar. With newer venues like Dizzy's Club Coca-Cola joined by world-famous classics like the Village Vanguard and Birdland, you'll find jazz from hard bop to progressive. The blues also live in NYC, at great spots like Terra Blues.


The City Rhythm Orchestra - Birdland NYC
June 17, 2018 - New York
THE MUSIC OF COUNT BASIE AND FRANK SINATRA FATHER'S DAY SHOW - JUNE 17, 2018 The City Rhythm Orchestra has been dazzling audiences for over 35 years and has earned the reputation as one of today's finest big bands. Led by Pete Spina and Nick Vallerio, the group has consistently cooked up exciting music with their distinct style and sound. They've been praised by audiences and critics in both their hometown of Philadelphia and around the world. Their non-stop energy was dubbed "great music and great fun" by the New York Times. The band has been featured at major concert venues throughout the USA and in Europe, with notable shows at the Kimmel Center, Mann Music Center, Lincoln Center, Highline Ballroom, Birdland, the Blue Note, Glen Echo Ballroom, Sweets Ballroom, and at festivals in Rome, Florence, Perugia, Amsterdam, Cologne and Bordeaux. City Rhythm has recorded several successful CDs, including "Goin' to Town" (1994), "Swinging Blue" (1997), "City Rhythm Strikes Again" (1999), "Sounds of Hope" (2001), "Vibrant Tones" (2005), and "Songs You Can Live By" (2012). "Vibrant Tones" featured renowned jazz artist Joey DeFrancesco on the Hammond B3 organ and earned a spot on the n... (read more)
Victor Goines Quartet - Dizzy's Club Coca Cola
Through June 17, 2018 - New York
With pianist Jo Ann Daugherty, bassist John Simms, and drummer Marion Felder. Clarinetist, saxophonist, and composer Victor Goines is a protégé of Ellis Marsalis and one of the most respected musicians in jazz today. A member of the Jazz at Lincoln Center Orchestra and the Wynton Marsalis Septet since 1993, Goines is also a gifted composer and bandleader with a number of acclaimed recordings to his name. His stylistic expertise covers practically the entire history of jazz, and his musical roots in New Orleans add an unmistakable flavor to everything he touches. As Goines' fans know, he brings great tunes and world-class improvisation to every set. His recent Rose Theater and Appel Room showcases have been some of Jazz at Lincoln Center's most popular events, making Goines' return to Dizzy's Club Coca-Cola a highly anticipated performance.
Blue Note Jazz Festival Presents: Paquito D'Rivera Ensemble - Blue Note Jazz Club
Through June 17, 2018 - New York
Paquito D'Rivera defies categorization. The winner of fourteen GRAMMY Awards, he is celebrated both for his artistry in Latin jazz and his achievements as a classical composer. Born in Havana, Cuba, he performed at age 10 with the National Theater Orchestra, studied at the Havana Conservatory of Music and, at 17, became a featured soloist with the Cuban National Symphony. As a founding member of the Orquesta Cubana de Musica Moderna, he directed that group for two years, while at the same time playing both the clarinet and saxophone with the Cuban National Symphony Orchestra. He eventually went on to premier several works by notable Cuban composers with the same orchestra. Additionally, he was a founding member and co-director of the innovative musical ensemble Irakere. With its explosive mixture of jazz, rock, classical and traditional Cuban music never before heard, Irakere toured extensively throughout America and Europe, won several GRAMMY nominations (1979, 1980) and a GRAMMY (1979). His numerous recordings include more than 30 solo albums. In 1988, he was a founding member of the United Nation Orchestra, a 15-piece ensemble organized by Dizzy Gillespie to showcase the f... (read more)
Monday Nights with WBGO: Uptown Jazz Tentet - Dizzy's Club Coca Cola
June 18, 2018 - New York
With trumpeter Brandon Lee, trombonists Willie Applewhite & James Burton III, trumpeter Tatum Greenblatt, alto saxophonist Andy Gutauskas, tenor saxophonist Jon Irabagon, baritone saxophonist Carl Maraghi, pianist Adam Birnbaum, pianist Clovis Nicolas & drummer Aaron Kimmel. The Uptown Jazz Tentet is a dynamic large jazz ensembles founded in 2016 and co-led by trumpeter Brandon Lee and trombonists Willie Applewhite and James Burton III. The band includes some of the most venerable young sidemen in all of jazz, many of whom have been Dizzy's Club headliners—trumpeter Tatum Greenblatt, alto saxophonist Andy Gutauskas, tenor saxophonist Jon Irabagon, baritone saxophonist Carl Maraghi, pianist Adam Birnbaum, bassist Clovis Nicolas, and drummer Aaron Kimmel. Influenced by the writing styles of Duke Ellington, Billy Strayhorn, Quincy Jones, Gil Evans, Wayne Shorter, the Wynton Marsalis Septet, and J.J. Johnson's ten-piece band from the mid-1960s, the Uptown Jazz Tentet puts a fresh stamp on some jazz's essential styles. Don't miss their debut performance at Dizzy's Club Coca-Cola!
Blue Note Jazz Festival Presents: an Evening with Sarah Mckenzie - Blue Note Jazz Club
June 18, 2018 - New York
After enchanting jazz fans with her 2015 Impulse! Records debut, We Could Be Lovers, Sarah McKenzie returns with the sensational follow-up, Paris in the Rain. Like before, the 28-year-old, Melbourne, Australia-born singer, pianist, composer and arranger teams with the acclaimed Brian Bacchus – who has produced classics for such stars as Norah Jones, Lizz Wright, and Gregory Porter – to deliver a gripping program of jazz classics and originals – all of which present McKenzie's incredible musicality in glamorous glory. McKenzie moved to Paris last year after graduating from Boston's Berklee College of Music. The album's snazzy title track is her love letter to the City of Light. The fanciful lyrics find her alternating effortlessly between French and English as she rejoices in the city's opulent offerings. "I'm really in love with Paris. It's a really amazing city. It's so beautiful with so much to offer in terms of culture, food and style. I wanted to write a song that captures all of Paris' beauty, magic and spirit." BLUE NOTE JAZZ FESTIVAL PRESENTS: An Evening with Sarah McKenzie After enchanting jazz fans with her 2015 Impulse! Records debut, We Could Be Lovers, ... (read more)
The Wailers - Sony Hall
June 19, 2018 - New York
General Admission Only The Wailers feat. Aston "Family Man" Barret, Junior Marvin & Donald Kinsey Check out the Sony Hall site for more info!
Django Bates Trio - Jazz Standard
Through June 20, 2018 - New York
Django Bates - piano Petter Eldh - bass Peter Bruun - drums
Jazz at Pier 84 - Pier 84 at Hudson RIver Park
June 21, 2018 - New York
Back for our 20th Anniversary season, Jazz at Pier 84 brings our largest public pier to life with a fantastic lineup curated by the Jazz Foundation of America. For almost 30 years, JFA has provided help to jazz and blues musicians, with both direct assistance and opportunities to bring tremendous, inspiring performances to fantastic venues like our Pier 84!
Highlights in Jazz – Salute to Russell Malone - Tribeca Performing Arts Center
June 21, 2018 - Tribeca
Russell Malone NEA Jazz Master Jimmy Heath Houston Person Willie Jones III & more…
Summer Concert Series: Salute to the Crescent City: New Orleans at 300 - The New York Botanical Garden
June 22, 2018 - Bronx
The musical heritage of New Orleans comes alive in this premiere concert led by "one of the world's major clarinetists" Evan Christopher (The Wall Street Journal). In celebration of the Crescent City's 300th Anniversary, this salute explores the marriage of traditions and the cultural diversity that established New Orleans as the birthplace of jazz. Pianist David Torkanowsky, vocalist Robin Barnes, and trumpeter Wendell Brunious join Christopher along with a host of top New Orleanian soloists in this premiere performance.
NYBG Summer Concert Series: An American Tribute - The New York Botanical Garden
June 22, 2018 - New York
This year we celebrate the music of a great American city, the legacy of a great American civil rights leader, and the timelessness of a great American masterpiece. With the glass-domed Conservatory as the backdrop, this innovative three-part series developed in collaboration with Catskill Jazz Factory and Absolutely Live Entertainment presents three glorious evenings showcasing a stunning array of dynamic jazz talent from across the globe. Bring your blankets and low-back chairs and enjoy the best seat in the house on the scenic Conservatory Lawn. Before and after each concert, stroll through the exhibition, Georgia O'Keeffe: Visions of Hawai'i.
Jared Sims and the Inner Circle - Funk - Silvana
June 22, 2018 - New York
Jared Sims is a musician and recording artist specializing in saxophone, woodwinds, jazz and funk music. Sims brings an instrumental dance band that fuses funk beats, screaming guitar, and sax melodies.
Jazz on the Terrace - Parrish Art Museum
June 22, 2018 - Water Mill
Bring chairs and blankets to watch the sunset, enjoy café specials, and hear live jazz with top musicians hand-picked by the East End's legendary Richie Siegler–the perfect start to the weekend. The Golden Pear Cafe will be selling food and drink specials, so come socialize, soak in the scenery, and listen to the sounds of summer.
American Roots Music Festival - Caramoor
June 23, 2018 - Katonah
Acclaimed singer-songwriter Aimee Mann, named one of the top-10 living songwriters by NPR Music, headlines the American Roots Music Festival, now in its 8th year. Rising star multi-instrumentalist Valerie June brings her unique blend of Appalachian tradition, gospel, and blues. Many other artists round out this day-long celebration of folk, country, bluegrass, gospel, blues, Old Time, and intriguing folk fusion performances held throughout Caramoor's lawns and gardens. Come for a day of discovery and good ole' fashioned leisurely family-friendly listening.
Blue Note Jazz Festival Presents: Victor Wooten - Blue Note Jazz Club
Through June 24, 2018 - New York
Victor Lemonte Wooten is a unique human being. Born the youngest of five boys, he began learning to play music at the tender age of two. He started performing in nightclubs and theaters as the bassist with the family band at age five, and at age six, was on tour with his brothers opening shows for legendary soul artist Curtis Mayfield. Soon after, he was affectionately known as the 8-year-old Bass Ace, and before graduating high school, he and his brothers had shared the stage with artists such as Stephanie Mills, War, Ramsey Lewis, Frankie Beverly and Maze, Dexter Wansel, and The Temptations. But, this only begins to tell the tale of this Tennessee titan. Wooten, now a five-time Grammy winner, hit the worldwide scene in 1990 as a founding member of the super-group Bela Fleck and the Flecktones. Continuing to blaze a musical trail with the band, Victor has also become widely known for his own Grammy nominated solo recordings and tours. Among other things, he is a loving husband and father of four, a skilled naturalist and teacher, a published author, a magician and acrobat, and has won every major award given to a bass guitarist including being voted Bassist of the Year in Ba... (read more)
Looking for Free Group Planning Services?
Get free advice on planning your group's trip to New York.
MORE Activity Planner ARTICLES
RESTAURANTS

Multi-concept restaurant offering modern Japanese cuisine, a...

THEATER

Gaston Leroux's famous period thriller is now one of Broadwa...

SHOPPING

PANDORA, one of the leading names in jewelry for more than 3...

SIGHTSEEING

In addition to 360-degree views from Midtown Manhattan, the ...