Blues and Jazz in New York City This Week - May 13-May 20
May 13, 2018 - by CG Directory Editor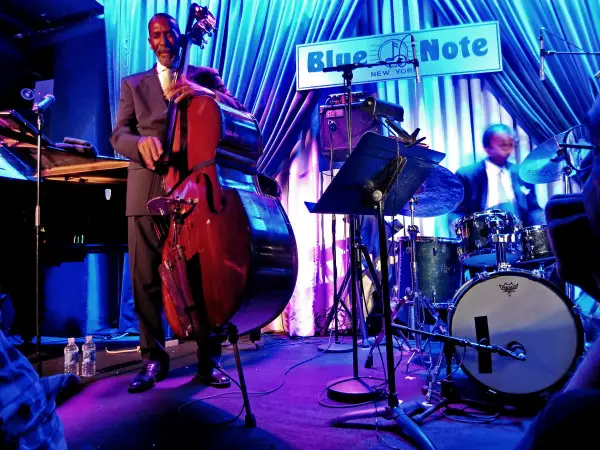 Photo: Flickr/Zhang Yu


Music fans in NYC can find all the latest blues and jazz shows and performances in City Guide's calendar. With newer venues like Dizzy's Club Coca-Cola joined by world-famous classics like the Village Vanguard and Birdland, you'll find jazz from hard bop to progressive. The blues also live in NYC, at great spots like Terra Blues.


Will Downing - Sony Hall
May 13, 2018 - New York
Will Downing's voice is one of the most distinctive, loved and instantly recognizable voices in R&B. His flawless, emotive, buttery-smooth and agile honey-toned baritone, along with his impeccable phrasing and jazz-fueled agile runs, seamlessly bridge the worlds of R&B and Jazz. Downing's sophisticated and always-cool sensibilities have proven to be timeless and have garnered him the role as the reigning king of romantic ballads. "I pinch myself everyday because I can't believe that after all this time I'm still making music for a living," shares the charismatic singer/songwriter. "19 albums and 28 years of recording later and I'm still blessed. Truly Blessed!!" Shanachie Entertainment will release Black Pearls (July 8, 2016), Downing's highly anticipated CD and his first full-length album in six years.
Jazz For Kids - Jazz Standard
May 13, 2018 - New York
The Jazz Standard Youth Orchestra is a performance driven program that gives talented and dedicated young jazz musicians the opportunity to perform regularly in one of New York City's leading jazz clubs often with guest artists from the New York scene. The visiting guests give a workshop to the band members in addition to providing the experience of playing with the top musicians on the scene. On Sundays during the school year, the students rehearse and workshop in the room before opening the doors at 1:00pm and giving a concert that is free and open to the public at 2:00pm.
Fred Hersch Duo Invitation Series with Esperanza Spalding - Jazz Standard
May 13, 2018 - New York
John Melendez & Big Sur - Williamsburg Music Center
May 13, 2018 - Brooklyn
Led by pianist John Melendez, Big Sur is a contemporary jazz group that performs primarily original music inspired by artists such as Pat Metheny, Brad Mehldau, Ambrose Akinmusire and Vijay Iyer. John Melendez is a New York-based Jazz pianist studying performance and composition at Columbia University. His main influences are Jason Moran and Wynton Kelly, as well as his teacher Bruce Barth. John Melendez
Ms. Lisa Fischer & Grand Baton - Blue Note
Through May 13, 2018 - New York
Ms. Lisa Fischer is stepping into the spotlight at last. After four decades of singing background for icons like the Rolling Stones, Tina Turner, Chaka Khan, and Nine Inch Nails, Lisa is finally offering her own humble, heartfelt song, accompanied by her inventive new band Grand Baton. The breakout success of the Oscar-winning documentary Twenty Feet from Stardom (2013) altered the course of Lisa's musical journey. Featuring clips of Lisa's 1991 Grammy-winning R&B hit "How Can I Ease The Pain" and her legendary duet with Mick Jagger on "Gimme Shelter," and glowing testimonials from famous colleagues like Sting, Patti Austin, and Chris Botti, the film showcased her virtuosity and vulnerability, earned her a second Grammy award, and left audiences eager to see and hear more. "Ms. Fischer has become the unexpected star of Mr. Neville's film," said the New York Times. Lisa set out on tour with no recordings or video to help book and promote shows, headlining first in small clubs then at the Newport and Monterey Jazz Festivals, then at concert halls in major cities. In performance, she draws from an eclectic palette of influences, putting her stamp on Led Zeppelin and Little Willie ... (read more)
B's Bees: 'Kanata/Dear Charlie' Album Launch Party - ShapeShifter Lab
May 14, 2018 - Brooklyn
B's Bees is excited to announce the release of not one, but two albums in early 2018. Their first 2018, a tribute to the great Charlie Haden, and aptly titled "Dear Charlie", has been selling strongly since it's Jan. 2018 release, and reached #4 on iTunes Canada's Jazz Charts. The album contains compositions from the various eras of Charlie Haden's illustrious career, and includes several selections from his Liberation Music Orchestra repertoire, arranged in a new and exciting way. Their second 2018 release, titled "Kanata" is set to be released on April 20. The album contains a suite written by bandleader Brandon Goodwin titled Kanata Suite, and is an ode to his home country of Canada. This U.S. tour will be their second foray into the country, the first taking them from Montreal, to New Orleans, to work with producer Delfeayo Marsalis, before heading back to Montreal to record their two new records. For their performances on this tour the group will be performing a mixture of music from both of their new albums. www.bs-bees.com https://www.facebook.com/Bs-Bees-450946311601731/ https://www.instagram.com/brandonsbees/
Deborah Zecher - Don't Tell Mama
May 14, 2018 - New York
The composers concerts - Brooklyn Center for the Performing Arts
Through May 15, 2018 - Midwood
The Conservatory of Music presents fresh new acoustic and electroacoustic music works by the very talented student-composers. These three concerts will consist of entirely different programs.
Ron Carter Birthday Celebration - Blue Note Jazz Club
Through May 16, 2018 - New York
Ron Carter is among the most original, prolific, and influential bassists in jazz. With more than 2,000 albums to his credit, he has recorded with many of the music's greats: Tommy Flanagan, Gil Evans, Lena Horne, Bill Evans, B.B. King, the Kronos Quartet, Dexter Gordon, Wes Montgomery, and Bobby Timmons. Ron Carter is among the most original, prolific, and influential bassists in jazz. With more than 2,000 albums to his credit, he has recorded with many of the music's greats: Tommy Flanagan, Gil Evans, Lena Horne, Bill Evans, B.B. King, the Kronos Quartet, Dexter Gordon, Wes Montgomery, and Bobby Timmons.
Broadway's Jennifer Sanchez in 'Gin and Jazz' - The Green Room 42
May 17, 2018 - New York
Broadway's Jennifer Sanchez makes her Green Room 42 debut in "Gin and Jazz." Join her in an evening of new jazz arrangements from shows she has performed in on Broadway. Featuring new takes on music from "West Side Story," "Sunday in the Park with George," "Women on the Verge of a Nervous Breakdown", and a set of Jennifer's original music. Also featuring Mike Hunter on violin and Marianna Ramirez on percussion.
HER - Rough Trade NYC
May 17, 2018 - Brooklyn
For as much as the story of HER is about tragedy and triumph, it's really about two friends — Victor Solf and Simon Carpentier. While still in school, the half-German Victor and the French Simon met in 2007, bonded like long lost brothers, started making music together equally informed by old school soul a la Otis Redding and post-Yeezus hip-hop, and formed HER in 2015. Success followed as the breakout "Five Minutes" soundtracked Apple's "Shot on iPhone" campaign and eventually generated over 6.7 million Spotify streams. The duo released a pair of EPs Her Tape #1 and Her Tape #2, spawning fan favorites such as "Quite Like," "Union," and "Her" and amassing over 20 million cumulative Spotify streams. Merging artfully seductive and provocative visuals and dreamy newer wave pop with a jazz undercurrent, the boys crisscrossed the globe in support of the EPs, including making waves stateside. In the middle of it all, unbeknownst to anyone but those closest to him, Simon lost a long, quiet, and arduous battle with cancer in August 2017 "The last year was very hard, because Simon wasn't doing well," admits Victor. "It was tough for him to tour, but he felt like it was important to... (read more)
Samuel Torres Super Band - The City College of New York - Aaron Davis Hall
May 18, 2018 - New York
When the imposing talents of one of today's most versatile Latin Jazz artists meld with the organic richness of some of the world's greatest cultural melting pots, the results are guaranteed to be as fresh and virtuosic as they are revealing and magical. Alegria, Urban Latin Jazz Portrait is a celebration of the diversity and richness of Latin-American Culture and music. Inspired by Lain popular dance, Samuel Torres combines music styles like Cumbia, Afro-Cuban Jazz, Boogaloo, and contemporary Latin urban with Jazz traditions.
Bruff Da Crowd Pleaser- Rock / R&B / Hip Hop - Silvana
May 18, 2018 - New York
The wait is over, DaCrowdPleaSeR is here!, if you want entertainment you come to the right place I'm not a Singer, not a Rapper- not even an entertainer Ladies and Gentlemen and especially ladies BruffdaCrowdpPleaSer is a CULT FIGuRE!!
Joshua Redman & Brooklyn Rider - The Town Hall
May 20, 2018 - New York
Esteemed saxophonist Joshua Redman joins forces with the game changing string quartet Brooklyn Rider, along with fellow all-star collaborators Satoshi Takeishi (percussion) and Scott Colley (bass), for an entirely unique convergence of their respective worlds. Their joint recording, featuring composer Patrick Zimmerli's multi-movement suite Aspects of Darkness and Light, is set to release on Nonesuch/Warner in 2017. Booked in collaboration with Opus 3 Artists.
The Legendary João Bosco & Band From Brazil - Blue Note Jazz Club
Through May 20, 2018 - New York
Direct from Rio, Brazilian legendary singer, composer, and guitarist João Bosco makes a rare New York City appearance with his band. Early in his career Bosco combined his distinctive guitar style with the sounds of Bossa Nova and American jazz. He teamed up with lyricists Vinicius de Morais and Aldir Blanc and became a star on the Brazilian music scene when his songs were recorded by Elis Regina and others. Bosco has since recorded more than 30 albums and performed at all the major venues around the world.
Looking for Free Group Planning Services?
Get free advice on planning your group's trip to New York.
MORE Activity Planner ARTICLES
RESTAURANTS

Beloved midtown spot takes inspiration from local tradition,...

THEATER

Gaston Leroux's famous period thriller is now one of Broadwa...

SHOPPING

The world's largest source of cameras, camcorders, and more ...

SIGHTSEEING

The only provider of ferry transportation to the Statue of L...