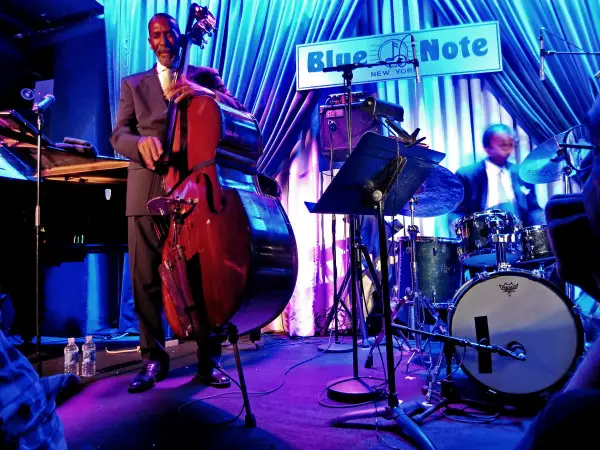 Photo: Flickr/Zhang Yu

Music fans in NYC can find all the latest blues and jazz shows and performances in City Guide's calendar. With newer venues like Dizzy's Club Coca-Cola joined by world-famous classics like the Village Vanguard and Birdland, you'll find jazz from hard bop to progressive. The blues also live in NYC, at great spots like Terra Blues.


Kamasi Washington, Butcher Brown - Brooklyn Steel
November 11, 2018 - Brooklyn
Kamasi Washington (born February 18, 1981) is an American jazz saxophonist, composer, producer, and bandleader. Washington is known mainly for playing tenor saxophone.[1]
The Young Lions Jazz Orchestra - ShapeShifter Lab
November 11, 2018 - Brooklyn
The Young Lions Jazz Orchestra is a new initiative run by Kira Daglio Fine that sprouted from her student-run big band at Columbia University. The 16-piece group is comprised of some of the best young musicians in the city, many of whom are current students or recent graduates of Columbia, Juilliard, and the New School. The Young Lions offer a fresh and exciting take on the big band tradition by focusing primarily on original compositions and arrangements, in addition to favorites by Mingus, Ellington, Thad Jones, and more.
Jon Faddis Quartet - Dizzy's Club Coca Cola
November 11, 2018 - New York
With trumpeter and leader Jon Faddis, pianist David Hazeltine, bassist Todd Coolman, and drummer Dion Parson. Legendary trumpeter Jon Faddis, protégé of the great Dizzy Gillespie, returns to Dizzy's Club to great demand. Known for an extraordinary and virtually unparalleled range, Faddis has complete mastery over the trumpet. He evokes the voices of Louis Armstrong, Miles Davis, Roy Eldridge, and, of course, Gillespie, all while remaining true to his own. Faddis' illustrious career has seen him perform with top jazz musicians, including Lionel Hampton, Charles Mingus, and the Thad Jones/Mel Lewis Orchestra. For some of the best trumpet playing you'll ever hear, don't miss out this special one night appearance at Dizzy's Club.
The Rock and Roll Playhouse Presents: The Music of Grateful Dead for Kids - Brooklyn Bowl
November 11, 2018 - Brooklyn
The Rock and Roll Playhouse, a family concert series hosted at Brooklyn Bowl, The Capitol Theatre, Industry City, Ardmore Music Hall, The Sinclair, Thalia Music Hall, and Boulder Theater allows kids to "move, play and sing while listening to works from the classic-rock canon" (NY Times). Using the songs created by the most iconic musicians in rock history, The Rock and Roll Playhouse offers its core audience of babies and kids games, movement, and stories and an opportunity to rock out. The Rock and Roll Playhouse is an early and often first introduction to a child's lifelong journey with live music and rock and roll. By purchasing advanced tickets to this show you are opting in to receive promotional emails from The Rock And Roll Playhouse We have limited space for strollers in house. There will be additional outdoor stroller parking outside but that is limited as well. Barton Hills Choir The Barton Hills Choir is led by Barton Hills Elementary School music teacher and choir director Gavin Tabone. The Choir is comprised of 3rd, 4th, 5th, and 6th grade students from the school and accompanied by professional musicians, including guitarist Don "El Cento" Cento, bassist Jas... (read more)
Benny Turner with Special Guest Davell Crawford - R&B - The Triad
November 11, 2018 - New York
After 60 years in the music business, performing gospel, R&B, soul and blues everywhere from the Chitlin Circuit to the Apollo Theater to the far reaches of the globe, Benny Turner has taken his rightful place on center stage. A career sideman to iconic musicians such as Dee Clark, The Soul Stirrers, Mighty Joe Young, Marva Wright-Blues Queen of New Orleans, and his brother the late Freddie King, Benny is a new shining star in the blues world. Singer, songwriter, bassist, producer and author, Benny's work is highly-acclaimed and second only to his electrifying live shows. One taste of his authentic blues will leave you wanting more!
Jeff Goldblum in Conversation: The Capitol Studio Sessions - 92Y
November 11, 2018 - Upper East Side
What happens when one of the most distinctive actors of his generation plays jazz piano? Coming from Jeff Goldblum, it somehow makes perfect sense. But Goldblum is no stranger to music—the Hollywood icon learned piano as a child and has been playing with his band, The Mildred Snitzer Orchestra, for decades. Their debut record, The Capitol Studio Sessions, is out in November. Join us for an intimate discussion and listening session concerning the relationship between jazz and improvised comedy and Goldblum's longstanding passion for both acting and music.
The Orchestra Now: Tan Dun & Respighi's Pines of Rome - Jazz at Lincoln Center
November 11, 2018 - New York
Grammy and Academy Award-winning composer and conductor Tan Dun leads The Orchestra Now in a Respighi classic, the vivid Pines of Rome. Plus, two of his own works: the U.S. Premiere of a cello concerto, and a recent piece where birdsong is produced by smartphone.
Beauty and the Beast - The New Victory Theater
Through November 11, 2018 - Midtown
Brimming with surprises and broad comic delights, this rowdy and rustic re-telling of the familiar French fable features a feisty heroine, a preposterous pair of loudmouthed, spoiled sisters and an enchanted prince with some monstrously bad pick-up lines. An ensemble of six actor-musicians weaves spellbinding narration, clever dialogue, and a Jazz Age score into a ferociously fun show about love, family and the notion that beauty—and beastliness—are only skin-deep.
TAKE 6 - Blue Note Jazz Club
Through November 11, 2018 - New York
TAKE 6 is the most awarded a cappella group in history, with ten Grammy's, ten Dove Awards (Gospel Music Awards), Best Jazz Vocal Group honors for seven consecutive years in Downbeat's prestigious Reader's and Critic's Poll, a Soul Train Music Award, BRE (Black Radio Exclusive) Vocal Group of the Year, two NAACP Image Award nominations, induction into the Gospel Music Hall of Fame and countless other musical and humanitarian citations. Showing the global appeal of this phenomenal group, they celebrated their 25th Anniversary last year with a World Tour including stronghold favorite markets Asia, South America, eastern and western Europe and the United States and TAKE 6 opened up new markets with debut tours of Australia and Canada. They receive rave reviews and overwhelming audience reception wherever they go. From New York's famed Blue Note to the Montreux Jazz Festival, from PBS to ABC-TV specials, they remain the quintessential and pre-eminent a capella group in the world, working harder than ever, and loving every minute of it. Most recently, TAKE 6 had the honor of being the first American vocal group to perform in Cuba since diplomatic relations were restored. One of th... (read more)
The Grass Is Dead - Brooklyn Bowl
November 12, 2018 - Brooklyn
What's in a name? Sometimes, everything… The Grass Is Dead are a bluegrass combo paying homage to the music and cultural legacy of The Grateful Dead, arguably America's first folk rock band and one of the most influential musical artists of the last 50 years. The catalogue of the Dead's music is a gold mine for string bands and story tellers, and The Grass Is Dead have established themselves far and wide as premiere purveyors of this rich tradition of Americana music. Pickin' and grinnin' is what they do best, and they have been adapting Grateful Dead songs in their own bluegrass style since 1998. A festival favorite, The Grass Is Dead has built a loyal following from their home state of FL throughout the Eastern United States through burning live shows, and well beyond, through word of mouth, social media and old fashioned taper trees. The demand for Grateful Dead music is seemingly endless, and there are countless cover bands satisfying that demand on the local level, but there are not many artists out there approaching the music from the perspective of The Grass Is Dead. It is not complicated or artsy: this is a straight forward hootenanny built to last, and fans of either blu... (read more)
Nashville based blues artist James House will be performing at City Winery in New York City on 11/12 - City Winery
November 12, 2018 - New York
Nashville based blues artist James House will be performing at City Winery in New York City on November 12, 2018. A widely respected songwriter in many genres, James House has spent over two decades writing songs that have been honored with Grammys, Country Music Association and Academy Country Music Awards, and countless other Billboard Chart Toppers for various artists, including Martina McBride, Rod Stewart, Tina Turner and most recently Joe Bonamassa. James and his band, The Blues Cowboys, will perform original songs from his latest self-titled album, which is available now on iTunes, Amazon and Spotify. The show will also feature Mary Gauthier and Terry Radigan and will benefit SongwritingWith:Soldiers. For more info: JamesHouseMusic.com
Tuesday Night Latin Jazz with Chembo Corniel - Nuyorican Poets Cafe
November 13, 2018 - New York
The Bronx Conexión is a driving 20-piece Latin-Jazz Big Band lead by drummer/ percussionist, Victor Rendón. The ensemble, with its home base at Lehman College, brings a group of veteran musicians with a wide variety of experience in the field. The Bronx Conexión keeps the tradition of Tito Puente, Machito, Mario Bauza, among others, with it's own rendition of popular tunes as well as original compositions and arrangements by various members in the band. Admission: $10 general admission/$7 with Student ID at the door/$25 two tickets plus two drinks
Michael Franks - Sony Hall
Through November 17, 2018 - New York
General Admission Only Doors: 6:00 pm / Show: 8:00 pm See more at the Sony Hall website!
The Carlos Henriquez Project - Dizzy's Club Coca Cola
Through November 17, 2018 - New York
Bassist and composer Carlos Henriquez is one of the first truly bilingual musicians, a virtuoso in both jazz and Afro-Latin traditions. Henriquez has been a member of the Jazz at Lincoln Center Orchestra since he was only 19 years old, and New York Latin Culture calls him "the most important Latin jazz artist in New York City today, the heir to the legacy of Tito Puente." The Bronx native has been a phenomenon since high school, back when he was playing with greats like Puente, Eddie Palmieri, and Celia Cruz, and he is now emerging as one of Latin jazz's most compelling composers, bandleaders, and music directors. Tonight's show is the debut of his newest project, a program curated entirely by Henriquez to explore new angles of the Latin jazz continuum. As always, it will be a lively, insightful, and technically marvelous marriage of established traditions and cutting-edge possibilities.
Bob James Trio - Blue Note Jazz Club
Through November 18, 2018 - New York
In a career that spans five decades, Bob James has produced an impressive body of work. Over 30 solo albums and collaborations have resulted in 15 Grammy nominations plus innumerable awards, beginning in 1962 at the Notre Dame Jazz Festival and most recently with the George Benson Lifetime Achievement Award in April of 2006. In between there has been Jazz Artist of the Year, Jazz Producer of the Decade, #1 Jazz radio hits and five #1 tracks on the Billboard Jazz Charts. The first four albums were produced by Creed Taylor on his CTI label. At CBS another 14 solo albums were released in the 1970's and 1980's before Bob's move to Warner Bros. There, while Vice President of A&R, ten more titles were produced and released by James in the 80's, 90's and into the 21st century. Recent titles include 'Take It From the Top' (2004) a trio album, 'Urban Flamingo,' a contemporary jazz project (2006) and 'Angels of Shanghai,' (2007) – all on Koch Records. 'One On One' with Bob James and Earl Klugh as well as 'Double Vision' with Bob James and David Sanborn won the Grammy Award and sold in excess of one million copies each. James composed the theme song for the television series 'Taxi' as well... (read more)