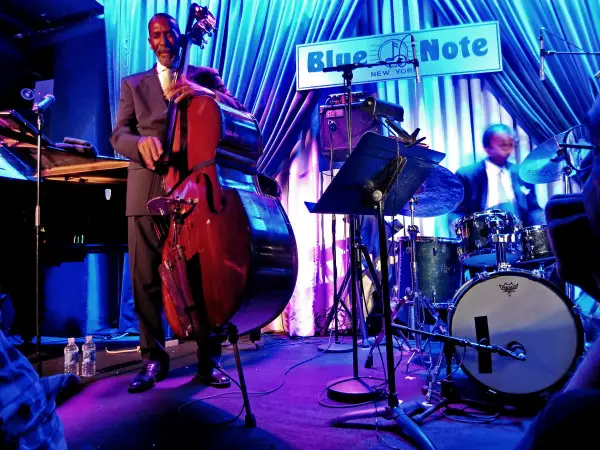 Photo: Flickr/Zhang Yu

Music fans in NYC can find all the latest blues and jazz shows and performances in City Guide's calendar. With newer venues like Dizzy's Club Coca-Cola joined by world-famous classics like the Village Vanguard and Birdland, you'll find jazz from hard bop to progressive. The blues also live in NYC, at great spots like Terra Blues.


Vladimir Kostadinovic- Jazz - Silvana
October 14, 2018 - New York
This Band made thanks to Vladimir's inspiration and wish to keep the mix between tradition and modern jazz language. Their aim and goal is deployment and progress of a jazz sound,but first of all approach to the every generation and all the jazz fans. Their arrangements are based on original compositions and some standards, influences of jazz giants such as: John Coltrane, Thelonious Monk, Roy Haynes, Elvin Jones, etc - with a lot of groove walking bass and also admixtion of a modern sound.
Indigo Girls - Beacon Theater
October 14, 2018 - New York
The Indigo Girls will perform at the Beacon Theatre on October 14th, 2018 with The War & Treaty.
Kojo Roney Trio & Malick Koly & Kounadya Double Bill - ShapeShifter Lab
October 14, 2018 - Brooklyn
7p Kojo Roney Trio 8:15p Malick Koly & Kounadya (Experiments) Cover tbc
Spyro Gyra - My Father's Place at The Roslyn Hotel
October 14, 2018 - Roslyn
Spyro Gyra is an American jazz fusion band that was formed in Buffalo, New York in 1974. The band's music combines jazz, R&B, funk, and pop music. The band's name comes from Spirogyra, a genus of green algae which founder Jay Beckenstein had learned about in college. The band has released over 30 albums and sold over 10 million copies.
To Everything There Is a Season: The Year in Yiddish Song - Merkin Hall
October 14, 2018 - New York
Top off your Sunday afternoon with the acclaimed Jewish People's Philharmonic Chorus (JPPC), a 40-member ensemble praised in The Jewish Week for its "upbeat Broadway bounce." They captivate the house with their musicianship, expressiveness, and all-Yiddish repertoire. Their June 10 performance was sold out—this is an encore concert! This year's program, TO EVERYTHING THERE IS A SEASON: THE YEAR IN YIDDISH SONG, shines a brand-new musical light on some traditional holiday tunes ("Dayeynu" and "Khad-gadyo" will never be the same!) and celebrates secular holidays as only the JPPC can ("Auld Lang Syne" and a Labor Day medley—in Yiddish!). On a more serious note, a moving new arrangement of the "Partisan's Hymn" honors Yom HaShoah.
Madeleine Peyroux @ Sony Hall - Blue Note Jazz Club
October 14, 2018 - New York
Twenty years after her recording debut, Dreamland, Madeleine Peyroux continues her musical journey of exploring beyond the ordinary with Secular Hymns, a spirited and soulful masterwork of loping, skipping, sassy, feisty and sexy tunes delivered in a captivating mélange of funk, blues and jazz. With her trio that had been touring together for two years—electric guitarist Jon Herington and upright bassist Barak Mori—Peyroux set out to record in a live setting a collection of songs that have their own hymn-like stories of self-awareness and inner dialogue, a communal consciousness and a spiritual essence. "Music has been our spiritual life," she says. "So I think of these as hymns, secular hymns—songs that are very individual, personal, introverted." With her seductively expressive voice, Peyroux intimately renders tunes by seminal blues artists (two penned by Willie Dixon and one by Lil Green), the classic gospel singer Sister Rosetta Tharpe, the under-the-radar dub star Linton Kwesi Johnson, three renowned contemporary composers (Tom Waits, Townes Van Zandt, Allen Toussaint), the 19th century composer Stephen Foster (considered to be the first great songwriter in Americ... (read more)
Madeleine Peyroux - Sony Hall
Through October 14, 2018 - New York
General Admission Only 21+ Doors: 7:00 pm / Show: 8:00 pm See more at the Sony Hall website!
Guitar Masters Series: Ben Monder/Theo Bleckmann Duo - Zinc Bar
October 15, 2018 - New York
"A searing unison interplay between Theo Bleckmann and Ben Monder – either they rehearsed this passage for months or they have developed a familial telepathy from their years of collaboration." —Phil DiPietro, All About Jazz Acclaimed jazz guitarist Ben Monder joins forces with vocalist Theo Bleckmann to perform at Zinc jazz club on Monday, October 15. A musician in the New York City area for over 30 years, Ben Monder has performed with a wide variety of artists, including Jack McDuff, Marc Johnson, Lee Konitz, Billy Childs, Andrew Cyrille, George Garzone, Paul Motian, Maria Schneider, and Marshall Crenshaw. He also contributed guitar parts to the last David Bowie album, "Blackstar". Ben conducts clinics and workshops around the world, and has served on the faculties of the New England Conservatory, NYU, and the New School. He was the recipient of a Doris Duke Impact Award in 2014, and a Shifting Foundation grant in 2013. Ben continues to perform original music internationally in solo and trio settings, and in a long-standing duo project with vocalist Theo Bleckmann. He has appeared on over 200 CDs as a sideman, and has released 6 as a leader: Amorphae (ECM, 2015), Hydra (Sun... (read more)
The Kings County Swing - St. Mazie Bar & Supper Club
October 15, 2018 - Brooklyn
Gypsy Jazz Jam session with the Kings County Swing!
Ari Hoenig Trio - Smalls Live
October 15, 2018 - New York City
As a drummer, Ari Hoenig's success has been unprecedented. Growing up in Philadelphia, his parent's influence exposed Ari to a variety of alternative musical experiences. His father is a conductor and classical singer, his mother a violinist and pianist. Accordingly, at six years of age, Ari began studying the violin and piano. He began playing drums at age twelve and by age fourteen, he was honing his skills with other young jazz musicians at Philly clubs such as Ortlieb's Jazz Haus. Ari attended the prestigious University of North Texas for three years, where he studied with Ed Soph while playing with the "One O'Clock" Lab Band. Wanting to be closer to New York City, in 1995 Ari transferred to William Patterson College in northern New Jersey. He soon found himself playing for legendary Philadelphia organist Shirley Scott and working regularly in New York City. Shortly thereafter, Ari moved into Brooklyn, and since, has found himself playing extensively with variety of groups, including Jean Michel Pilc Trio, Kenny Werner Trio, Chris Potter Underground, Kurt Rosenwinkel Group, Joshua Redman Elastic band, Jazz Mandolin Project and bands led by Wayne Krantz, Mike Stern, Richar... (read more)
Wonderful World: Friends of Music Therapy Gala 2018 - The Cutting Room
October 15, 2018 - New York
Wonderful World 2018 The annual awards are presented to musicians, artists, physicians, philanthropists, and patients who serve to make the world a better place. The gala honors the legacy of Louis Armstrong, by supporting the Louis Armstrong Center for Music and Medicine, and, in particular, his commitment to bettering the lives of others through music. This year we honor Vanessa Williams, Eddie Palmieri, Paul Zucker, Charles Radcliffe, and Shantelena Mouzon. The program includes a cocktail reception, a silent auction, a live jazz, a performance by Urban Bush Women, the honoring ceremonies, and music performances including Jon Faddis, David Hazeltine, Erik Lawrence, Garry Dial Trio, and more.
Berklee Indian Ensemble - ShapeShifter Lab
October 15, 2018 - Brooklyn
The Indian Ensemble is more than just a class at Berklee College of Music. It's home." With members from 42 countries (till date), the Berklee Indian Ensembl e provides an open and inclusive creative space for musicians from all over the world to explore, study, interpret, and create music influenced by the rich and varied mosaic that is Indian music today. From a Carnatic Thillana or a high adrenaline Konnakol conversation, to Indo-jazz experiments or a Quwali, the ensemble performs an expansive repertoire, with the ultimate goal of presenting concerts entirely consisting of original student compositions. Founded in 2011 by Indian Berklee alum and current faculty member, Annette Philip, the group was the first of it's kind at the college. Starting with just 18 members the first semester, the Berklee Indian Ensemble is now one of the largest performing groups at the college, with over 40 musicians at each concert.
Ice on the Hudson featuring: Rene Marie, Janis Siegel, Darius de Haas, Karen Oberlin - Birdland
October 15, 2018 - New York
Ice on the Hudson: Songs by Renee Rosnes and David Hajdu. Featuring Special Guests: Rene Marie, Janis Siegel, Darius de Haas, Karen Oberlin Piano: Renee Rosnes; Saxophones: Steve Wilson; Cello: Rubin Kodheli; Bass: Sean Smith; Drums: Carl Allen
Boney James - Sony Hall
October 17, 2018 - New York
It's been a full quarter-century since a young saxophonist and composer released his debut recording as a leader, Trust. Now, on September 1, 2017, Boney James will release his 16th album, this one titled Honestly. If you sense a direct line between those titles, you've already come a long way toward understanding what motivates the four-time GRAMMY nominee and multi-platinum-selling musician. "I'm fighting the good fight to be my own artist and not be pigeonholed," says the genre-blurring James. "With a record's title I always try to find something that will communicate the feeling I get when I listen to it. The feeling I get with this music is a sense of sincerity and intimacy. The word 'honestly' really reflects how I aspire to live my life and create my music. One of the great things about music is how powerful it is. It can totally transport people. These are interesting times we are living in and the one thing I can do with the skills that I have is to make music that evokes a feeling and takes people somewhere… to do what I can to try and make the world a more pleasant place." Honestly follows futuresoul, James' 2015 release which spent eleven weeks at #1 on the Bill... (read more)
So so Def 25th Cultural Curren$Y Tour - Barclays Center
October 18, 2018 - Brooklyn
Don't miss Jermaine Dupri, XSCAPE, Anthony Hamilton, Jagged Edge, Da Brat, Bow Wow, Dem Franchize Boyz, Bone Crusher, JKwon and YoungBloodz at So So Def's 25th Anniversary Show in Brooklyn on Thursday, October 18.*
J Balvin - Barclays Center
October 20, 2018 - Brooklyn
Multi-platinum, award-winning Colombian superstar and one of the hottest acts in Latin music, J Balvin, is bringing the Vibras Tour Powered by Buchanan's Whisky to Barclays Center on Saturday, October 20! J Balvin has had a phenomenal year from being one of the most-listened to global artists across YouTube and Spotify, to having back-to-back #1 singles with "Mi Gente" and "Machika." As one of the music world's most in-demand collaborators, Balvin has hit songs with Beyoncé, Cardi B, Justin Bieber, Pharrell Williams, Camila Cabello, Nicky Jam, Bad Bunny, Liam Payne and many more - making the Vibras Tour Powered by Buchanan's Whisky a can't miss event for fans ready to hear all of their favorite songs live.
Tito Rojas Tito Nieves Tito Allen - Lehman Center For The Performing Arts
October 20, 2018 - New York
Havana Café and Lehman Center invite you to a special pre-concert reception. ?Best seats in the house! VIP Ticket includes pre-concert wine, beer, Havana Club Rum & hors d'oeuvres reception and best house seats. VIP tickets are listed with other ticket prices for a specific show. VIP members will also receive complimentary tickets throughout next season to select events as a token of our appreciation. ?This will be a great opportunity for us to meet you in person!? The VIP reception will start at 6:30 pm for 8 pm performances and at 2:30 pm for our 4 pm performances and last for one hour. ?Please order your VIP tickets when purchasing tickets to the performances. Sponsored by Havana Café and Havana Club Rum.
Joey Alexander with Strings - Dizzy's Club Coca Cola
Through October 20, 2018 - New York
When pianist Joey Alexander first performed in Rose Theater at age 11, it was a history-making highlight of Jazz at Lincoln Center's 2014 gala. He has since sold out Jazz at Lincoln Center's Appel Room and Dizzy's Club Coca-Cola, and now, at age 15, he returns to our largest stage as a headliner. Following multiple Grammy Award nominations, a 60 Minutes feature, performances at top international festivals, and universal critical acclaim, this young virtuoso continues to challenge himself and expand his artistry. That passion will be felt tonight as Alexander performs original compositions and his favorite jazz classics in solo, duo, and trio settings—as well as with a string section for the first time at Jazz at Lincoln Center. The string parts will be written and conducted by Grammy Award–winning composer and arranger Richard DeRosa. A master craftsman, DeRosa has arranged for Glenn Miller, Stephen Sondheim, the Chicago Orchestra, New York Pops, and dozens more. DeRosa also recently co-wrote arrangements for the Jazz at Lincoln Center Orchestra with Wynton Marsalis' Leonard Bernstein at 100 concerts. With DeRosa's brilliant contributions, Alexander joins a celebrated line... (read more)