Insider Alert: Summer Equals Showtime - From Broadway to Al Fresco Performances, Entertainment Escalates When Temperatures Soar in the Big Apple
July 17, 2012 - by Griffin Miller, Theatre Editor
Six Reasons for Loving Summer Theatre in Manhattan:
6. There is no such thing as a dress code: Tank tops, shorts and flip-flops are commonplace all over the place—practically de rigueur.
5. Fab festivals that pop up in a heartbeat both Off- & Off-Off Broadway, the most high-profile being The New York International Fringe Festival, father to such Broadway and Off-Broadway successes as 2002's Tony-winning musical Urinetown and Off-Broadway's current musical parody hit Silence! the Musical).
4. Unconventional venues: Parking lots, parks, churches, schools, and even a Mobile Shakespeare Unit (from the Public Theater) transporting a professional production of Richard III (7/16-8/3) to prisons, homeless shelters, centers for the elderly, and other community sites throughout the five boroughs before playing The Public from 8/6 to 8/25.
3. Free is just another word for "accessible to all." The Delacorte set the high bar on this one with its annual gift of Free Shakespeare in the Park. And even though their first show of the summer, As You Like It, closed on June 30, the beloved Stephen Sondheim fantasy musical Into the Woods -- starring Tony winner Donna Murphy -- is scheduled to dazzle from 7/23 through 8/25.
2. Awesome Broadway cast replacements.
1. Totally cool Broadway shows with limited summer runs.
Naturally, #1 and #2 require further scrutiny, so let's begin with the latest round of newcomers to join two of Broadway's super successes from the past season: Clybourne Park and Gore Vidal's The Best Man.
Re: Clybourne Park: 2012's Tony-winner for Best Play (which arrived on Broadway with a 2011 Pulitzer Prize and Olivier Award in its back pocket) welcomes Sarah Goldberg to the American cast on July 17. Goldberg, who originated Betsy/Lindsey in the London Production and picked up an Olivier nomination for her performance, replaces Annie Parisse, who ended her stint with the limited-run production (it's set to close 9/2) on July 15.
Meanwhile, The Best Man is up to its red-white-and-blue bunting in new celebrity cast members. Leaving the show for prior commitments are Candice Bergen, Kerry Butler, Angela Lansbury, and Eric McCormack. Their big-name replacements -- already well into their roles -- are Cybill Shepherd, Kristin Davis, Elizabeth Ashley, and John Stamos. (For the record, this is the second revival of Vidal's classic political comedy set in the 1960s, the first being in 2000, with Tony winner Ashley in the same role she's currently playing: society hostess Sue–Ellen Gamadge. Remaining with the cast up to the show's scheduled September 9 closing date are three Tony winners: James Earl Jones, John Larroquette, and Jefferson Mays.
As for summer newbies, this is one of those rare years where three very diverse Broadway productions are making waves as they take up fleeting residence on the Great White Way.
First out of the gate is the return engagement of one of my favorite musicals, Fela!—a brilliant look into the political and creative life trajectory of legendary Nigerian musician Fela Kuti. Featuring Tony-winning choreography by Bill T. Jones, Fela! will be in New York for less than a month: July 9 through August 4. Whether you're a first-timer or a return fan, this unexpected windfall is a gift and a half.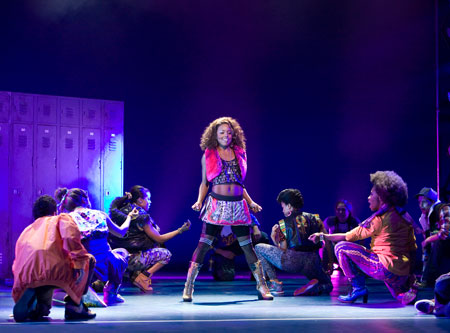 Second up is the highly anticipated Bring It On: The Musical about the ins-outs-ups-and-downs of extreme competition of the cheerleading kind. Credentials here are marked by a roster of Tony winners: direction & choreography by Andy Blankenbuehler (In the Heights); libretto by Jeff Whitty (Avenue Q); music and lyrics by Lin-Manuel Miranda (In the Heights), music by Tom Kitt (Next to Normal), and music supervision by Alex Lacamoire (Wicked). Also onboard with lyrics is Broadway veteran Amanda Green (High Fidelity). The touring production's cast remains intact and physically on top of the dynamic dance moves and aerial stunts. Previews began July 12 with opening night set for August 1. The 12-week run wraps up on October 7.
Finally, a solo show no one saw coming, but one that may well be the most provocative theatre experience of the season: Mike Tyson: Undisputed Truth. For 12 nights (reserve your tickets now!) and 90 minutes (no intermission), this unprecedented show has the real Iron Mike (not an actor assuming the controversial boxer's identity) speaking out not in the tabloids or reality TV, but up close and personal on the stage of the Longacre Theatre. Directed by none other than the groundbreaking film director Spike Lee, Undisputed Truth will play July 31 through August 12.
Looking for Free Group Planning Services?
Get free advice on planning your group's trip to New York.
RESTAURANTS

The home of decadent desserts like the famous Frrrozen Hot C...

THEATER

Gaston Leroux's famous period thriller is now one of Broadwa...

SHOPPING

Heaven for designers, artists, and antiques lovers....

SIGHTSEEING

From May through the summer months, Circle Line Downtown off...