A tsunami of closing announcements have bombarded the Broadway coast this past week, but the mega shocker is clearly Shuffle Along, or The Making of the Musical Sensation of 1921 and All That Followed, which is calling it quits altogether on July 24th—the date previously cited for star Audra McDonald's pregnancy exodus.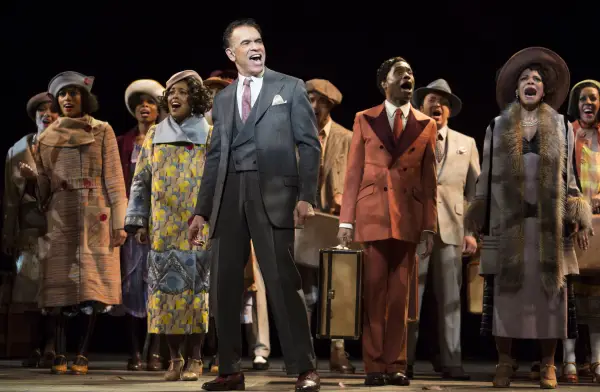 Julieta Cervantes/Philip Rinaldi Publicity via AP
Adding to the "whoa, I didn't see this coming" aspect of this adios (the show does, after all, boast other high profile performers and a fabulous supporting cast) the unusually long statement issued by producer Scott Rudin:
"Audra McDonald is the biggest star on Broadway, and audiences have been clamoring to see her in this role since the first preview of Shuffle Along in March of this year. She is absolutely extraordinary in the show, and I am filled with gratitude for both her exemplary partnership on Shuffle Along and also for her remarkable resilience and fortitude in doing everything possible to play as many shows as she can, despite the circumstance of her pregnancy. We are thrilled that she and her husband, Will Swenson, are experiencing the opportunity to expand their family—and we wish them all good things as they approach the birth of their child this fall. It has, however, become clear that the need for Audra to take a prolonged and unexpected hiatus from the show has determined the unfortunate inevitability of our running at a loss for significantly longer than the show can responsibly absorb, and we have decided to close the show when she leaves on July 24. On behalf of myself and George C. Wolfe, I want to say how deeply grateful we are to her for everything she gave and continues to give the show. There is simply nobody like her."


In a follow-up statement, McDonald said, "I am overjoyed to be expecting a new addition to my family yet completely heartbroken that our tremendously talented cast and company—my 'Shuffle Family'—won't be able to continue telling this incredible story. We are all so fortunate to have worked with—and learned from—the genius that is George C. Wolfe and played a part in bringing this vital and illuminating work to life. I am eternally thankful for the support and compassion the production, especially Scott Rudin, has shown me. While a complete surprise to Will and me, this baby is one of the greatest gifts of our lives."
Shuffle Along, which also stars Tony winners Brian Stokes Mitchell and Billy Porter, opened to mostly excellent reviews on April 28. It went on to win the New York Drama Critics Circle and Drama Desk Awards for Best Musical, along with the Drama Desk Awards for Outstanding Choreography (Savion Glover), Outstanding Costume Design (Ann Roth), and Outstanding Wig and Hair Design (Mia M. Neal). It was nominated for ten 2016 Tony Awards, including Best Musical. It will have played 38 previews and 100 regular performances by the time it evacuates the Music Box Theatre.
My take on this unprecedented good-bye: theatrical tragedy... audiences deserve to see George C. Wolfe's labor of love and, once McDonald is ready to throw herself back into the throes of performance, HBO should scoop this baby up for a multi-parter...the show's an eye-opener covering a subject that theatre history has glossed over far too long. The story simply cries out to be told to a big and welcoming audience.
OTHER BROADWAY CLOSINGS 2016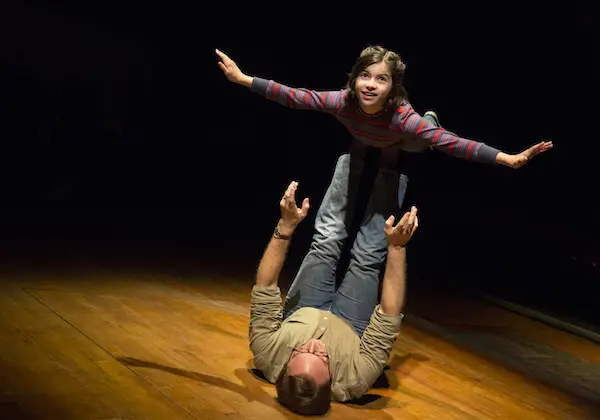 Photo: Joan Marcus
Fun Home, 2015's musical based on Alison Bechdel's best-selling graphic memoir, is slated to play its final performance on Saturday, September 10th. The show—the first one written by a woman to pick up a Tony Award-winning Best Musical (and the first with a lesbian protagonist)—will have played 26 previews and 582 regular performances at the Circle in the Square, a venue beautifully suited to this groundbreaking, beautifully acted and sung show.
"Fun Home has been a small miracle since our first preview at The Public Theater," producers Kristin Caskey, Mike Isaacson, and Barbara Whitman said. "We're incredibly proud and grateful that this show has had universal acclaim and such an extended life. We're thrilled that Fun Home will now head out across the country this fall, and thousands of others will get to experience this truly extraordinary production."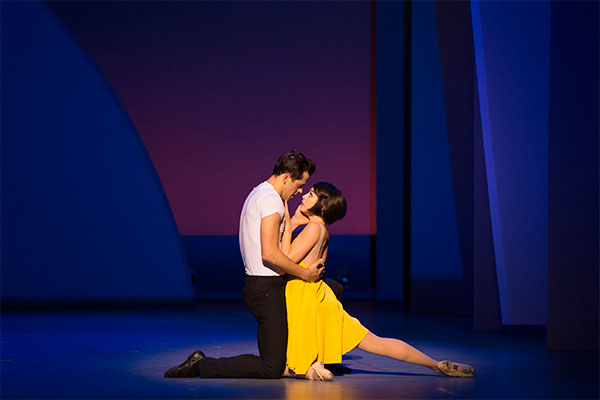 Photo: Angela Sterling
An American in Paris, the Gershwin-scored/luminous Tony-winning musical (Best Choreography, Best Orchestrations, Best Set Design, and Best Lighting Design) that's still tantalizing audiences at the Palace Theatre, has posted a closing date of January 1, 2017. "An American in Paris has been a dream come true for all of us, and we are beyond thrilled with the show's success," said show producers Stuart Oken, Van Kaplan, and Roy Furman. "We are announcing our closing six months ahead so that as many people as possible can plan to experience the uniqueness and beauty of the show before it leaves Broadway. The production is expected to recoup its entire investment before the end of its Broadway run."
Having rated rave reviews and all kinds of high-profile, non-Tony awards, the show is scheduled to lauch a national tour in Boston in October of this year with Garen Scribner and Sara Esty in the leading roles, followed by London in March, 2017 with original stars Robert Fairchild and Leanne Cope. The powers that be are also in discussions with producers in Japan, China, and Australia.
BUT WAIT, THERE'S MORE
Just a heads up regarding a handful of Broadway shows that will be closing within the next few weeks....reserve tickets swiftly, my friends.
CLOSING THIS SUNDAY, 6/26:Bright Star, Long Day's Journey Into Night, and The King and I
CLOSING SUNDAY, 7/10: She Loves Me
CLOSING SUNDAY, 7/17: Arthur Miller's The Crucible
And, finally:
CLOSING SUNDAY, 7/31: Fully Committed