Broadway Jukebox Musicals - Shows That Take You Back to Your Summer Happy Place
July 19, 2011 - by Griffin Miller, Theatre Editor
Follow City Guide on Twitter - @cityguidenyc
Like City Guide on Facebook here.
Click on the show title for theater information, show times, and more.
Looking for a sure thing on the Great White Way? Then go forth and reconnect with the songs that rocked your stereo/Walkman/MTV universe once upon a time gone by. I'm talking about the ultimate Broadway comfort foods -- make that delicacies -- known as jukebox musicals.

A genre that skyrocketed following the launch of Mamma Mia!, the ABBA-scored triumph that debuted in London in 1999 and opened on Broadway nearly a decade ago, jukebox musicals have carved out an indelible niche in the theatrical stratum despite the media buffeting they endured during the early 2000s. Granted, there were some missteps along the way -- the candy-coated Good Vibrations featuring the Beach Boys' greatest hits surfs to mind -- but in recent years, the second wave of jukebox shows have clearly found their footing. After all, there's no debating the fact that the summer roster of Broadway musicals includes six of them -- seven if you count Million Dollar Quartet, the re-imagining of the legendary Elvis Presley/Carl Perkins/Johnny Cash/Jerry Lee Lewis recording session that recently vacated the Nederlander Theatre to take up permanent residence at Off-Broadway's New World Stages on July 28.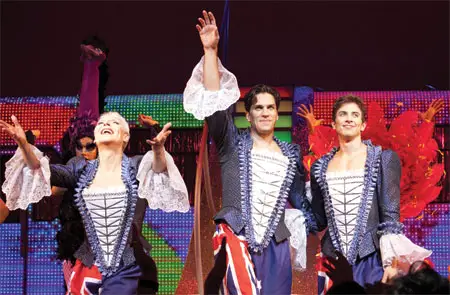 Alphabetically, we're talking Baby It's You! (starring Tony winner Beth Leavel as Florence Greenberg, the woman who discovered the Shirelles); Jersey Boys (2006's Best Musical about Frankie Valli and the Four Seasons which, six years later, is still one of Broadway's hottest tickets); the aforementioned groundbreaking crowd-pleaser Mamma Mia!; Priscilla, Queen of the Desert (a glitzy bonanza of decade-spanning disco chart-toppers wrapped up in a heartfelt storyline and glorious performances from Tony Sheldon, Will Swenson and Nick Adams, pictured above); Rain – A Tribute to the Beatles on Broadway, which has proven to be not just a concert, but rather a blast from the past captures the essence of the Fab Four through their various musical and sartorial stages; and finally, Rock of Ages, the transcendently clever homage to Billboard's 1980s chart toppers, from Styx to Journey to Bon Jovi to Twisted Sister to... let's just say, everyone who matters from the decade of shoulder pads and big hair.

And should you want to compound your vintage-rock pleasure with a couple of non-jukebox shows, I strongly recommend a visit to Memphis, a musical that recreates the sounds of the 1950s while tracing the origins of rock and role in the South, and Hair – The American Tribal Love-Rock Musical, in a limited run of the brilliant revival that introduced the iconic 1960s musical by Gerome Ragni, James Rado and Galt MacDermot to new generations. Theatregoers, I give you 2011's Summer of Love!
Looking for Free Group Planning Services?
Get free advice on planning your group's trip to New York.
RESTAURANTS

The handsome, 12,000 square foot Times Square location offer...

THEATER

In a heartbeat, 38 planes with 6,579 passengers were strand...

SHOPPING

The world's only NHL store is located in the heart of Manhat...

SIGHTSEEING

Voted one of New York's most unique attractions, Madame Tuss...