As we turn the corner to the Tony Awards' home stretch, limos and town cars earmarked for celebs cool their wheels outside assorted Broadway theaters to accommodate the demand for autographs and selfies. Currently—and significantly—several stage doors are being engulfed in a kinetic surge of 11-to 18-year-olds.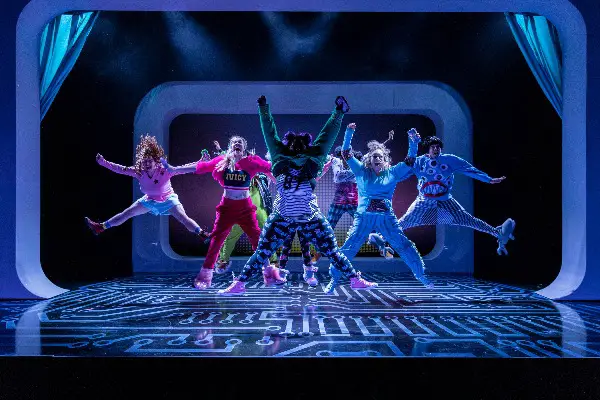 The high-flying Be More Chill moves up to the Lyceum. Photo by Maria Baranova.
In many cases, their favorite stars are up-and-comers they've been following on social media before heading to Broadway, like the stars of Be More Chill, a runaway hit Off-Broadway whose teenage fan base took on a cult status that spilled gleefully onto Snapchat and Instagram, making it a hot ticket even before it hit Broadway. And while you might not yet know the names Will Roland, Stephanie Hsu, or George Salazar, the young audience at the Lyceum Theatre cheered their arrival on stage as enthusiastically as if they were Taylor Swift or Kevin Hart.
New Arrivals
The Who's Who roster for the season is filling up fast with past Tony winners lining up as contenders for this year's trophies on June 9th (feel free to mark your calendars and plan your parties!). In the comedy sector there's Nathan Lane and Julie White in Gary: A Sequel to Titus Andronicus, with the added perk of Kristine Nielsen, who took over after Andrea Martin was forced to bow out due to injuries sustained during rehearsals.


Dramas are especially rich with Tony alum, thanks to Laurie Metcalf and John Lithgow, who are bringing a couple of familiar politico monikers center stage in Hillary and Clinton. Two more high-wattage recipients—Glenda Jackson and Jayne Houdyshell—are currently bending gender in King Lear, alongside Golden Globe winner Ruth Wilson and Elizabeth Marvel, who's picked up a few Obie Awards herself. And fans of multiple Tony winner Audra McDonald will want to catch her in the two-hander Frankie and Johnny in the Clair de Lune with Oscar nominee Michael Shannon.
Also getting a lot of press are the latest dramatic revivals to join the ranks. They include Arthur Miller's All My Sons, starring Tony winner Tracy Letts and Oscar nominee Annette Bening and Lanford Wilson's Burn This, boasting two high-profile stars who will most likely make the Tony cut this season, Keri Russell and Adam Driver.
Meanwhile, a couple of Brits are co-starring in the London import Ink: Bertie Carvel, bringing his Olivier Award-winning take on young Rupert Murdoch to the States, and Jonny Lee Miller, best known as Sherlock Holmes in the series Elementary.  
Santino Fontana in Tootsie. Photo by Robert Trachtenberg.
On the musical front, a couple of entrants come straight from the big screen—Tootsie, with Tony winner Michael McGrath and a trio of Tony nominees: Santino Fontana in the title role joined by comedic heavy hitters Sara Stiles and Reg Rogers.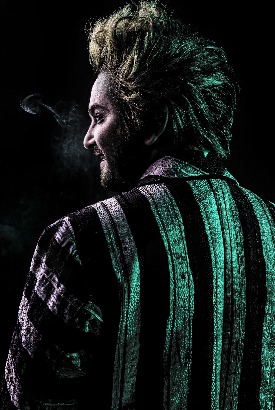 Alex Brightman in Beetlejuice. Photo by Matthew Murphy.
There's also Beetlejuice, starring Tony nominees Alex Brightman (Beetlejuice), Kerry Butler (Barbara), and Rob McClure (Adam)…all of them deceased, but only one a demented after-life force.
Star Crossings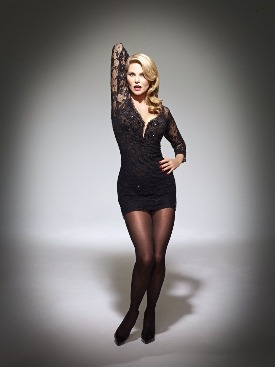 Christie Brinkley in Chicago. Photo by Andrew Eccles.
Keeping it fresh for the long run is what makes Broadway the ultimate theatrical gift. Even decades-old shows remain as bright and electrifying as they were on opening night. A personal favorite of mine—and countless other musical theatre aficionados—is Broadway's longest-running American musical, Chicago, a show filled with timeless Bob Fosse moves and a Kander and Ebb score and story that never get old.
The savvy people behind this production not only know the best ongoing talent to keep on tap, they're also practiced in the art of infusing the show with marquee-worthy names and faces. Which brings me to Christie Brinkley's return engagement as Roxie Hart—her third go-round as the headline-grabbing murderess at the Ambassador Theatre.
With her background as a supermodel and infectious personality, Brinkley's transition to the stage would seem a no-brainer, but who knew singing and dancing were also in her repertoire? Still, her time here is limited: April 18th through May 12th only!
While we're on the subject of casting coups, there are a couple notable new additions to the company of Waitress. Eddie Jemison (iZombie; Chicago Med), the actor who created the role of Ogie in the film version, is playing that same role on Broadway through April 28th. He was joined on March 18th by recording artist/actress Shoshana Bean (Wicked; Beaches), who took over lead character Jenna and will be with the show through May 12th.