Just when you think you've laid out the perfect game plan for the new Broadway season, along comes a late-inning curveball or two and suddenly you're reconfiguring your must-see lineup to accommodate last-minute arrivals and departures, shows and stars!
I mean, think about it—who would have imagined two months ago that Steven Van Zandt—the guitarist (Bruce Springsteen's E Street Band), actor (The Sopranos), and radio personality (Little Steven's Underground Garage)—would be bringing his rock concert/stage musical fusion The Rascals: Once Upon a Dream to Broadway this spring? And yet, the "blue-eyed soul" group, who hit it big in the '60s with such chart-toppers as "Good Lovin'," "Groovin'," and "People Got to Be Free," are taking over the Richard Rodgers Theatre from April 15th through May 5th. And for the record, all four original band members—Felix Cavaliere, Eddie Brigati, Dino Danelli, and Gene Cornish—will be front and center.
Notes Van Zandt—who wrote, co-directed and co-produced the show—"The Rascals created music that inspired a generation—and that feeling has lived on through their original fans and the legions of new fans that have discovered their music over the years. There is no better place than Broadway to celebrate this extraordinary reunion."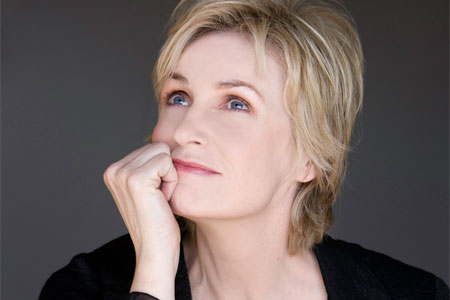 Meanwhile, at The Palace Theatre from May 16th through July 14th, Emmy-winning actress Jane Lynch (above; Coach Sylvester on FOX's Glee) will be filling in for Tony winner Katie Finneran as the villainous Miss Hannigan in the acclaimed family musical Annie. Finneran, who is taking the leave of absence to film a new NBC comedy series with Michael J. Fox, predicts Lynch will "bring down the house," when she takes over. "Some may say I know a thing or two about playing intimidating authority figures," adds Lynch, who goes on to note, "I am excited and honored to be making my Broadway debut with the wonderful Annie company."
Another show rating attention for a major cast change is Orphans. In this case, the exodus was both preemptive and permanent when Shia LeBeouf bowed out of the production citing "creative differences"—which were later revealed to involve Alec Baldwin, one of the play's two other actors. According to emails, they parted company with no seething animus, and LeBeouf was quickly replaced by Ben Foster (The Messenger; Six Feet Under). Completing the three-character cast is British actor Tom Sturridge (Being Julia; On the Road). As a result of the changeover, Orphans bumped its original March 19th preview to the 26th and moved opening night from April 7th to April 18th at the Gerald Schoenfeld Theatre.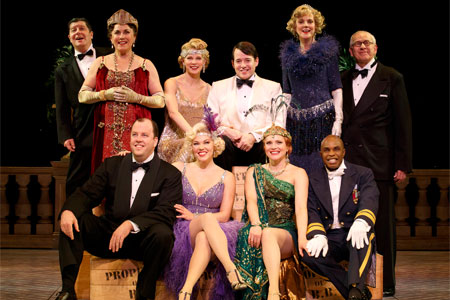 The cast of Nice Work... Photo: Joan Marcus
Moving on to an already established star vehicle… If you were worried you might miss seeing Tony winner Matthew Broderick as playboy Jimmy Winter in the effervescent hit musical Nice Work If You Can Get It, you can relax as he's extended his contract through June 15th. Tony winner Blythe Danner has also agreed to stay on with the show through April 28th (she plays Broderick's mother). Judy Kaye, who received a Tony nomination for her hilarious performance as Duchess Estonia Dulworth, also remains with the production. On the au revoir side of the dressing room door, Kelli O'Hara will play her final performance as Billie Bendix on March 31st. Her successor is Tony nominee Jessie Mueller, fresh from a successful run in the revival of The
Mystery of Edwin Drood.