Casting Call - Celebrities Dining Out at Benjamin Steakhouse
October 29, 2010 - by City Guide News Desk
This time of year, you can count on Benjamin Steakhouse to satisfy your cravings for fresh, juicy meat. Offering up the finest cuts of bloody, USDA Prime beef, each steak arrives so piping hot, the plate sizzles as it's served!
Don't believe us? Scroll down to see some of the recent faces to feast on our fiery cuts:
"Saturday Night Live" comedian Kenan Thompson keeps coming back for more juicy porterhouse steak! Here pictured with owner Benjamin.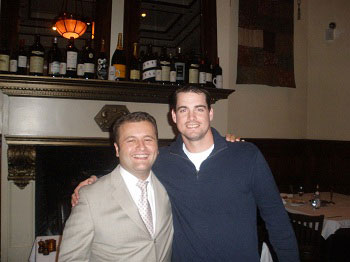 New York Yankee Boone Logan, fresh from his pitch that won the previous night's game, celebrated his victory the right way- at Benjamin Steakhouse!
Singer Debbie Gibson posed with owner Benjamin after dining in one of our cozy leather booths.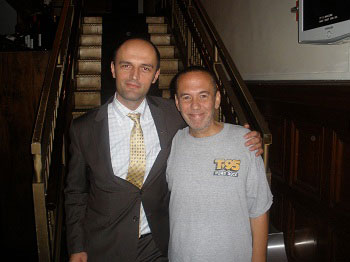 Actor Gilbert Gottfried poses with GM Victor after enjoying a porterhouse feast with his wife.
About Benjamin Steakhouse: Peter Luger alumni Benjamin Prelvukaj and Chef Arturo McLeod have combined over 30 years of experience to create Benjamin Steakhouse, conveniently located near Grand Central Station in the century-old Chemist Club Building. From the beautifully marbled cuts of dry-aged beef to the impeccably refined Old World service and charm, Benjamin Steak House prides itself in providing a quality dining experience in an elegant midtown setting. 52 E. 41st St. (Park-Madison Aves.), 212-297-9177; benjaminsteakhouse.com.
Looking for Free Group Planning Services?
Get free advice on planning your group's trip to New York.
RESTAURANTS

A sophisticated, elegant steakhouse with generous portions o...

THEATER

Beloved diva Bette Midler and Tony winner David Hyde Pierce ...

SHOPPING

Swiss luxury watch manufacturer for men and women since 1853...

SIGHTSEEING

The only provider of ferry transportation to the Statue of L...