Circus 1903: A Golden Age Returns at Madison Square Garden
March 17, 2017 - by Chelsey Grasso
Think back for a minute to the golden age of the circus, when traveling acts went from town to city hoisting up their tents and bringing a memorable spectacle to ticket-holders time and time again. It might be 2017, but Madison Square Garden is about to recreate some of that early 20th-century magic with Circus 1903: The Golden Age of the Circus (see our coupon here and save). Serving as an ode to unforgettable decades when circuses ruled the entertainment world, Circus 1903 brings back to life the circus in all its glory in the heart of New York City.
The Show
Circus 1903 will be lead by Ringmaster Willy Whipsnade, one of the trade's greatest laugh-makers and a creator of ludicrous and hilarious incidents. Joining him will be magician David Williamson, who has been featured on ABC's Champions of Magic. Spectators can also look forward to seeing all of the following performers throughout the show's course:
The Cycling Cyclone: This talented bicycle prodigy combines balance and precision with the art of bike riding. Watch as he flies, glides, and circles on an infinitesimal track that will leave you on the edge of your seat.
Les Incredibles: These two monarchs of the air have mastered the skill of timing and paired it with unadulterated trust. Hold your breath while Anny is hurled into a series of startling aerial feats.
Lucky Moon: This breathtaking act demonstrates remarkable strength and extreme flexibility as she takes to aerial flight while punctuating her act with audacious feats and reckless rarity.
The Flying Fins: A trio of daredevil wonders that use a teeterboard to catapult themselves to stratospheric heights. Their split-second timing displays their acrobatic excellence while absolute originality can be found throughout their entire act.
The Elastic Dislocationist: This gymnastic performer has the ability to contort her body into remarkable poses and positions, all without the possession of double joints, making her a rare wonder in the circus ring.
Along with a host of talented performers and a charismatic ringleader, Circus 1903 will feature sensational puppetry in the form of two African elephants. Created by an award-winning team of puppeteers and model makers (the same team responsible for creating the National Theatre's War Horse), a mother elephant will teach her calf the tricks of the trade throughout the show, merging the wonder of live performance with the beauty of studio artistry.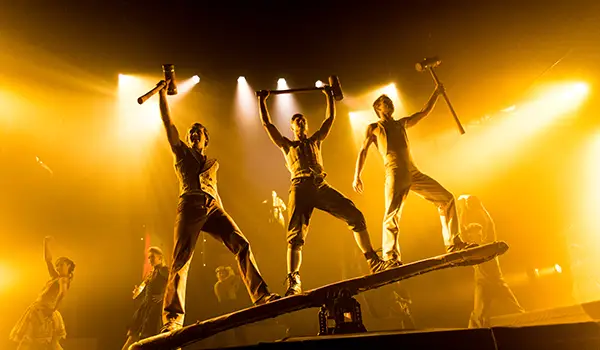 Tickets
Circus 1903 will be performing at New York City's Theater at Madison Square Garden during the following dates and times. Tickets can be purchased at circus1903.com.
Wednesday, April 5, 2017 at 7:00PM
Thursday, April 6, 2017 at 7:00PM
Friday, April 7, 2017 at 7:00PM
Saturday, April 8, 2017 at 11:00AM, 3:00PM and 7:00PM
Sunday, April 9, 2017 at 1:00PM and 6:00PM
Wednesday, April 12, 2017 at 7:00PM
Thursday, April 13, 2017 at 7:00PM
Friday, April 14, 2017 at 7:00PM
Saturday, April 15, 2017 at11:00AM, 3:00PM and 7:00PM
Sunday, April 16, 2017 at 1:00PM and 6:00PM
Looking for Free Group Planning Services?
Get free advice on planning your group's trip to New York.
RESTAURANTS

Fogo de Chão's first churrascaria (Brazilian steakhouse) in ...

THEATER

This new American musical offers a deeply personal and profo...

SHOPPING

Shop or sell at this weekend bargain hunters' paradise....

SIGHTSEEING

The 9/11 Memorial honors the nearly 3,000 people killed in t...