Classic New York haunts go against the city's tide, managing to not just stick around but still draw crowds for decades. It's an impressive trick, given how frequently bars and restaurants come and go in ever-changing NYC. Let's face it, with a wealth of spots to dine and drink, if one place doesn't measure up to a persnickety palate, there's usually a plethora of options within a quick jaunt. For a true look into an establishment's worth and character, longevity says a lot. The ten old-school bars and restaurants here have done more than stand the test of time—they've thrived.
1. Katz's Deli, 205 E. Houston St.
A Lower East Side staple since 1888, Katz's is most famous for its pastrami on rye and that iconic scene in When Harry Met Sally. Yep, the one that ended with, "I'll have what she's having."
2. Delmonico's, 56 Beaver St.
In business since 1837, this legendary steakhouse is recognized as the first fine dining restaurant in the county, and the birthplace of the Delmonico steak. Carnivores adore the meat-centric menu, but there's a selection of scrumptious seafood dishes to choose from as well.


3. P.J. Clarke's, 915 Third Ave.
The Third Avenue location of P.J. Clarke's is the original, and it's the legendary tavern where Johnny Mercer wrote the famed song "One for My Baby" on a napkin while sitting at the bar. This 1884 saloon has remained one of the few constants among the ever-changing streetscape of midtown Manhattan.
4. The 21 Club, 21 W. 52nd St.
In business since 1930, the still jackets-required (they've loosened up on the tie part) 21 Club is one of the country's most famed speakeasies from the Prohibition Era. It remains a magnet for celebrities and public figures. The French-influenced menu offers classics such as Dover sole with lemon beurre blanc, foie gras terrine, and crème brûlée.
5. White Horse Tavern, 56 Hudson St.
Open since 1880, the White Horse was a renowned hangout for the literary crowd, especially during the 1950s and '60s. Jack Kerouac, Norman Mailer, and folk-rock superstar Bob Dylan were patrons. Years later, this bar remains an awesome place to grab a beer—and unlike some other NYC taverns, offers plenty of seating.
6. Eisenberg's Sandwich Shop, 174 Fifth Ave.
No trip to New York is complete without a classic deli experience. This Flatiron spot has been "raising New York's cholesterol since 1929." Start with a matzo ball soup, then perhaps the tuna melt (the best we've ever eaten), and an order of French fries, of course. Save space for the chocolate egg cream—a fab finale to your Eisenberg visit.
7. Lombardi's Pizza, 32 Spring St.
Pie aficionados line up at this cash-only pizza joint, established as the first pizzeria in the country in 1905. In addition to its traditional margherita pie, there's a wide assortment of tasty toppings, plus white pies, calzones, salads, and grandma's meatballs.
8. Pete's Tavern, 129 E. 18th St.
One of NYC's oldest continuously operating taverns, this traditional Gramercy haunt pretended to be a flower shop during Prohibition. The circa-1864 bar is still going strong 150 years later, and serves a variety of Italian-American comfort dishes such as veal parmigiana and penne melanzane.
9. Barbetta, 321 W. 46th St.
The oldest Italian restaurant in NYC and the Theater District, Barbetta is still owned by the family that founded it in 1906. Known for its ornamental interior and romantic garden, Barbetta boasts one of the loveliest spaces in town to eat outdoors. Be sure to splurge for the white truffles when in season. When you've got an eye on your budget, the $58 pre-theatre dinner is tops.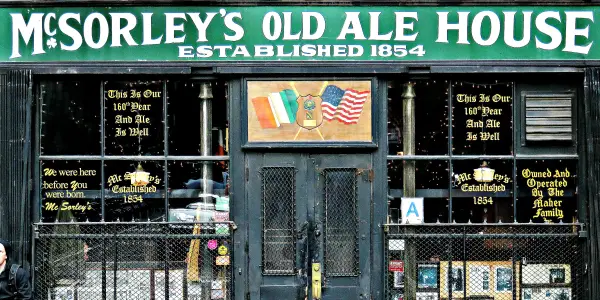 10. McSorley's Old Ale House, 15 E. 7th St.
One of the city's oldest pubs (the precise date is up for debate, but Abraham Lincoln drank here), McSorley's offers but two beverage choices: light or dark ale. Enjoy easy choices and a lively Irish tavern scene in the heart of the East Village.