Classical Music in New York City This Week - April 15-April 22
April 15, 2018 - by CG Directory Editor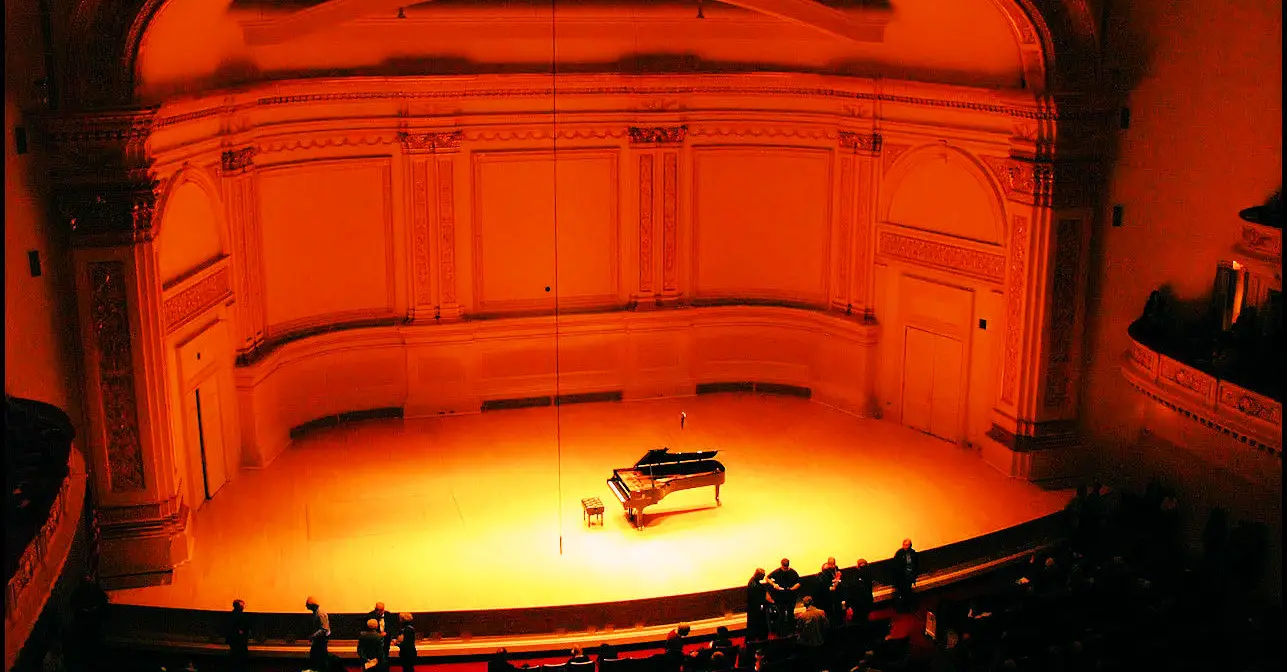 Photo: Fickr/Taos Melillo

From the New York Philharmonic to churches and smaller concert halls, you'll find the best of New York's classical music in City Guide's calendar. When it comes to acoustics, famous destinations like Carnegie Hall and Lincoln Center are world-class attractions and we've got every upcoming performance listed in our system.


Young People's Chorus of New York City - Bethel Woods Center for the Arts
April 15, 2018 - Bethel
The award-winning Young People's Chorus of New York City® (YPC), described by Opera News as "one of New York City's artistic treasures," has been recognized on four continents for the superb virtuosity and brilliant showmanship of its young members. Don't miss this vibrant April 22 concert, in which they will weave together a program of choral classics, spirituals, songs from the Broadway stage, and many surprises, complete with show-stopping choreography. The Young People's Chorus of New York City is a multicultural youth chorus internationally renowned not only for its superb virtuosity and brilliant showmanship, but as a model for an inclusive society that is being replicated globally. Founded in 1988 by Artistic Director Francisco J. Núñez, a MacArthur Fellow, on a mission of diversity and artistic excellence, this groundbreaking program harnesses the power of music to fulfill the potential of every child musically, academically, and socially and has established the youth chorus as a significant and often untapped instrument for making music. Over 1,600 children from ages 8 to 18 participate annually in YPC through its after-school, in-school program, and community prog... (read more)
Trio Da Kali + Derek Gripper - Brooklyn Bowl
April 15, 2018 - Brooklyn
Trio Da Kali unites three outstanding musicians from the Mande culture of southern Mali who come from a long line of distinguished griots (hereditary musicians). Formed of voice, balafon and bass ngoni, the Trio aim to bring a contemporary twist to ancient and neglected repertoires. Hawa Kassé Mady Diabaté, daughter of the legendary griot singer Kassé Mady Diabaté, is the Trio's vocalist. Her rich, expressive voice and her natural vibrato have brought comparisons with Mahalia Jackson, America's great gospel singer. The Trio's musical director is master balafonist Lassana Diabaté. One of Mali's most astonishing musicians, Lassana has recorded and toured with many of West Africa's foremost artists including Toumani Diabate's Grammy-Award nominated Afrocubism album and Symmetric Orchestra project. The youngest member of the Trio is bass ngoni player Mamadou Kouyaté. Still in his mid-twenties, the eldest son of world-renowned Grammy nominated ngoni player Bassekou Kouyaté brings a contemporary feel to the traditions he has learnt from his father. Trio Da Kali was originally formed to develop a collaborative project with The Kronos Quartet, produced by the Aga Khan Music Initiat... (read more)
New York Philharmonic Ensembles - Kaufman Music Center
April 15, 2018 - New York
Up Close and Personal An Ensembles concert provides an intimate connection between musician and audience. Hear the individual talents that make up the orchestra. Experience the passion and personality of the performers. And see how a small setting can make for a huge musical event. PROGRAM LECLAIR - Sonata in E minor for Two Violins, Op. 3, No. 5 Hyunju Lee, Jin Suk Yu, violins VAUGHAN WILLIAMS - Piano Quintet in C minor Lisa Kim, violin; Dorian Rence, viola; Eric Bartlett, cello; David J. Grossman, bass; Steven Beck*, piano BRAHMS - Piano Quartet No. 1 Hyunju Lee, violin; Rebecca Young, viola; Ru-Pei Yeh, cello; Helen Huang*, piano * Guest Artist
Dciny's Dreamweaver - Stern Auditorium / Perelman Stage at Carnegie Hall
April 15, 2018 - Midtown
What do the humanist poetry of Walt Whitman and a medieval Norwegian ballad have in common? Each serves as the text for a deeply moving, meditative choral work by composer Ola Gjeilo, both of which conjure up mental images of sweeping beauty, and will be performed in this concert from conductor James M. Meaders, presented by DCINY. This program at Carnegie Hall will also feature Croatian conductor Miran Vaupotic, who will lead the Distinguished Concerts Orchestra in a range of pieces, including Danube Rhapsody, featuring the work's composer, Matej Mestovic, on piano.
The Music of Eric Whitacre - David Geffen Hall, Lincoln Center
April 15, 2018 - New York
The music of Grammy Award-winning composer and conductor Eric Whitacre has been performed throughout the world by amateur and professional musicians alike, while his ground-breaking Virtual Choirs have united singers from over 110 different countries. Mr. Whitacre and the Distinguished Concerts Singers International perform a variety of the composer's original works, conducted by the composer himself. PERFORMERS: Distinguished Concerts Singers International Eric Whitacre, Conductor PROGRAM: All-Eric Whitacre Program Tickets $20-$100! On Sale Now! Visit LincolnCenter.org or call 212-721-6500 Box Office: 10 Lincoln Center Plaza at 65th Street Senior and Student Discounts Available at the Box Office with ID For Group Tickets, VIP Packages, Discounts, and More, e-mail boxoffice@DCINY.org
Edmar Casteneda Quartet w/ Special Guest Gregoire Maret - Kupferberg Center for the Arts
April 15, 2018 - Flushing
Harp vs. Harp is an exciting duo featuring the unusual combination of harp and harmonica. Since his move to the United States in 1994, Edmar Castaneda has quite literally taken the world stage by storm with the sheer force of his virtuosic command of the harp - revolutionizing the way audiences and critics alike consider an instrument commonly relegated to the "unusual category." At the same time, Gregoire Maret is one of the most sought after harmonica players in the world. Often compared to legends Toots Thielemans and Stevie Wonder, he has been asked to play with an incredible number of famous musicians including Youssn'Dour, Me' Shell Ndegeocello, Pete Seeger, David Sanborn, and George Benson. The interplay between Edmar and Gregoire on Harp vs. Harp is nearly telepathic. Edmar's Columbian roots combined with Gregoire's Afro-Swiss classic training makes for a totally exciting set of music!
Judy Glad – '12 Things You Don't Know About Me!' - The Duplex Cabaret Theatre
April 15, 2018 - New York
Judy is a performer in New York City and Philadelphia and is on the voice faculty at NYU/Tisch. She is an actress, singer, director and choreographer and has been heard on national commercial TV and radio jingles. She has a Bachelor of Fine Arts in Music and Vocal Performance from Carnegie Mellon University. $15 Ticket in Advance & a 2 Drink Minimum in the Cabaret Theatre* $20 Ticket at the Door (plus service fee) & a 2 Drink Minimum in the Cabaret Theatre* No One Under 21 Allowed Doors open 30 minutes before show time. There is a 2 Drink Minimum per Person in the Cabaret Theatre
National Youth Choir - Carnegie Hall
April 15, 2018 - New York
Performers National Youth Choir Jeffery Ames and Rollo Dilworth, Conductors
Ricardo Pedrares-Patino, Trombone - Morse Hall - The Juilliard School
April 16, 2018 - New York
Alan Gilbert conducts the Juilliard Orchestra - David Geffen Hall, Lincoln Center
April 16, 2018 - New York
Juilliard faculty member Alan Gilbert leads the Juilliard Orchestra in their only David Geffen Hall appearance of the season, featuring works by Barber, Rouse, and Brahms.
Columbia Players - Carnegie Hall
April 16, 2018 - New York
Tuesday Matinees: Musicians from Ravinia - Kaufman Music Center
April 17, 2018 - New York
There's still time to buy a Tuesday Matinees Flex Subscription and pay only $16 per concert. Save 20%! With Miriam Fried, violin Musicians from Ravinia's Steans Music Institute is a chamber ensemble whose members are selected each year from the most promising musicians to attend the Institute's summer conservatory, which brings together talented young musicians from around the world to make music together under the supervision of an internationally renowned faculty. The ensemble performs with Miriam Fried, long recognized as one of the world's preeminent violinists and heralded for her "fiery intensity and emotional depth" (Musical America) as well as for her technical mastery. PROGRAM MENDELSSOHN - String Quintet No. 1 in A major, Op. 18 BEETHOVEN - String Quartet No. 13 in B-flat major, Op. 130
Piano Performance Forum Recital - Paul Hall - The Juilliard School
April 18, 2018 - New York
Jean Rondeau, harpsichord - The Morgan Library & Museum
April 19, 2018 - New York
Jean Rondeau, harpsichord? Boston Early Music Festival Series J.S. Bach: Goldberg Variations, BWV 988 The thrilling young harpsichordist Jean Rondeau has quickly emerged as one of Early Music's "must-see" artists for his captivating and passionate performances that have earned him accolades and acclaim the world over. He makes his solo début with BEMF in a recital of the Goldberg Variations by J. S. Bach. Among the truly iconic keyboard works in the history of classical music, the Goldberg Variations showcase Bach's singular compositional invention and demand consummate virtuosity from the performer.
Live Piano Karaoke with Leslie Goshko! - Sid Gold's Request Room
April 21, 2018 - New York
Leslie Goshko (Huffington Post Comedy) is the host and creator of the monthly storytelling series, Sideshow Goshko, which has been hailed as a Time Out New York and New York Times "Critics' Pick", and also noted as "a well-programmed night" by the New York Times.Sideshow Goshko has been featured on TruTV'sImpractical Jokers, NPR'sSnap Judgment, and inThe New Yorker.Her cabaret show "An Old-Fashioned Piano Party with Leslie Goshko" is heralded as a Time Out New York "Critic's Pick" and she served as the musical director for NY1 anchors Pat Kiernan and Jamie Stelter's live show at 92Y, "Pat and Jamie's NY." And thanks to the support of many Internet voters, she performed with the cast of Hairspray on Broadway. https://www.lesliegoshko.com/
Looking for Free Group Planning Services?
Get free advice on planning your group's trip to New York.
MORE Activity Planner ARTICLES
RESTAURANTS

Beer hall casual meets craft cocktails with a healthy dose o...

THEATER

Kander and Ebb's "musical vaudeville" in which Roxie Hart ga...

SHOPPING

PANDORA, one of the leading names in jewelry for more than 3...

SIGHTSEEING

CitySights' hop-on, hop-off bus tours are operated on a flee...