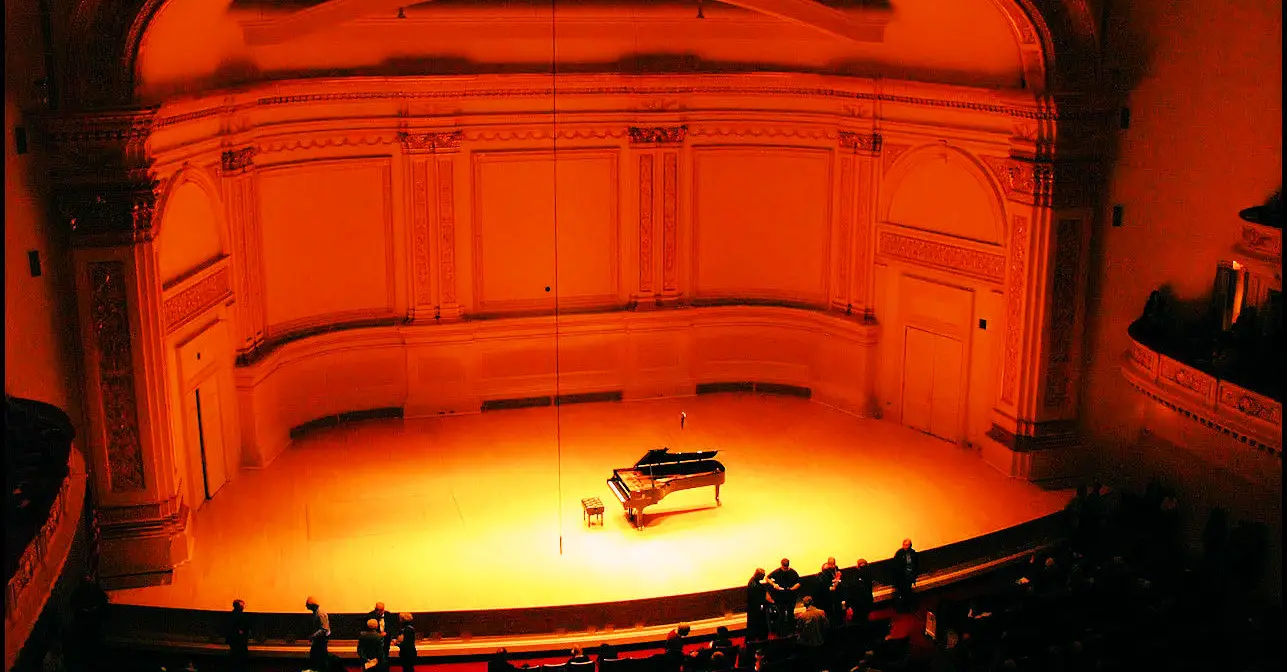 Photo: Fickr/Taos Melillo

From the New York Philharmonic to churches and smaller concert halls, you'll find the best of New York's classical music in City Guide's calendar. When it comes to acoustics, famous destinations like Carnegie Hall and Lincoln Center are world-class attractions and we've got every upcoming performance listed in our system.


Masterwork Festival Chorus - Carnegie Hall
April 22, 2018 - New York
Manhattan Concert Productions presents Mozart's Requiem performed by the Masterwork Festival Chorus and soloists with the New York City Chamber Orchestra and conductor Jeffrey Douma. The concert will also feature the National Festival Chorus, led by conductor Jo-Michael Scheibe, performing an array of choral works including Mendelssohn's "Verleih' uns Frieden," Eric Whitacre's "The Seal Lullaby," and more. Also featured will be the Impalaphonics directed by Sharon Darland.
A Tribute to Dmitri Hvorostovsky - Carnegie Hall
April 22, 2018 - New York
This performance brings opera singers from around the world to perform a tribute concert to their beloved friend and colleague, Dmitri Hvorostovsky. The evening celebrates the extraordinary life and artistry of the Russian operatic baritone with his favorite repertoire: soaring opera arias; uplifting operetta selections; soulful Russian romances; and crossover/pop songs. Featured performers include soprano Veronika Dzhioeva (Bolshoi Theater); mezzo-soprano Nino Surguladze (Covent Garden); tenor Raúl Melo (Metropolitan Opera); baritone David Gvinianidze (President/Founder of Talents of the World); soprano Olga Lisovskaya (Director, Talents of the World); tenor Giovanni Formisano and baritone Junhan Choi (winners of the 2017 Talents of the World International Voice Competition); and baritone Oleksandr Kyreiev (Bolshoi Theater). A portion of the proceeds will be donated to organizations seeking cures for children with cancer.
Kaufman Music Center Composer Festival - Kaufman Music Center
April 22, 2018 - New York
Young virtuosos from Kaufman Music Center's Lucy Moses School and Special Music School perform works by French-born composers.
SEMI-TONED Presents Stay-Tuned - Madison Theatre at Molloy College
April 22, 2018 - Rockville Centre
Semi-Toned is a world-class A cappella group consisting of twelve energized men. Praised for their creativity, uniqueness and vocal acrobatics the group embraces music of a variety of genres to ensure there really is something for everyone in any of their shows. Recent audiences have been wowed by klezmer versions of Gwen Stefani, unlikely mash-ups of Jay-Z and Game of Thrones and the Macarena acted out in the form of an encounter in an Ibiza club in 1996, Semi-Toned are renowned not just for their musically tight performances but also for their inventive choreography and their trademark witty and engaging style.
School of Music Orchestra – Spring Concert - 92nd Street Y
April 22, 2018 - New York
Join us for our 100 year anniversary concert!
Monday In The Dark With George - The Duplex Cabaret Theatre
April 22, 2018 - New York
In 1992, the wild and witty musical revue, MONDAY IN THE DARK WITH GEORGE, featuring the words & music of George Winters, debuted to much acclaim and won the MAC Award for Outstanding Revue, and Bistro Awards for Outstanding Revue, Cast, and Direction. Now, 25 short years later, George and his original co-stars Helen Baldassare and Jay Rogers, with musical director Bobby Peaco and director Gerry Geddes, will reprise some of the funniest songs to ever grace a cabaret stage -- and sing several new selections besides! They're back and older than ever! $25 Ticket in Advance & a 2 Drink Minimum in the Cabaret Theatre* $30 Ticket at the Door (plus service fee) & a 2 Drink Minimum in the Cabaret Theatre* *Drinks Must be purchased In the Cabaret Theatre to count towards the Minimum. No One Under 21 Allowed Doors open 30 minutes before show time. There is a 2 Drink Minimum per Person in the Cabaret Theatre
Manhattan School Of Music presents La Cenerentola - John Jay College of Criminal Justice
Through April 22, 2018 - New York
In a variation of the traditional Cinderella story, Angelina is forced to a life of labor by her wicked step father, who favors his own daughters over her. The three sisters compete for the attention of Prince Ramiro, who has swapped places with his mentor, Alidoro, to see how the girls interact with people of different social classes.
Juilliard Orchestra Composers Concert - Alice Tully Hall, The Juilliard School
April 23, 2018 - New York
Jeffrey Milarsky, conductor Featuring works by Juilliard student composers, winners of the 2017-18 Juilliard Orchestra Composition Competition.
2018 New York International Music Festival - Carnegie Hall
April 24, 2018 - New York
Performers: Chatswood High School String Ensemble Sylvia Marson, Director Evergreen Valley High School Advanced String Orchestra Steven A. Barnhill, Director Chatswood High School Wind Orchestra Gavin Staines, Director Perth Hills and Wheatbelt Band Peter Hind, Phil Robertson, and James Martin, Directors Cerritos High School Wind Symphony Timothy Trost, Director
New York Festival of Song: a 30th Anniversary Celebration - Kaufman Music Center
April 24, 2018 - New York
NYFOS celebrates the end of its 30th season with a special evening that recalls its long history and looks ahead to the future. Joining Steven Blier and Michael Barrett on stage will be NYFOS alums, sharing their memories and entertaining us with song. A complimentary wine reception with the artists will follow each program. ARTISTS Julia Bullock, Antonina Chehovska and Lauren Worsham, sopranos Paul Appleby, tenor John Brancy, baritone and many others
Grace Gotham's 'Peel Me A Glove' - Sid Gold's Request Room
April 24, 2018 - New York
Expect the unexpected cabaret set – ranging from Cole Porter and The Sex Pistols to Grace originals – at this show where whimsy and sophistication collide and elegance mingles with naughty. Starring (and produced by) your host for the evening, burlesque artist and chanteuse Grace Gotham, this monthly show at Sid Gold's Request Room brings back the banter to burlesque a la Gypsy Rose Lee, Sophie Tucker, and Fannie Brice — with a little Lucille Ball and Grace Kelly mixed in. Always the gracious host, Grace emcees the evening accompanied by pianist Chris Johnson and treats you to two top-drawer burlesque guest stars each month. And – golly gee – it's only 10 Clams ($10) at the door for a pearl of a show! After the show, hang out with the performers, sip expertly-made cocktails, and indulge in the fabulous live piano karaoke where any and all are welcome to take a turn or two at the mic. Grace Gotham is an Upper East Sider and NYC-based burlesque performer, producer, and chanteuse who is currently featued in the new Dove beauty campaign, "My Beauty My Say." She has performed internationally and stars in her own monthly cabaret and burlesque show, "Peel Me a Glove," at Sid Gold's Re... (read more)
Yujie Molly He, Violin - Morse Hall - The Juilliard School
April 24, 2018 - New York
Ecstatic Music Festival: Margaret Leng Tan Premieres George Crumb, Suzanne Farrin & Kelly Moran - Kaufman Music Center
April 26, 2018 - New York
Buy an EMF All Access Pass before Dec 31 and save 40%! You'll experience all 9 concerts for just $15 each and receive invitations to 3 Meet the Artist receptions. A New Sounds Live co-presentation hosted by WNYC's John Schaefer & streamed live on Q2 Music "Margaret Leng Tan — the formidable doyenne of the avant-garde piano — has built a career on upending tradition, pushing her instrument into fresh, no-holds-barred sonic worlds," raves the Washington Post. Tan gives the New York premiere of Metamorphoses, a major new work written for her by the seminal 20th century composer George Crumb, for amplified piano, toy piano, percussion and voice. Metamorphoses is performed with Monica Duncan's video projections, in which atmospheric visual textures complement the music. Tan will also premiere two new EMF-commissioned pieces by young composers responding to Cage and Crumb's influence: a work for prepared piano by Kelly Moran, and a haunting new piece by 2017 Rome Prize winner Suzanne Farrin that acknowledges not only Crumb's important contribution to American music, but, in Farrin's words, "also Margaret Leng Tan's special role as the artist who has brought the piano's insides to li... (read more)
Unknown Mortal Orchestra: Makeness - Brooklyn Steel
Through April 26, 2018 - Brooklyn
The threads of our past never unravel, they hover like invisible webs, occasionally glistening due to a sly angle of the sun. On Multi-Love, Unknown Mortal Orchestra frontman and multi-instrumentalist Ruban Nielson reflects on relationships: airy, humid longing, loss, the geometry of desire that occurs when three people align. Where Nielson addressed the pain of being alone on II, Multi-Love takes on the complications of being together. Multi-Love adds dimensions to the band's already kaleidoscopic approach, with Nielson exploring a newfound appreciation for synthesizers. The new songs channel with the spirit of psych innovators without ignoring the last 40 years of music, forming a flowing, cohesive whole that reflects restless creativity. Cosmic escapes and disco rhythms speak to developing new vocabulary, while Nielson's vocals reach powerful new heights. "It felt good to be rebelling against the typical view of what an artists is today, a curator," he says. "It's more about being someone who makes things happen in concrete ways. Building old synthesizers and bringing them back to life, creating sounds that aren't quite like anyone else's. I think that's much more subversiv... (read more)
Jessie Chen, Violin - Morse Hall - The Juilliard School
April 27, 2018 - New York
RBA: A World in Trance Festival: Afghanistan: Homayoun Shakhi - Roulette
April 27, 2018 - Brooklyn
This program marks a rare NY appearance of Homayoun Sakhi, who has established an international reputation as the outstanding Afghan rubab player of his generation. A master of the rubab, a double-chambered lute that is revered as the national instrument of Afghanistan, he performs the music of Afghanistan, which is rich in traditions that span the Middle East, Central Asia and North India. Sakhi was born in Kabul into one of Afghanistan's leading musical families, and studied with his father, Ghulam Sakhi – heir to a musical lineage that began in the 1860s – in the traditional form of apprenticeship known as ustad-shagird. Since immigrating to the US in 2002, he has composed for the Kronos Quartet and the Berlin Philharmonic Orchestra, established a music school in Fremont, California, and appeared at prestigious venues and festivals, including Carnegie Hall, Paris's Theatre De Ville, the Smithsonian Folklife Festival, and the Fes Festival of World Sacred Music. Tabla (drums) player to be announced.
Mulligan Plays Bernstein - The Morgan Library & Museum
April 27, 2018 - New York
Simon Mulligan, piano Mulligan Plays Bernstein In conjunction with the worldwide celebration of Leonard Bernstein at 100, the gifted pianist and composer Simon Mulligan performs new arrangements of Bernstein's works and some of his contemporaries. Bernstein (arranged by Mulligan), Overture from Candide, Make Our Garden Grow from Candide, Three Dance Episodes from On The Town, Some Other Time from On The Town, Selections from West Side Story Copland (arranged by Mulligan), Selections from Rodeo
Happy Hour Piano Karaoke with Mark Piro - Sid Gold's Request Room
April 27, 2018 - New York
Sid Gold's Request Room now features Happy Hour Piano Karaoke on Fridays! Start your weekend off with a song! With Mark Piro at the keys! Check out Mark's song list!
Colin Laursen, Violin - Paul Hall - The Juilliard School
April 28, 2018 - New York
New York City Master Chorale Presents Glorious Seasons - Symphony Space
April 28, 2018 - Upper West Side
In this exciting concert, the New York City Master Chorale presents a performance in partnership with Dakshina Indian Dance Company and the Manhattan School of Music Chamber Orchestra featuring new choreography to Vivaldi's "Gloria" and "The Four Seasons," juxtaposing classical Western music and traditional Indian dance in a dialogue on the merging of these cultures.
Live Piano Karaoke with Leslie Goshko! - Sid Gold's Request Room
April 28, 2018 - New York
Leslie Goshko (Huffington Post Comedy) is the host and creator of the monthly storytelling series, Sideshow Goshko, which has been hailed as a Time Out New York and New York Times "Critics' Pick", and also noted as "a well-programmed night" by the New York Times.Sideshow Goshko has been featured on TruTV'sImpractical Jokers, NPR'sSnap Judgment, and inThe New Yorker.Her cabaret show "An Old-Fashioned Piano Party with Leslie Goshko" is heralded as a Time Out New York "Critic's Pick" and she served as the musical director for NY1 anchors Pat Kiernan and Jamie Stelter's live show at 92Y, "Pat and Jamie's NY." And thanks to the support of many Internet voters, she performed with the cast of Hairspray on Broadway. https://www.lesliegoshko.com/
Steven Isserlis, cello & Richard Egarr, harpsichord - 92nd Street Y
April 29, 2018 - New York
A long-time house favorite and a 92Y debut. Cellist Steven Isserlis partners with harpsichordist Richard Egarr in a concert that follows their highly acclaimed recording including several of these selections of works originally written for other instruments. Gramophone wrote, "(these are) full-blooded but sensitive readings which, far from being contrary to Bach's spirit, seem rather to magnify it." The program features Bach's splendid sonatas for viola da gamba, a charming and buoyant sonata by Boccherini, a Handel masterwork and more. A Baroque music lover's delight. Steven Isserlis, cello Richard Egarr, harpsichord
RBA: A World in Trance Festival: Persia: Hossein Omoumi - Roulette
April 29, 2018 - Brooklyn
The internationally renowned Hossein Omoumi, virtuoso of the Persian ney (flute) and accomplished vocalist, makes a rare NY appearance joined by the evocative vocalist Jessika Kenney, Amir Koushkani (setar and tar lutes), and Hamin Honari (tombak – goblet drum, daf – tambourine). Their program of mystical and spiritual Persian music is influenced by the Isfahan school, which is based on vocal repertoire and poetry; included are works by Rumi and Attar. Omoumi, born in Isfahan, began his musical education singing with his father and went on to study with masters Mahmoud Karimi and Hassan Kassai. He has been acclaimed for his tours and recordings with many of Iran's leading artists, and introduced significant innovations to the ney and Iranian percussion.