Classical Music in New York City This Week - December 9-December 16
December 9, 2018 - by CG Directory Editor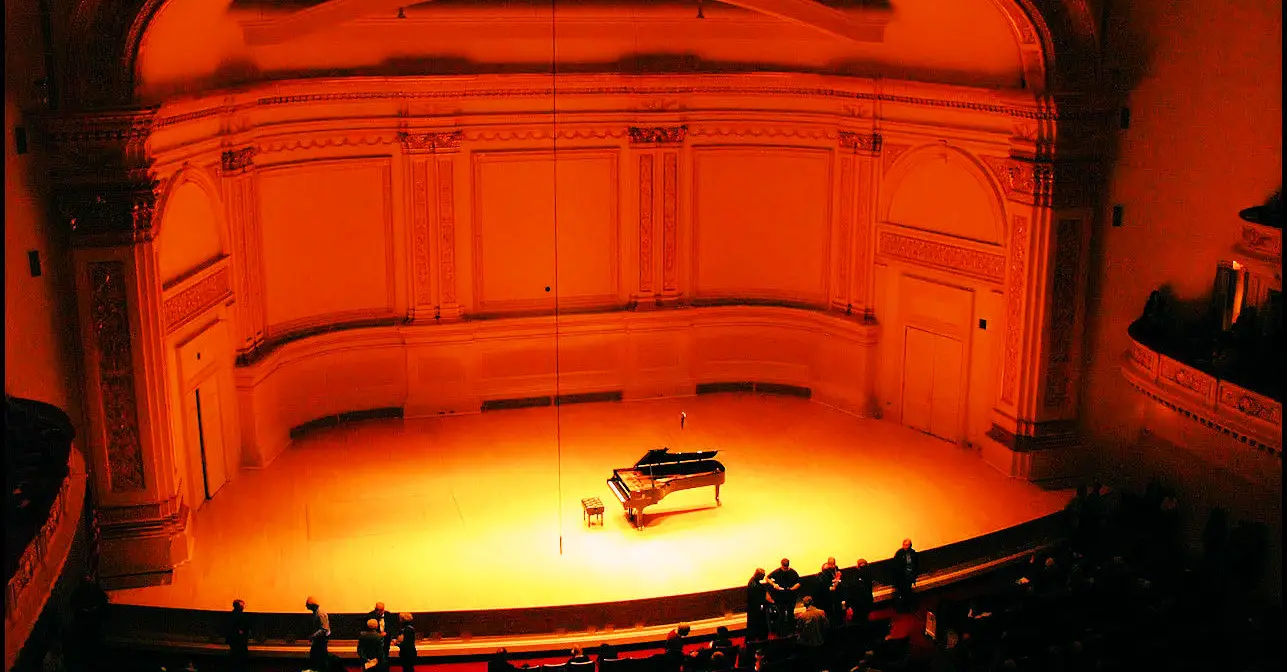 Photo: Fickr/Taos Melillo

From the New York Philharmonic to churches and smaller concert halls, you'll find the best of New York's classical music in City Guide's calendar. When it comes to acoustics, famous destinations like Carnegie Hall and Lincoln Center are world-class attractions and we've got every upcoming performance listed in our system.


West Village Chorale Annual Holiday Concert: "Holidays Around the World" - Judson Memorial Church
December 09, 2018 - New York
Seasonal music from around the world--Haiti, Ireland, England, Latvia, Mexico, Nigeria, Russia and the United States. Program includes Whalum's Betelehemu, Levine's Lo V'chayil, Desamours's Noel Ayisyen and Rachmaninoff's "Slava" from the All-Night Vigil, plus favorite carols for singing along
James Labrosse - Flamenco / World - Silvana
December 09, 2018 - New York
Composer and guitarist James Labrosse leads a diverse group of musicians performing original music and music by Paco de Lucia, Vicente Amigo, and other greats. The powerful repertoire contains musical influences from Spain, Brazil and Latin America, Western Asia, and North America. Over the past few years, Labrosse has performed with renown names such as Antonio Serrano (former Paco de Lucia Group) and La Shica.
Masterworks Series–Piano Transcriptions Adventure - Bargemusic
December 09, 2018 - Brooklyn
Bach/Siloti Prelude in B minor for Solo Piano Schubert/Liszt Gretchen am Spinnrade, D.118 Liszt/Verdi Concert Paraphrase on Rigoletto, S.434 Rachmaninoff/Bach Gavotte Rachmaninoff/Kreisler Liebesleid Leo Smit/Bernstein Four Movements from West Side Story Wild/Gershwin Virtuoso Etudes (selection) Gershwin Rhapsody in Blue (transcribed by the composer) Olga Vinokur, piano
Songs for Christmas - St John's in the Village
December 09, 2018 - New York
Foundation for the Revival of Classical Culture persents Everett Suttle (tenor) and Indira Mahajan (soprano) in a festive recital of sesonal song.
Orpheus Chamber Orchestra & Steven Isserlis, cello - 92Y
December 09, 2018 - Upper East Side
The US premiere of the 100-year-old Symphony for String Orchestra by Hans Rott, a protégé of Bruckner and Mahler, begins this fascinating concert by the Orpheus Chamber Orchestra. Mahler noted, "it is impossible to estimate what music lost in him" and, indeed, Rott's symphony is a marvel: a vibrant opening, harmonically daring middle movement, and witty Scherzo suggest tremendous promise in the 16-year-old composer, who died of tuberculosis at just 25. C.P.E. Bach's lively Cello Concerto in A Major follows, featuring the exceptional Steven Isserlis. About Isserlis' Grammy-nominated recording of this concerto, Gramophone said "[his] refinement and elegance … throw an entirely new perspective on the concerto." Finally, though Gustav Mahler was sometimes critical of Franz Schubert, he nevertheless admired "Death and the Maiden" so much that he transcribed the quartet for string orchestra. It is this luxurious arrangement of one great composer's work by another that caps this incredible program.
15th Russian Music Competition - Carnegie Hall
December 09, 2018 - New York
Winners Recital
Cristina Fontanelli's 15th Annual Christmas in Italy - Carnegie Hall
December 09, 2018 - New York
Award-winning singer and PBS-TV host for Andrea Bocelli and Il Volo, Cristina Fontanelli presents the annual musical celebration, Christmas in Italy. Songs and arias include Mamma, Ave Maria, and Neapolitan favorites such as Torna a Surriento. The children of the Little Language Studio of Brooklyn will sing the traditional Italian Christmas carol Tu scendi dalle stelle and dance to Dominick the Donkey. There will be a special guest appearance from Santa Claus. Cristina Fontanelli David Maiullo, Piano John La Barbera, Mandolin and Guitar Additional artists to be announced
Ben Allison & Think Free - Dizzy's Club Coca Cola
Through December 09, 2018 - New York
With electric and acoustic bassist Ben Allison, trumpeter Jeremy Pelt, guitarist Steve Cardenas, pianist Frank Kimbrough, and drummer Allan Mednard.
The Dessoff Choirs Performs a Trio of Holiday Concerts 12/7-9 - St Paul's Church
Through December 09, 2018 - Columbus Circle
Holidays with Dessoff: Welcome Yule! Friday, December 7, 2018, at Saint Peter's Church, Manhattan Holidays with Dessoff: Messiah Sing Saturday, December 8, 2018, at Union Theological Seminary, Manhattan Holidays with Dessoff: Welcome Yule! Sunday, December 9, 2018, at St. Paul's Episcopal Church, Brooklyn Hailed as "one of the great amateur choruses of our time (New York Today) for its "full-bodied sound and suppleness (The New York Times)," The Dessoff Choirs today announced its annual holiday concert series. Now in its 94th year, The Dessoff Choirs continues to wow audiences with its seasonal repertoire performed in some of New York City's most beautiful churches. This season's offerings include a sing-in of Handel's Messiah, contemporary arrangement of carols, and a rare performance of the nine-movement Christmas cantata The Ballad of the Brown King with music by African-American composer Margaret Bonds and text by writer Langston Hughes.
A Christmas Carol - Theatre Three
Through December 09, 2018 - Port Jefferson
I will honor Christmas in my heart …" Celebrate the season with Long Island's own holiday tradition and broadwayworld.com winner for Best Play. Follow the miser Ebenezer Scrooge on a journey that teaches him the true meaning of Christmas—past, present and future. As described by Newsday—"There could scarcely be a finer tribute to [Dickens'] legend than A CHRISTMAS CAROL at THEATRE THREE"—chosen as its Number One Holiday Theatrical Event—join us for our 35th annual production of the immortal classic in all of its thrills, music, joy, and spirit.
Juilliard Jazz Ensembles: The Music of Lennie Tristano and Charlie Parker - Dizzy's Club Coca Cola
December 10, 2018 - New York
With the Julliard Jazz Ensembles.
A Joyous Christmas Concert - St Bartholomew's Church
December 11, 2018 - New York
St. Bartholomew's Choir, Boy and Girl Choristers, New York City's largest pipe organ and a chamber orchestra join forces for this concert of Christmas favorites. Works include The Christmas portion of Handel's Messiah, Gustav Holst's radiant Christmas Day and carol settings of Lauridsen, Chilcott, Willcocks and others. Experience the joy and warmth of the holidays with great choral works, sacred and secular, and the chance to sing the beloved carols of the season with organ and orchestra in the candlelit splendor of St. Bartholomew's Church. St. Bartholomew's Choir, Boy and Girl Choristers, Chamber Orchestra;
Nt Live: The Madness of King George Iii - Symphony Space
December 11, 2018 - New York
Multi-award-winning drama The Madness of George III will be broadcast live to cinemas, in National Theatre Live's first ever broadcast from Nottingham Playhouse. Written by one of Britain's best-loved playwrights Alan Bennett (The History Boys, The Lady in the Van), this epic play was also adapted into a BAFTA Award-winning film following its premiere on stage in 1991. The cast of this new production includes Olivier Award-winners Mark Gatiss (Sherlock, Wolf Hall, NT Live Coriolanus) in the title role, and Adrian Scarborough (Gavin and Stacey, Upstairs Downstairs, After the Dance). It's 1786 and King George III is the most powerful man in the world. But his behaviour is becoming increasingly erratic as he succumbs to fits of lunacy. With the King's mind unravelling at a dramatic pace, ambitious politicians and the scheming Prince of Wales threaten to undermine the power of the Crown, and expose the fine line between a King and a ma
Dr. Seuss' How the Grinch Stole Christmas! The Musical - Hulu Theater at Madison Square Garden
Through December 15, 2018 - New York
You'll find your heart growing a few sizes when you watch Dr. Seuss' whimsical holiday classic come to life on stage! Inspired by the original children's book and featuring the hit songs "You're A Mean One, Mr. Grinch" and "Welcome Christmas," the Grinch, his sidekick Max and Cindy Lou Who help remind us of the true meaning of the holiday season. See Dr. Seuss' How The Grinch Stole Christmas! The Musical at the Hulu Theater at Madison Square Garden, December 13-30. Two-time Tony Award®-nominated Broadway actor Gavin Lee (Squidward Tentacles in SpongeBob SquarePants and Bert in Mary Poppins) will steal Christmas this season in the title role of the Grinch. "I am thrilled to step in to the furry, stinky green shoes of the world's most beloved Christmas bad boy this holiday season," Lee said. "As a dad myself, I know first-hand the magic of introducing kids to live theater and I look forward to hearts growing three sizes as they experience this beloved story in a whole new way…live on stage!"
James Barbour Celebrates the Holidays - Birdland Jazz Club
Through December 15, 2018 - New York
James Barbour Celebrates The Holidays Tenth Annual Holiday Concert Birdland Theater December 14 & 15 at 7pm Birdland Theater is proud to announce that James Barbour will return for his 10th Annual Holiday Concert series on December 14 and 15 with shows at 7pm. Having performed to sold out crowds around the world for the last ten years, this perennial event will hit the stage for two nights of music and cheer. The show, filled with holiday tunes and perennial favorites, will warm your heart and bring a smile to your face. As always, Mr. Barbour will be accompanied by special guest performers from the Broadway world. James Barbour recently completed a nearly 3 year run at 'The Phantom" in Broadway's longest running smash hit musical The Phantom Of The Opera. An award-winning Broadway star, international concert artist and speaker, James won the LA Ovation Best Actor Award for his portrayal of Jean Valjean in Les Miserables and was nominated for the Drama Desk, Drama League and Outer Critics Awards for Best Actor in a Musical for his portrayal of Sydney Carton in the Broadway musical version of A Tale of Two Cities. He also won the Sarasota Magazine Best Actor Award for the... (read more)
Handel's Messiah - David Geffen Hall
Through December 15, 2018 - New York
The Messiah of all Messiahs! The New York Philharmonic's Messiah is the must-see, must-hear holiday event. Every bar of Handel's greatest masterpiece — whether upon first encounter or at a yearly ritual — speaks to us with passion, beauty, spirituality, and joy. Dazzling solos, instrumental fireworks, and the most glorious choral writing of all time never fail to thrill.
Noel Nights: Rufus & Martha Wainwright and Family and Friends - The Town Hall,
December 16, 2018 - New York
Rufus Wainwright, Martha Wainwright, Emmylou Harris, Loudon Wainwright III, Teddy Thompson, Sloan Wainwright, Sufjan Stevens, Martha Plimpton, Lucy Wainwright Roche & more The legendary Rufus Wainwright and Martha Wainwright's Christmas show, "Noel Nights," is back in New York City! Featuring three generations of the Wainwright and McGarrigle families along with many special guests, the show has previously been presented in Montreal, New York, Los Angeles, San Francisco and Nashville. This year, after a 4 year hiatus, the show is returning to New York City on Dec. 16 at Town Hall. The show features not only Martha and Rufus but also Emmylou Harris, Loudon Wainwright III, Teddy Thompson, Sloan Wainwright, Lucy Wainwright Roche and more special guests to be announced. Described by The New York Times as "typical Christmas-time family gathering motley, convivial, multi-generational, jokey, affectionate and tinged with both skepticism and faith," the Christmas show has been a family tradition since 2005 when Kate and Anna McGarrigle released their classic album, "The McGarrigle Christmas Hour." Part concert and part family reunion the show was inspired by Kate McGarrigle, Ru... (read more)
Interschool Orchestras of New York Winter Concert - Symphony Space
December 16, 2018 - New York
The InterSchool Orchestras of New York Winter concert is back at Symphony Space! All four orchestras of the program-Morningside, Carnegie Hill, Concert Orchestra and ISO Symphony will be performing.
Looking for Free Group Planning Services?
Get free advice on planning your group's trip to New York.
MORE Activity Planner ARTICLES
RESTAURANTS

Beer hall casual meets craft cocktails with a healthy dose o...

THEATER

Gaston Leroux's famous period thriller is now one of Broadwa...

SHOPPING

Specializing in the great vineyards of California, France, A...

SIGHTSEEING

Opened to the public in 1913 thanks to the ingenuity and amb...