Classical Music in New York City This Week - January 6-January 13
January 6, 2019 - by CG Directory Editor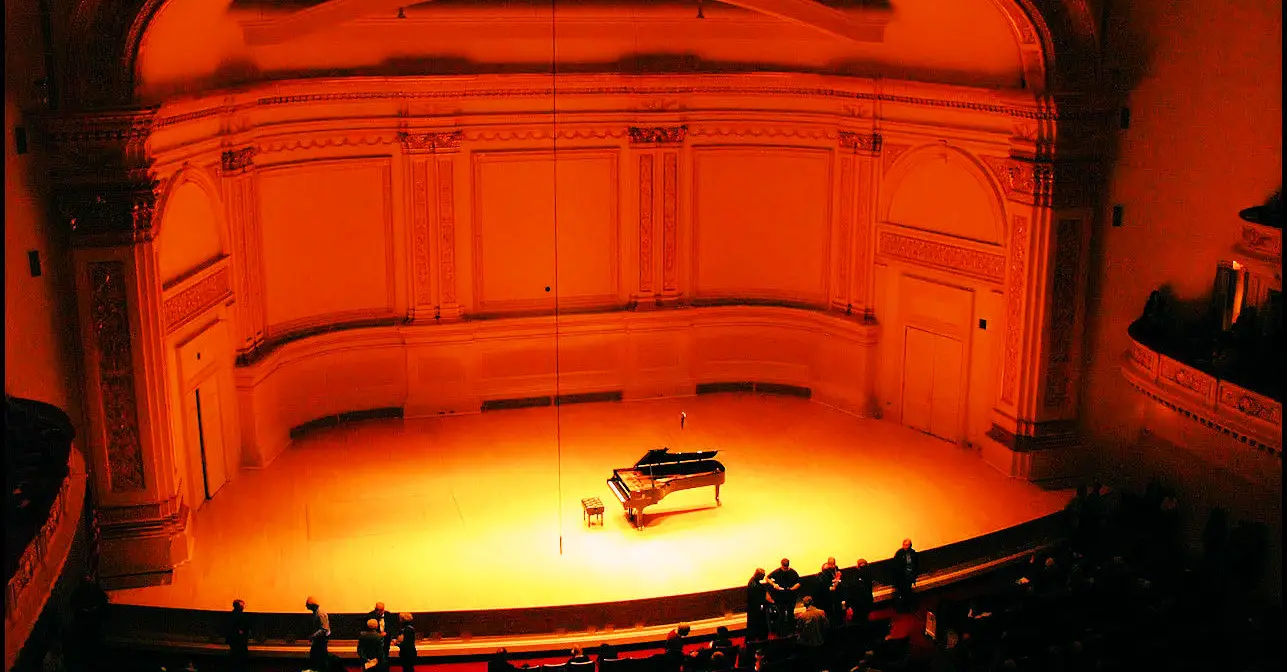 Photo: Fickr/Taos Melillo

From the New York Philharmonic to churches and smaller concert halls, you'll find the best of New York's classical music in City Guide's calendar. When it comes to acoustics, famous destinations like Carnegie Hall and Lincoln Center are world-class attractions and we've got every upcoming performance listed in our system.


Tavche Gravche - Museum at Eldridge Street
January 06, 2019 - China Town
The members of Tavche Gravche are virtuosos who use their diverse musical and cultural backgrounds to create a sound all their own. They merge haunting Macedonian and Mediterranean melodies with the explosive, danceable rhythms so common in Balkan music. And their expert musical abilities allow for their performances to go to fun and improvisational places. Enjoy this rare evening concert and reception as they push musical boundaries in the Museum's historic sanctuary.
Eleanor Kaufman With Her Band, Bryan Wang - Mercury Lounge
January 06, 2019 - New York
Age Limit: 21 and Over
Ruben Sings Luther (Ruben Studdard Sings Luther Vandross) - The Suffolk Theater
January 06, 2019 - Riverhead
American Idol, 3X Platinum Selling, and Grammy Nominated R&B, Gospel & Pop singer RUBEN STUDDARD pays homage to his musical hero LUTHER VANDROSS! ALWAYS AND FOREVER* NEVER TOO MUCH * A HOUSE IS NOT A HOME* POWER OF LOVE* Many many more... "We are not only recreating the beautiful production elements, musicians, background singers, wardrobe and lighting that were ever present when Luther took the stage, but my heart and soul will be in every note I sing as I honor one of the greatest vocalists we've ever had." A beautiful salute from one musical great to another... Ticket options for this event includes, row seating, and cabaret seating. Doors, Bar & Restaurant open for drinks and dining at 6:00. Show begins at 7:30pm. A La Carte Menu & Price Fixe Menus available for additional purchase. Food and Beverage available for purchase at bar for patrons with row seating.
Masterworks Series–Bach - Bargemusic
January 06, 2019 - Brooklyn
Bach Sonatas for violin and keyboard Mark Peskanov, violin; Rita Sloane, piano
Here and Now Series–Here and Now Winter Festival - Bargemusic
January 06, 2019 - Brooklyn
Scott Wheeler Whispered Sarabande (*World Premiere) Dina Pruzhansky "Under the Red Moon" (*US Premiere) Joel Hoffman "étude – pour les symmetries" (revised version, *World Premiere) Robert Kendall Brevis historia mundi for viola and piano (*World Premiere) Daniel Schnyder 2 Beasts and the Beauty (*World Premiere) COLOSSUS OF SOUND + new duos trios and quartets for Violin, cello, Sax and Bass Trombone Alex Weiser "Silent for the Rain" for cello and piano (*World Premiere) David Taylor "Suite Ghironda Galumphtoso"(*World Premiere): Duo for Bass Trombone and Alto Flute "Der Leiermann"; Duo for Violin and Bass Trombone "Ghironda Galumphtoso" Mark Peskanov, violin; Semplice Players: Paul Won Jin Cho, clarinet, Adelya Nartadjieva, violin, Julian Schwarz, cello, Dina Pruzhansky, piano; Woori Kim, piano; Andrew Gonzalez, viola; Maxwell Foster, piano; Julian Schwarz, cello; Marika Bournaki, piano; Cecile Gruebler, cello, Daniel Schnyder, sax; David Taylor, bass trombone
Maria Schneider Orchestra - Birdland Theater
January 06, 2019 - New York
Maria Schneider's music has been hailed by critics as "evocative, majestic, magical, heart-stoppingly gorgeous, and beyond categorization." Since 1994 Schneider began to develop her personal way of writing for her 18-member collective, made up of many of the finest musicians in jazz today. Maria has received numerous commissions and guest conducting invitations, working with over 85 groups from over 30 countries. Her latest release is the GRAMMY® award winning "The Thompson Fields," a fan-funded project from ArtistShare. Reeds: Steve Wilson, Dave Pietro, Rich Perry, Donny McCaslin, Scott Robinson. Trumpets: Greg Gisbert, Tony Kadleck, Nadje Noordhuis, Mike Rodriguez Trombones: Keith O'Quinn, Ryan Keberle, Marshall Gilkes, George Flynn Guitar: Ben Monder Accordion: Gary Versace (June 12-15), Ron Oswanski (June 16) Piano: Frank Kimbrough Bass: Jay Anderson Drums: Johnathan Blake
Hope Debates & North Forty - Skinny Dennis Bar
January 06, 2019 - Brooklyn
Hope Debates & North Forty
Apap: Acme, Carolina Eyck, Clarice Jensen - DROM
January 07, 2019 - New York
Clarice Jensen (cello), Carolina Eyck (theremin), ACME (American Contemporary Music Ensemble) Join us for this triple bill, each performing an engaging 30-minute set, featuring multi-faceted cellist Clarice Jensen, expanding and confusing the familiar sound of solo cello through the use of effects pedals, multi-tracking, and tape loops to weave layers of textures and sounds; theremin virtuosa Carolina Eyck, creating layers of sound colors by merging the theremin with her own voice and improvising within the classical, jazz, contemporary, and experimental traditions; and the American Contemporary Music Ensemble, whose dedication to new music extends across genres and has earned them a reputation among both classical and rock crowds with collaborators including Jóhann Jóhannsson, Max Richter, Blonde Redhead, Grizzly Bear, Low, Matmos, Jeff Mangum, A Winged Victory for the Sullen, Roomful of Teeth, Lionheart, and Theo Bleckmann.
Ashlee - Evan - The Bowery Ballroom
January 07, 2019 - New York
18 and Over
Evan Shinners - Fat Cat
January 07, 2019 - New York
Evan Shinners
Ecstatic Music Festival: wild Up, Zola Jesus & William Brittelle - Merkin Hall
January 07, 2019 - New York
Zola Jesus brings her unmistakably powerful, Gothic-electronic songwriting into dialogue with William Brittelle's "silo-bombing music that is at once free-ranging, formally adventurous, unconventionally beautiful, and a joyful thrill to experience" (The Nation), in a special collaboration with the "raucous, grungy, irresistibly exuberant" (New York Times) chamber orchestra, wild Up.
Saul Rubin Zebtet - Fat Cat
January 08, 2019 - New York
Saul Rubin Zebtet
Carmen - Metropolitan Opera House, Lincoln Center
January 09, 2019 - New York
Mezzo-soprano Clémentine Margaine reprises her remarkable portrayal of opera's ultimate seductress, a triumph in her 2017 debut performances, with impassioned tenors Yonghoon Lee and Roberto Alagna as her lover, Don José. Omer Meir Wellber and Louis Langrée share conducting duties for Sir Richard Eyre's powerful production, a Met favorite since its 2009 premiere.
Looking for Free Group Planning Services?
Get free advice on planning your group's trip to New York.
MORE Activity Planner ARTICLES
RESTAURANTS

Beloved midtown spot takes inspiration from local tradition,...

THEATER

In a heartbeat, 38 planes with 6,579 passengers were strand...

SHOPPING

DataVision is redefining retail with their new, fully intera...

SIGHTSEEING

Sweeping, unobstructed, open-air views of NYC from the top o...