Classical Music in New York City This Week - June 10-June 17
June 10, 2018 - by CG Directory Editor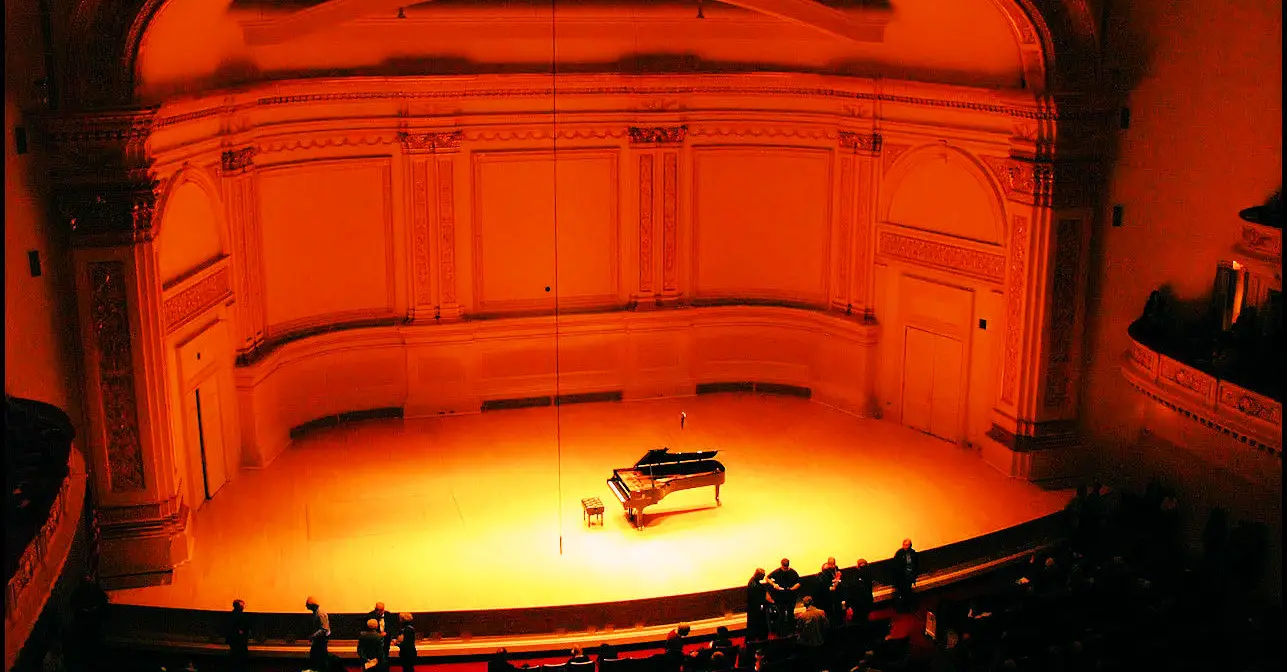 Photo: Fickr/Taos Melillo

From the New York Philharmonic to churches and smaller concert halls, you'll find the best of New York's classical music in City Guide's calendar. When it comes to acoustics, famous destinations like Carnegie Hall and Lincoln Center are world-class attractions and we've got every upcoming performance listed in our system.


ACME performs the music of Johann Johannsson - Le Poisson Rouge
June 10, 2018 - New York
Sunday, June 10, 2018 at 9:30pm (doors 9pm) ACME (American Contemporary Music Ensemble) performs the music of Icelandic composer Johann Johannsson. ACME frequently toured and recorded with Johannsson from 2009 until his death in February 2018. The concert, presented by LPR X, will include selections from Johannsson's first concert in New York, which took place in 2009 at Le Poisson Rouge with ACME. ACME artistic director Clarice Jensen will also perform "bc" for solo cello and tape loops, a piece that she co-composed with Johannsson last year. ACME players for this concert are Clarice Jensen, cello; Ben Russell, violin; Laura Lutzke, violin; Caleb Burhans, viola. $25 in advance, $30 day of show. Presented by Le Poisson Rouge. http://lpr.com/lpr_events/lpr-x-acme-performs-music-of-johann-johannsson-june-10th-2018/
New York Brass Festival - The McKittrick Hotel
June 10, 2018 - New York
NYC's first-ever all-encompassing brass band festival gathers an all-star brass ensemble collective across NYC's trans-global musical mosaic at the magical McKittrick for a day-long marathon on two stages in celebration of the joy of brass music. New York Brass Festival will feature tricentennial of New Orleans celebration which will include David Ostwald's Louis Armstrong Eternity Band paying tribute to the greatest American brassman of all times.
Sunday Gospel Brunch with the World Famous Harlem Gospel Choir All You Can Eat - Sony Hall
June 10, 2018 - New York
The Choir brings their experience of Harlem and the Black Church to Times Square in a foot stomping, hand clapping show for fans from around the world. The home-style "all you can eat" southern buffet is guaranteed to fill the hole in your soul, and the Choir's joyous performance will have you dancing on the stage. See more info on the B.B. King Blues Club website!
Seasons of Brahms - Merkin Concert Hall
Through June 10, 2018 - New York
Chamber works from the dawn and dusk of Brahms' long career encompass a lifetime in a single program. Inspired by the playing of clarinettist Richard Mühlfeld, Brahms came out of retirement to write his Clarinet Quintet in B Minor, a late masterpiece that flickers between autumnal wistfulness and rhapsodic—even gypsy—exuberance. Retrospective glances and unanswered questions abound as the quintet muses over itself as over a life lived, ending enigmatically at its own beginning. Reaching back in time is the early String Sextet No.1, a work of utter confidence conceived when Brahms was 27. Written for an unconventional ensemble that features two cellos and two violas, the Sextet revels in the rich sonorities of Brahms' beloved lower strings while bursting with the brio of youth.
Four Nations: Saints & Sins - Kaufman Music Center
June 11, 2018 - New York
An ensemble of four star vocalists with instruments present the virtuous and vulnerable and vicious characters that make sacred musical drama as compelling as the paintings of Caravaggio and Goya. For every David there is a Saul, for every Salome there is a John the Baptist. There is brilliant music for all, Saint or Sinner. ARTISTS Singers: Pascale Beaudin, soprano Stephanie Houtzeel, mezzo soprano Thomas Cooley, tenor David Newman, baritone Instruments: Olivier Brault and Adriane Post, violin Kyle Miller, viola Loretta O'Sullivan, cello Anne Trout, bass Scott Pauley, lute Andrew Appel, harpsichord and director Four Nations appearances at Merkin Concert Hall are made possible through a generous donation from Mr. Christian Draz.
Young Classical Musicians Salute Israel's 70th Anniversary - Carnegie Hall
June 11, 2018 - New York
Facets of Brahms: Brahms and the Schumanns - Kaufman Music Center
June 12, 2018 - New York
Two works by Brahms and two by Clara and Robert Schumann compete for affection in this intimate program recalling the complex emotional entanglements of the composers. On the bill is Brahms' "Scherzo" from the Sonatensatz in C Minor—a collaborative creation that also includes contributions by Robert Schumann and Albert Hermann Dietrich; Robert Schumann's pathos-filled Piano Trio No.1; Clara Schumann's late Romances for Violin, imbued with invention and charm; and Brahms' Horn Trio, Op. 40, based on a theme dating from the year of his first encounter with the Schumanns. Pre-concert discussion, led by husband and wife Thomas and Deborah Cabaniss, will explore the composers' psychologically-charged relationship. ARTISTS St. Luke's Chamber Ensemble Pedja Muzijevic, Piano PROGRAM BRAHMS - "Scherzo" from Sonatensatz in C Minor ROBERT SCHUMANN - Piano Trio No. 1, Op. 63 CLARA SCHUMANN - Romances for Violin, Op. 22 BRAHMS - Horn Trio, Op. 40 Orchestra of St. Luke's grew out of a versatile chamber ensemble that began performing concerts in 1974 at the Church of St. Luke in the Fields in Greenwich Village. Today, Orchestra of St. Luke's performs approximately 80 con... (read more)
'Regarding Whitney' Featuring August Kleinzahler, Du Yun and Shayna Dunkelman, Carl Hancock Rux, and Esperanza Spalding - National Sawdust
June 13, 2018 - Brooklyn
As waves of 90s rediscovery and revisionism ebb and flow around her, we still don't know quite what to say about Whitney Houston, how to situate the woman and her music in the stories we tell ourselves about culture and race, superstardom and tragedy. In this special evening created by NationalSawdust+ and the London Review of Books, writers and musicians will reflect on Whitney Houston as artist, actress and icon, and help us consider her anew. Poet, critic, and melomaniac August Kleinzahler and musicians such as Du Yun and Shayna Dunkelman, Carl Hancock Rux, and Esperanza Spalding will share performances and readings inspired by Houston's sweeping body of work.
Live Piano Karaoke with Julian Velard - Sid Gold's Request Room
June 13, 2018 - New York
With a style The Sunday Times calls "catchy but complicated; a surprisingly rare combination," Julian Velard is piano-pop tunesmith recalling Stephen Sondheim or Randy Newman at the peak of their talents. With 4 albums of original material under his belt, he's toured internationally alongside the likes of Jamie Cullum, Paul Carrack, and Amy Macdonald. His quirky, native new york, piano-man sound has found its largest audience in Holland, where he headlined Amsterdam's legendary venue, Paradiso. His comedic timing and musical stylings have made him a regular on The Howard Stern Show and NPR's Ask Me Another.
Brahms and the Schumanns - The Morgan Library & Museum
Through June 13, 2018 - New York
St. Luke's Chamber Ensemble Brahms Chamber Music Festival Three intimate perspectives on the musical life of the Romantic-era master, featuring readings and special guests. Brahms and the Schumanns Pedja Muzijevic, piano Brahms, "Scherzo" from Sonatensatz in C minor, WoO2 Robert Schumann, Piano Trio in D minor, Op. 63, No. 1 Clara Schumann, Romances for violin and piano, Op. 22 Brahms, Horn Trio in E-flat Major, Op. 40
Happy Hour Piano Karaoke with Mark Piro - Sid Gold's Request Room
June 15, 2018 - New York
Sid Gold's Request Room now features Happy Hour Piano Karaoke on Fridays! Start your weekend off with a song! With Mark Piro at the keys! Check out Mark's song list!
Open Bar Concerts: Brahms & the Schumanns - The DiMenna Center for Classical Music
June 15, 2018 - New York
Grab a beer, kick off your shoes, and find yourself a nice plush pillow to cozy up and enjoy casual nights of music and drinks. Orchestra of St. Luke's teams up with Groupmuse to present a very special concert experience–the Massivemuse. This series of three intimate chamber music concerts is presented salon-style in The DiMenna Center and gives audiences the chance to chat with the musicians between pieces.
Live Piano Karaoke with Leslie Goshko! - Sid Gold's Request Room
June 16, 2018 - New York
Leslie Goshko (Huffington Post Comedy) is the host and creator of the monthly storytelling series, Sideshow Goshko, which has been hailed as a Time Out New York and New York Times "Critics' Pick", and also noted as "a well-programmed night" by the New York Times.Sideshow Goshko has been featured on TruTV'sImpractical Jokers, NPR'sSnap Judgment, and inThe New Yorker.Her cabaret show "An Old-Fashioned Piano Party with Leslie Goshko" is heralded as a Time Out New York "Critic's Pick" and she served as the musical director for NY1 anchors Pat Kiernan and Jamie Stelter's live show at 92Y, "Pat and Jamie's NY." And thanks to the support of many Internet voters, she performed with the cast of Hairspray on Broadway. https://www.lesliegoshko.com/
Amaris - Triad Theater
June 16, 2018 - New York
Amaris is the latest star to emerge from Truesytunes Entertainment LLC. Under the Direction of Broadway Veteran/Recording Artist, Lee Truesdale. A graduate of the "Hartford Academy of the Arts", she trained classically as a Vocalist/Dancer. Also a Graduate of "Howard University", she was a member of the "Howard Gospel Choir". Now "An Evening With Amaris Live In Concert" Directed & Designed By – Lee Truesdale, lands center stage @ The Triad Theatre, Saturday, 6/16/2018 @ 9:30pm $20 Cover / 2 Drink Min. It's been said of Amaris that… "The Truth Ain't No Rumor"
Looking for Free Group Planning Services?
Get free advice on planning your group's trip to New York.
MORE Activity Planner ARTICLES
RESTAURANTS

Beer hall casual meets craft cocktails with a healthy dose o...

THEATER

Kander and Ebb's "musical vaudeville" in which Roxie Hart ga...

SHOPPING

PANDORA, one of the leading names in jewelry for more than 3...

SIGHTSEEING

Opened to the public in 1913 thanks to the ingenuity and amb...