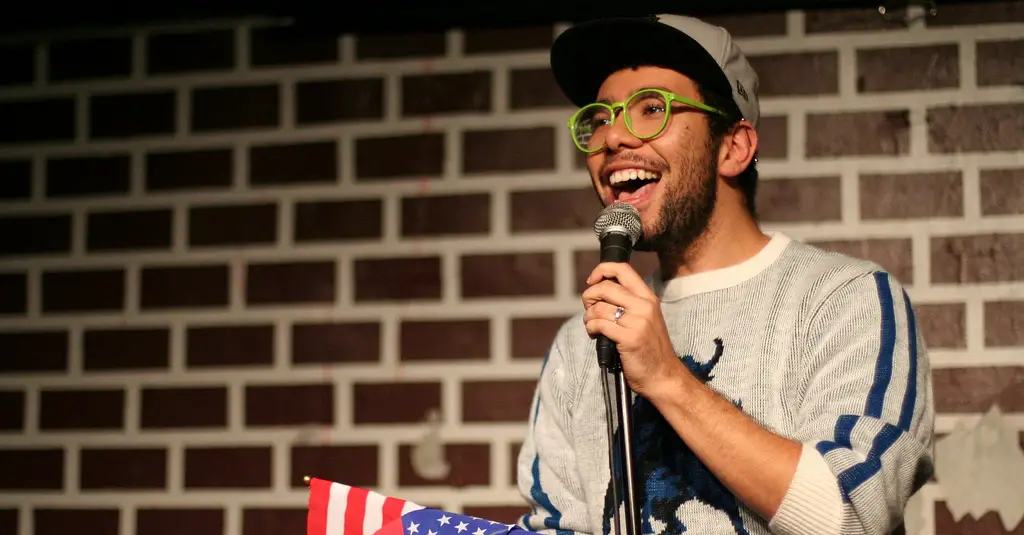 Photo: Benjamin Ragheb/Flickr

Who doesn't enjoy a hearty laugh? You'll get your fill of chuckles and then some at any of the comedy club shows on this weekend roundup from City Guide. Attending comedy shows in New York City is a must for anyone wanting to enjoy everything the city has to offer, and you might even catch a famous name performing a set at The Comedy Cellar, Gotham Comedy Club, or The Stand if you're lucky!


Hazelle: What's Going On- Comedy - The Triad
December 14, 2018 - New York
Hazelle Goodman, known for her outstanding roles in film and television including, Cookie in Woody Allen's Deconstructing Harry, Georgia Rae Mahoney on NBC's Homocide, and Ms. Brown in Extremely Loud and Incredibly Close starring Tom Hanks, returns to the stage with her hilarious characters from her self titled HBO Special HAZELLE! Please Note: the venue has a 2-beverage minimum per person.
The Real Bitches of Comedy - Silvana
December 15, 2018 - New York
The Real Bitches of Comedy show highlights female standup comedians & also features some very talented male comics.
Roy Wood Jr. Headlines Gotham Comedy Club - Gotham Comedy Club
Through December 15, 2018 - New York
Roy Wood Jr's comedy has entertained millions across stage, television and radio. Roy joined "The Best F#@ing News Team" in 2015 as a correspondent on Comedy Central's Emmy-nominated hit series, "The Daily Show with Trevor Noah." In 2017, he was named the new host of Comedy Central's storytelling series, "This is Not Happening," which will launch a fifth season next year. His first Comedy Central one-hour stand-up special, "Father Figure," premiered in 2017 along with an extended uncensored album of the same name released by Comedy Central Records. His second Comedy Central one-hour stand-up special, "Roy Wood Jr.: No One Loves You," will premiere at the beginning of 2019. Entertainment Weekly has described the thought-provoking comedy of Roy Wood Jr. as "charismatic crankiness." Prior to "The Daily Show," Wood co-starred for two seasons season on TBS' "Sullivan & Son," playing the loving drinking buddy of star Steve Byrne, who has returned to Pittsburgh to run the family bar. Wood, a native of Birmingham, Alabama, began his comedy career in 1999 at the age of 19 while attending Florida A&M University. In October 2006, Wood made his network television debut on "The Late Show ... (read more)
Comedian Royale Watkins - Gotham Comedy Club
December 16, 2018 - New York
18 & over Comedian Royale Watkins brings you an original mix of the funniest comics, the Livest music and a guaranteed good time! Four comics, one of NY's most incredible DJ's, a live band and a guest music act to close to show. Past performers include Tracy Morgan, Tom Papa, Sherri Shepherd, Amy Schumer, Chris Rock and Jerry Seinfeld to name a few. But what really sets The Mixtape Comedy Show apart from other shows is your presence. We look forward to seeing you at the show!
Comedy at the Knitting Factory Hosted by Will Miles, Clark Jones and Kenny Deforest - Knitting Factory Brooklyn
December 16, 2018 - Brooklyn
This event is 21 and over. Any Ticket holder unable to present valid identification indicating that they are at least 21 years of age will not be admitted to this event, and will not be eligible for a refund. Age Limit: 21+
Airplane Mode: Free Weekly Comedy Show in Park Slope - Cherry Tree
Through December 27, 2018 - New York
Airplane Mode is a weekly stand-up comedy show hosted by Raghav Mehta, Rebecca O'Neal, Rohan Padyhe and Geoffrey Asmus at Cherry Tree Bar in Park Slope right next to the Barclay's Center. Every Thursday @ 8pm Airplane Mode showcases the best stand-up comedians in NYC and the world for FREE. These comedians have been featured on Comedy Central, NETFLIX, HBO, CONAN and the Tonight Show. So make sure to see them before they are famous. This week's show features Chloe Radcliffe (CONAN's Comics to Watch) Tyler Fischer (America's Got Talent), Randall Otis (Above Average), Gena Gephart (Laugh Factory), and Donnie Sengstack (Winner of Funniest Comic in Baltimore).