Comedy Shows in New York City This Weekend - June 8-June 10
June 4, 2018 - by CG Directory Editor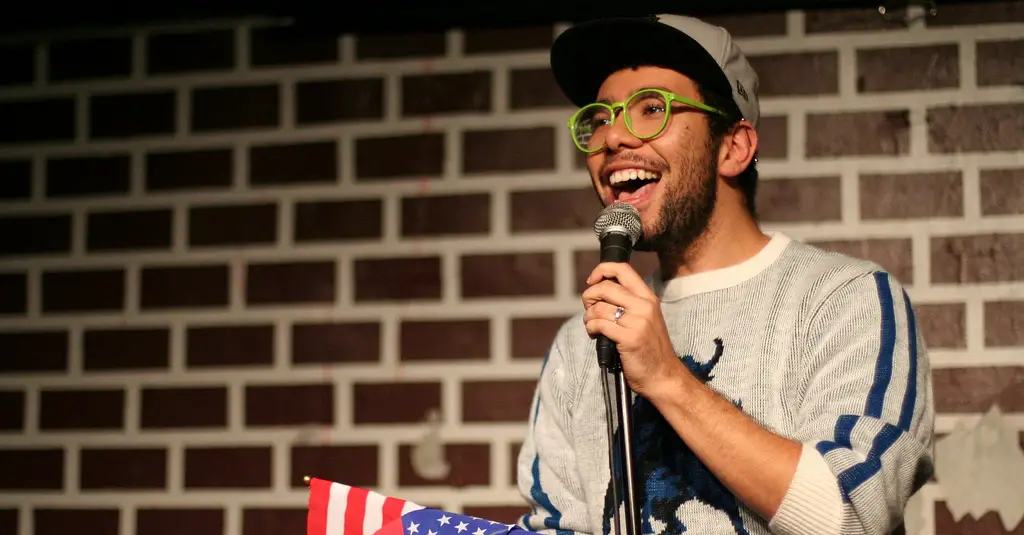 Photo: Benjamin Ragheb/Flickr

Who doesn't enjoy a hearty laugh? You'll get your fill of chuckles and then some at any of the comedy club shows on this weekend roundup from City Guide. Attending comedy shows in New York City is a must for anyone wanting to enjoy everything the city has to offer, and you might even catch a famous name performing a set at The Comedy Cellar, Gotham Comedy Club, or The Stand if you're lucky!


Friday Night Mics (PIT ATTIC) - PIT Striker Mainstage
June 08, 2018 - New York
Start your weekend off right with this Friday Night Mic in the heart of Manhattan!
BoogieManja - The PIT Loft
June 08, 2018 - New York
BoogieManja (n): 1.) A huge, exciting, experimental monster. 2.) An hour of fantastic sketch comedy from some of the best performers and writers in NYC. 3.) Something that changes shape or form every month.
Sandy and Richard Riccardi ~ Political Snarkasm - Triad Theater
June 08, 2018 - New York
Political Snarkasm is a left-leaning show. Sandy and Richard Riccardi's show is a fun-filled hour of lampoons, jabs and jibes on a host of topical subjects. With mostly their own original songs, but with an occasional borrowed tune to which the pair wrote parodies ranging from puckish to cynical to contemptuous, they took sharp aim at, among other items, politicians, TV evangelists, Broadway musical wannabees, sexual orientation, and the Twitter explosion.
Gabriel 'Fluffy' Iglesias - Carolines on Broadway
June 08, 2018 - New York
GABRIEL "FLUFFY" IGLESIAS BIOGRAPHY Iglesias is one of America's most successful stand-up comedians performing to sold-out concerts around the world. He is also one of the most watched comedians on YouTube with over 350,000,000 views and has over 9 million fans on Facebook. The comedian has also had the distinct honor of being one of the few to headline and sell-out Madison Square Garden in New York and Staples Center in Los Angeles. Celebrating 20 years in stand-up comedy, Iglesias is currently on his new world tour, "One Show Fits All." Iglesias can next be heard voicing "Sprinkles" the dog in upcoming film Show Dogs set to hit theaters on May 18th, 2018. He will also guest-star in an upcoming episode of ABC's hit comedy Modern Family.
Bragging Rights - PIT Striker Mainstage
June 09, 2018 - New York
A group of comedians and actors that have been randomly drafted into 2 separate teams go head to head for laughs where the audience and/or guest judges vote on which team was the funniest and gets to walk away as Bragging Rights Sketch Comedy Champions for the month. It's part Fantasy Football, part Wrestling, and all Comedy!
The Baldwins - The PIT Underground
June 09, 2018 - New York
The PIT's longest running team, The Baldwins, perform their signature brand of longform improv comedy at 8pm every Saturday night. "One of the most impressive and absurd long-form improv routines in the city." - TimeOut NY "Terrific, hilarious and disgusting." - Josh Radnor, How I Met Your Your Mother The Baldwins are Kevin Cragg, Daniela Donohue, Meg Griffiths, Chris Griggs, Sarah Nowak, Amanda Peck, Pat Sheperd, and Micah Sherman.
Freaknik - The Creek and The Cave
June 09, 2018 - Queens
Starting in 1982, the city of Atlanta threw an annual party called "Freaknik" which essentially became the largest black spring break party in the country. The party became so big and wild that the city shut it down for good in 1996, but we're all in luck, because comedians Andy Sandford, Noah Gardenswartz and Steve Forrest are bringing Freaknik back, and they're bringing it to Long Island City! "Comedy Freaknik" will be a lot like the original Freaknik, except it's going to happen once a month, and it will be a comedy show hosted by three white guys. That's basically the ONLY difference.
Seafood Mayhem - The PIT Loft
June 09, 2018 - New York
Raw sketch comedy that's so dark it's below sea level, and so crazy that it belongs behind glass. Get lightly battered and fried for a naughty nautical time!
Magic Show - Broadway Comedy Club
June 09, 2018 - New York
David Koechner Headlines Gotham Comedy Club - Gotham Comedy Club
Through June 09, 2018 - New York
Actor, writer and producer David Koechner stars as Tush on CBS's "Superior Donuts." He's also well-known for his roles as Todd Packer on "The Office" and Champ Kind from "Anchorman" and "Anchorman 2: The Legend Continues." Koechner recently starred in Legendary's "Krampus" and Roadside Attraction's "Priceless." On the small screen, he appears in Showtime's "Twin Peaks," Comedy Central's "Another Period," ABC's "The Goldbergs" and voices reoccurring characters on FOX's "American Dad" and Netflix's "F is for Family" and "All Hail King Julien." An alumnus of Chicago's Second City Theater, Koechner got his first break as a cast member on "Saturday Night Live" and since has become an instantly recognizable face appearing in more than 160 films and television shows. Additional notable film credits include "Waiting," "Out Cold," "Talladega Nights," "Get Smart," "Extract," "Thank You for Smoking," "A Haunted House," "Scouts Guide to the Zombie Apocalypse" and the dark, twisted, film festival award-winning thriller, "Cheap Thrills." When not filming, Koechner performs live stand-up comedy across the country and creates original content videos for his YouTube channel, "Full On Koech... (read more)
The Last Laugh - The PIT Underground
June 10, 2018 - New York
The Pit's weekly all-star stand-up showcase! Get your last laugh in before your miserable week begins!
Looking for Free Group Planning Services?
Get free advice on planning your group's trip to New York.
MORE Activity Planner ARTICLES
RESTAURANTS

Multi-concept restaurant offering modern Japanese cuisine, a...

THEATER

In a heartbeat, 38 planes with 6,579 passengers were strand...

SHOPPING

The world's largest source of cameras, camcorders, and more ...

SIGHTSEEING

The 9/11 Memorial honors the nearly 3,000 people killed in t...