Comedy Shows in New York City This Weekend - October 12-October 14
October 8, 2018 - by CG Directory Editor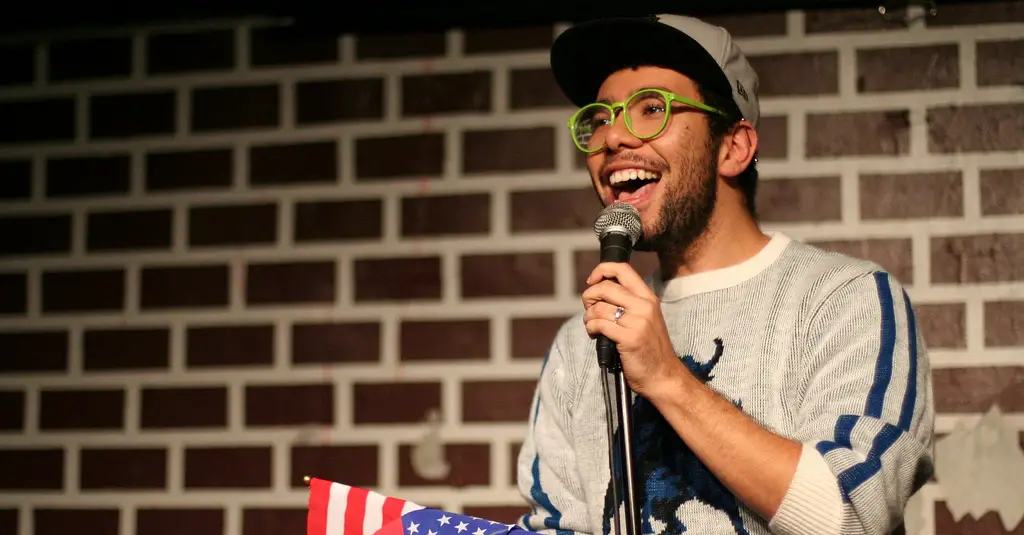 Photo: Benjamin Ragheb/Flickr

Who doesn't enjoy a hearty laugh? You'll get your fill of chuckles and then some at any of the comedy club shows on this weekend roundup from City Guide. Attending comedy shows in New York City is a must for anyone wanting to enjoy everything the city has to offer, and you might even catch a famous name performing a set at The Comedy Cellar, Gotham Comedy Club, or The Stand if you're lucky!


The 50+ Comedy Tour - Madison Theater at Molloy College
October 13, 2018 - Rockville Centre
This is the comedy show 50 years in the making! Featuring Top Comedians with one thing in common, they're ALL over the age of 50! This is THE Comedy Show for "Mature" Audiences.
The Jim Breuer Residency: Comedy, Stories & More - The Paramount
October 13, 2018 - Huntington
The Paramount Comedy Series is pleased to announce a residency with comedian Jim Breuer. Born and raised in Long Island, Breuer marks the return to his hometown with THE JIM BREUER RESIDENCY: COMEDY STORIES AND MORE, a one-man show featuring stories, comedy, musical improv, special guests and many surprises! Promising no performance will be the same, the first three shows are February 17, March 3, and April 14, with the remaining dates to be announced at a later time. Breuer has performed 11 sold out shows at The Paramount to date, having even taped his latest one-hour special JIM BREUER: COMIC FRENZY (EPIX) from the venue. The former Saturday Night Live cast member will be the first comic to ever have a residency at the theatre, and Breuer couldn't be more thrilled to be a part of this endeavor. "I can't thank The Paramount enough for making me feel so at home," Breuer said. "It is by far one of my favorite venues to play at and I can't wait to crush it!" Coming on the heels of 10 sold out shows by Sebastian Maniscalco and eight sold out shows with Kevin James just in the past year, The Paramount Comedy Series continues to showcase the best comedians in entertainment for Lon... (read more)
Donnell Rawlings - Carolines on Broadway
Through October 14, 2018 - New York
2016 started off with a bang for Donnell, he has already been cast in Kevin Smith's pilot Hollyweed. 2015 was a huge year for Donnell Rawlings,he lit the stage at The Dubai Comedy Festival. He also rocked it at Montreal Comedy Festival. He has been touring all over with Dave Chappelle. In 2014 he killed during a record number of shows working with Dave Chappelle at Radio City Music Hall in NYC. You just saw him starring in his own show as Judge Rawlings on MTV2's Guy Court. Donnell was also was a cast member on MTV2's Guy Code. Donnell can be seen hosting Staann' Dup to be seen on StarzBlack. He lends his voice in a recurring role as "Another Cat Named Rally" on the hit animation Black Dynamite as well being featured in Adult Swim's animation. Donnell continues to tour heavily, performing his intelligently bold stand-up throughout the US, Europe, and the Caribbean. He was a co-host on both Power 105's (NY's #1 Hip Hop and R&B radio station) morning show "Egypt and Ashy in the Morning" and "The Big Tigger Morning Show" on WPGC in Washington DC, and he enjoyed weekly guest appearances on New York's Hot 97 Morning Show. He was a regular on E!'s "Chelsea Lately", starred in Comedy C... (read more)
Airplane Mode: Free Weekly Comedy Show in Park Slope - Cherry Tree
Through December 27, 2018 - New York
Airplane Mode is a weekly stand-up comedy show hosted by Raghav Mehta, Rebecca O'Neal, Rohan Padyhe and Geoffrey Asmus at Cherry Tree Bar in Park Slope right next to the Barclay's Center. Every Thursday @ 8pm Airplane Mode showcases the best stand-up comedians in NYC and the world for FREE. These comedians have been featured on Comedy Central, NETFLIX, HBO, CONAN and the Tonight Show. So make sure to see them before they are famous. This week's show features Chloe Radcliffe (CONAN's Comics to Watch) Tyler Fischer (America's Got Talent), Randall Otis (Above Average), Gena Gephart (Laugh Factory), and Donnie Sengstack (Winner of Funniest Comic in Baltimore).
Looking for Free Group Planning Services?
Get free advice on planning your group's trip to New York.
MORE Activity Planner ARTICLES
RESTAURANTS

Multi-concept restaurant offering modern Japanese cuisine, a...

THEATER

Gaston Leroux's famous period thriller is now one of Broadwa...

SHOPPING

Specializing in the great vineyards of California, France, A...

SIGHTSEEING

Sweeping, unobstructed, open-air views of NYC from the top o...