Comedy Shows in New York City This Weekend - September 14-September 16
September 10, 2018 - by CG Directory Editor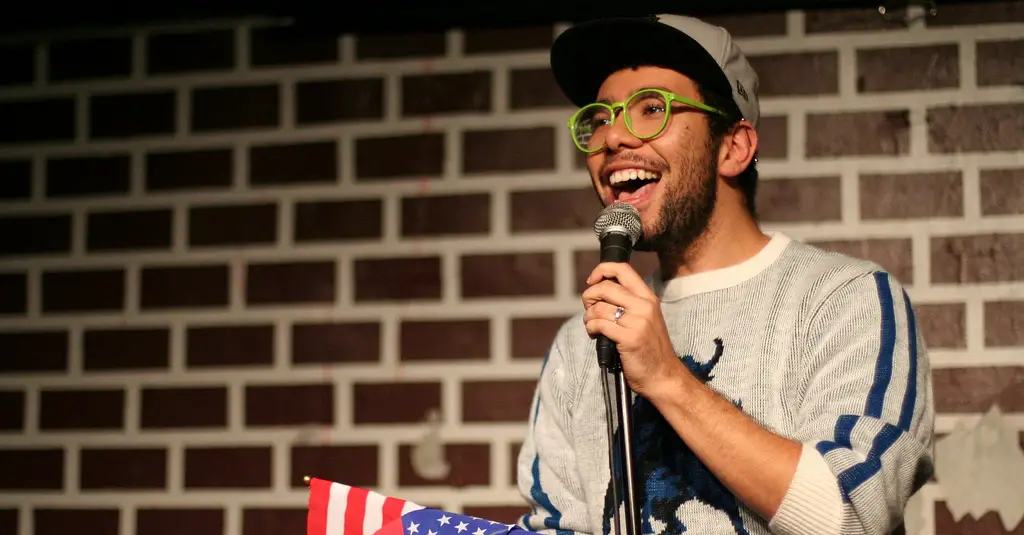 Photo: Benjamin Ragheb/Flickr

Who doesn't enjoy a hearty laugh? You'll get your fill of chuckles and then some at any of the comedy club shows on this weekend roundup from City Guide. Attending comedy shows in New York City is a must for anyone wanting to enjoy everything the city has to offer, and you might even catch a famous name performing a set at The Comedy Cellar, Gotham Comedy Club, or The Stand if you're lucky!


Colin Kane Headlines Gotham Comedy Club - Gotham Comedy Club
Through September 15, 2018 - New York
If you like dirty comedy, Colin Kane's your man. An insult comic that acknowledges the line and leaps over it, Kane is best known for his in-your-face delivery and off-the-cuff crowd work. Featuring an unlikely blend of piercing bite and authentic heart, Kane's R-rated act tackles sex, relationships, race... and everyone who is brave enough to sit in the front row. Kane recently made his film debut in a breakout role opposite Kevin Hart in "The Wedding Ringer," which was the #1 comedy in America for three weeks in a row. He has a special on Showtime, won Howard Stern's "Kill or Be Killed" comedy competition and performs for our troops whenever possible through the Wounded Warrior Project. Kane's popularity has proven contagious across the country, and has happened mostly via word-of-mouth from a dedicated fan base. Anyone who comes to one of his shows is guaranteed to come back with 20 of their friends. A Los Angeles resident, the born-and-bred New Yorker sells out theaters and comedy clubs across the country. Now it's time for you to see why. Visit: http://www.colinkane.com/. Showtimes: Fri. & Sat. 7:30PM & 10:00PM
The Addams Family - A New Musical Comedy - Theater Three
Through September 16, 2018 - Port Jefferson
Charles Addams' creepy, kooky characters come to life in this topsy-turvy musical! Join Gomez, Morticia, and the clan in this frightfully delightfully twisted take on Romeo and Juliet as that Princess of Darkness, Wednesday Addams, brings home her "normal" boyfriend to meet the entire tribe. A terrific original score, tangos, swordfights, lightbulbs, graveyards, preciously dead flowers, and ah, the French!—they're all here. A perfect musical for the Halloween season!
Single Dead Female - Theater for the New City
Through September 16, 2018 - New York City
At the peak of the true crime boom, the host of Single Dead Female, a popular true crime podcast, finds herself without a buzzy subject for her new season. When her intern accidentally kills a hot, young woman, the two conclude they have no choice but to use her as their subject. Will their listeners discover the truth? Find out, right after this ad for Harry's Razors.
Linda Loves Bingo - Le Poisson Rouge
Through September 29, 2018 - West Village
WIN BIG AT NYC'S #1 DRAG GAME SHOW—LINDA LOVES BINGO! Join hostess Linda Simpson as players vie for a treasure trove of prizes, from discount-store delights to a cash jackpot. Thrills, laughs and prizes galore! Bring along your friends, relatives, your special someone, or just come alone—Anyone can be a winner at this fun-filled affair! Great for birthday celebrations and other special gatherings. (Arrive early for best seats.) The New York Times, Time Out and New York magazines all agree: Bingo with Linda is a blast!
Airplane Mode: Free Weekly Comedy Show in Park Slope - Cherry Tree
Through December 27, 2018 - New York
Airplane Mode is a weekly stand-up comedy show hosted by Raghav Mehta, Rebecca O'Neal, Rohan Padyhe and Geoffrey Asmus at Cherry Tree Bar in Park Slope right next to the Barclay's Center. Every Thursday @ 8pm Airplane Mode showcases the best stand-up comedians in NYC and the world for FREE. These comedians have been featured on Comedy Central, NETFLIX, HBO, CONAN and the Tonight Show. So make sure to see them before they are famous. This week's show features Chloe Radcliffe (CONAN's Comics to Watch) Tyler Fischer (America's Got Talent), Randall Otis (Above Average), Gena Gephart (Laugh Factory), and Donnie Sengstack (Winner of Funniest Comic in Baltimore).
Looking for Free Group Planning Services?
Get free advice on planning your group's trip to New York.
MORE Activity Planner ARTICLES
RESTAURANTS

Multi-concept restaurant offering modern Japanese cuisine, a...

THEATER

Gaston Leroux's famous period thriller is now one of Broadwa...

SHOPPING

An array of quality branded merchandise showcasing HBO's® aw...

SIGHTSEEING

SPYSCAPE is the world's preeminent spy museum and experience...