Danh Vo: Take My Breath Away at the Guggenheim Museum
March 6, 2018 - by Ethan Wolff
The historical and the personal collide in the moving new show Danh Vo: Take My Breath Away at the Solomon R. Guggenheim Museum. From the Unabomber's typewriter to JFK's cabinet-room chair to mash-ups of sacred art, Danish artist Danh Vo employs a mischievous eye as he repurposes the past. All through the exhibition (the first-ever mid-career survey of Vo), you'll find powerful visuals, amplified by their placement within the epic contours of the museum itself.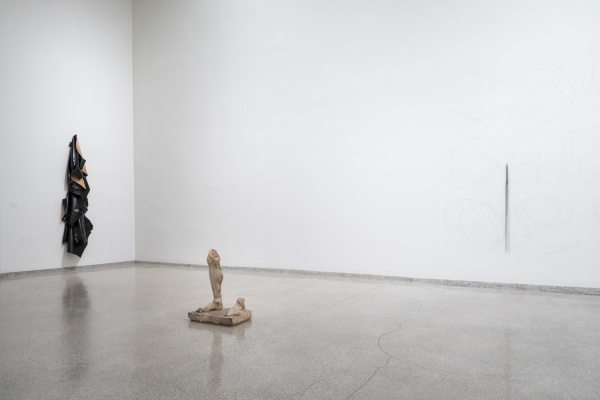 Installation view: Danh Vo: Take My Breath Away, Photo: David Heald, © Solomon R. Guggenheim Foundation, 2018
Born in Vietnam in 1975, Vo's family's post-war dislocation informs his work. In the center of the first High Gallery sits part of 2013's Lot 20. Two Kennedy Administration Cabinet Room Chairs, which is scattered throughout the show. Dwarfed by the proportions of the room is an armchair reduced to its frame, the factory tag from its upstate New York origins still dangling. It would have its own resonance as an abandoned object, but it becomes haunting when the viewer learns its context. The chair was purchased at the estate sale of former Secretary of Defense Robert S. McNamara, who oversaw the escalation of the Vietnam War. It had been the gift of a grieving Jackie Kennedy, one of two chairs used by McNamara and JFK himself. JFK holds a martyr's place in the American imagination and there's a thrill to the proximity of this saintly/celebrity relic. It's also shocking to see something normally revered so defiled, the preciousness of its status disregarded—a seat of power laid bare.
That Vo's work thrives on context is signaled by the balance of the room. Behind the marooned chair more of Lot 20 is revealed, the chair's missing black leather cover in sagging tiers, nailed up like the Ninety-five Theses. The result is suggestive simultaneously of a lava flow, Claes Oldenburg, and death. In between chair and cover is Take My Breath Away (2017), the remnant of a 2nd century Roman marble statue, with but base, feet, and one finely wrought leg surviving. The mind may turn to Mafioso cement shoes, or to the time it was created, with chaos readying to encroach on the old orders. As an amputation and a fragment there's a futility to it, and again an element of the personal—the name is not only leant to the show, but references the phrase "Fabulous Muscles Take My Breath Away," engraved on the exterior of the Guggenheim by the artist's father, and lifted from a song by Vo's frequent collaborators, the band Xiu Xiu.
Near the ceiling in this same space hangs Christmas (Rome), 2012, a mysterious draping of crucifix silhouettes and geometrics against a dingy golden velvet. The piece whispers of the illusion that resides in religion. In its photogram effect it's also a portrait of time: shadows fossilized into silhouettes. Absence, it suggests, can be more powerful than presence.
The motifs carry out of the room and around the first bend, where a portrait of cognitive dissonance awaits. Fourteen letters and envelopes from the correspondence between Secretary of State Henry Kissinger and New York Post theater critic Leonard Lyons comprise 2008's Untitled. The viewer's knowledge of the U.S. atmosphere in 1969 and 1970 is upturned by the tenor of the letters, expressing Kissinger's appreciation for being hooked up with hot Broadway tickets (Hello, Dolly; Last of the Red Hot Lovers). "You must be some kind of fiend," Kissinger writes to Lyons. "I would choose your ballets over contemplation of Cambodia any day—if only I were given the choice."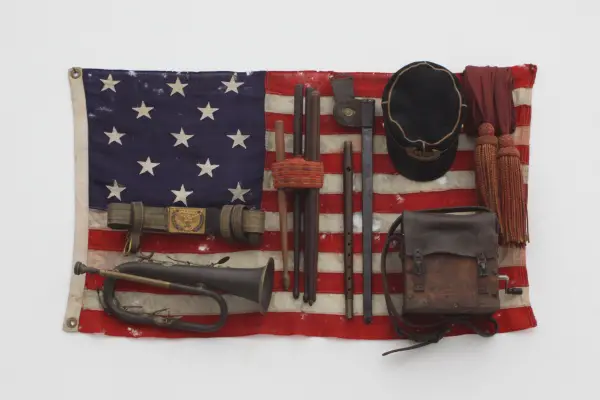 Danh Vo, "She was more like a beauty queen from a movie scene," 2009, mixed media, 96.5 x 54.5 cm, a Chantal Crousel, Photo: Jean-Daniel Pellen, Paris © Danh Vo.
This glimpse of American privilege leads to the installation She was more like a beauty queen from a movie scene. An auction purchase, like much in the show, on its surface it reflects a celebration of American history, gathering together martial elements that include a sword belt and a bayonet sheath against the backdrop of a 13-star American flag. The title, cribbed from Michael Jackson, adds an additional layer of kitsch. The effect is of a stylized American history, with implicit violence glossed over by a harmony of juxtaposition. The assemblage also produces a very American desire to know what it cost, and how much exponentially more it's worth as a work of Danh Vo art, even though it's presented identically to the way it originally appeared in the auction catalogue. Context trumps again. (For the chairs from the White House, the gavel fell at Sotheby's at $146,500, just beneath the low range of their estimate.)
Installation view
Vo's daring reaching out to claim history reaches a peak with three chandeliers once hung at the Hôtel Majestic in Paris. These same fixtures shined light on the signing of the Paris Peace Accord in 1973, where delegates from Vietnam and the U.S. completed negotiations on an agreement that did not produce peace. Hanging here, they are elaborate, decedent objects, pompous within the streamlines of Frank Lloyd Wright's architecture. A label notes Vo's observation that in their travel-destination-origins they were "designed to make you forget, to make you leave your sorrows behind." Here, of course, their placement is engineered so that you don't forget.
Seeing them reclaimed, or the Unabomber's Smith Corona Portable Typewriter or the pen nib used by McNamara to sign the Gulf of Tonkin Resolution, leads to a sense of appreciation for Vo's willingness to walk into the frame of the 20th century. That he would appropriate this items is something like Edward Weston making a meal of Pepper No. 30 after he'd immortalized it on film.
Continue winding your way up the exhibit and you'll see dismemberment recurring as a theme, in the lives of colonial missionaries, and in a life-size Statue of Liberty, left in parts. There are tender pictures of young Vietnamese men taken by Joseph Carrier, who worked in South Vietnam during the war. They reflect another notion of dismemberment; Vo's family could keep no family albums when they fled Vietnam, and the images here serve as a borrowed history.
Vo's layered approach to objects and meaning is exemplified in 2010's Das Beste oder Nichts. The title derives from the Mercedes-Benz motto, "the best or nothing," and the artwork is the engine of Vo's father's taxi, a Mercedes-Benz 190. It plunks down on the Guggenheim floor, drivetrain extending out like a severed spine from a skull. It conjures many things at once. For a New Yorker, the engine of United Flight 175 as it lay on Murray Street on September 11th, 2001 may come to mind. The engine is utilitarian and menacing, an object that is simultaneously art, junk, and a prized achievement. Like everything in this show, it invites new forms of contemplation.
At first some of Vo's art can read as an affront. (Just check out the vulgar titles he lifted from The Exorcist, a film he saw as a child because his mother was too afraid to watch it alone.) Through the exhibition you'll find pieces of a 6-part artwork derived from an act of creative vandalism. Vo cut a medieval German carving of Saint Joseph that Vo cut to fit the carry-on luggage requirements of EasyJet. On the one hand it seems to offend the happenstance of history that allowed this wooden devotional object to survive for centuries only to be segmented to the arbitrary measurements of a discount airline. But then again, in the context of the Vietnam War, and German history of the past few decades, the repurposing of a statue seems a pale reflection of actual dismemberment.
The chandeliers from the Hôtel Majestic also shone down on the Nazis, who used it as their headquarters during the occupation of France.
1071 Fifth Ave. (89th St.), 212-423-3500, guggenheim.org. Danh Vo: Take My Breath Away is on view through May 9, 2018.
Looking for Free Group Planning Services?
Get free advice on planning your group's trip to New York.
RESTAURANTS

Serving hearty All-American family fare since 1980....

THEATER

The Imbible sweeps audiences along a 10,000-year journey thr...

SHOPPING

At Build-A-Bear Workshop®, it's the most fun you'll ever mak...

SIGHTSEEING

Manhattan's premier all-glass, European-inspired dining crui...