Inside one elegant townhouse on the Upper East Side, celebrity chef David Burke invites you to drink, dine, and relax at David Burke Tavern. This brand-new restaurant, which opened in early October, features a seasonally minded menu of artful cocktails and robust proteins like lobster steak, Wagyu pot roast, and Burke's signature "Clothesline" candied bacon.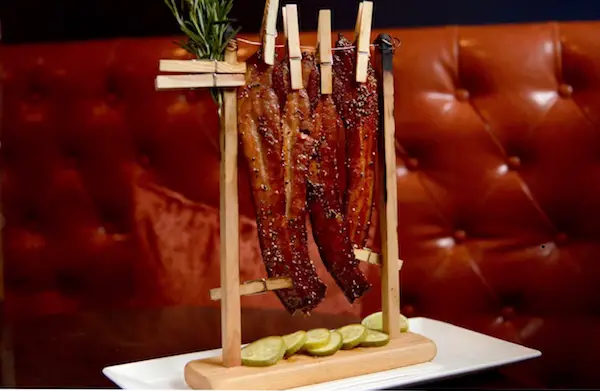 The first floor of David Burke Tavern features the bar, topped with white marble beneath a ceiling of dark wood paneling. Along the wall is a cozy banquet where you can enjoy a glass of wine, beer, or a cocktail. The current wine list shows a strong preference for Californian and French labels, whether you're hankering for a Cabernet from Bordeaux or a Californian Chardonnay. 


Upstairs is the dining room, where Burke's playful presentations and proteins steal the show. Start with the Clothesline Bacon (above) and Angry Lobster Dumplings with spicy tomato sauce, lemon confit, and basil. 
Take a cue from the Humpty Dumpty statuettes around the restaurant, and order the caesar salad with a soft egg to top it off. (Famously, eggs are one of Burke's best-utilized ingredients.)
Another favorite Burke ingredient, Himalayan pink salt, adds flavor to both the food and the decor. Steaks like the 40-day dry-aged porterhouse are aged with Himalayan salt bricks. The Himalayan Salt Room, available for private events, features the same signature pale-pink salt bricks along the wall. The Daily Market Menu will have you coming back every day of the week. 
Pescetarians can look forward to flaky roasted branzino, topped with crispy artichokes, artichoke puree, and vinaigrette. For veggie-lovers, there's pumpkin tortellini with sage brown butter, as well as a market plate option if you're eyeing the side dishes. On the current menu, these include asparagus with parmesan and truffle, brussels sprouts, and mushrooms with leeks and spinach.
An exceptional bar food you might find in a Williamsburg hole-in-the-wall, the Hipster Fries come loaded with bacon, shishito peppers, and parmesan. Don't worry—there's a craft beer list at the bar to pair with your fries.
David Burke Tavern serves dinner, Sunday brunch, and food and drink in the bar and adjoining lounge. The greenhouse garden on the second floor is soon to open, and the restaurant also welcomes requests for private events in this lovely townhouse.
Conveniently located on East 62nd Street, the Tavern is a short walk from attractions like Central Park, Bloomingdales, and The Shops at the Plaza.
Chef David Burke has opened a range of dining establishments across the city, including David Burke Kitchen downtown. He has also worked with world-renowned chefs like Daniel Boulud and helmed the River Cafe in Brooklyn. Burke has appeared on the TV program "Top Chef Masters," written cookbooks, and won James Beard awards for his work in the industry.
David Burke Tavern is located at 135 E. 62nd St. Call 212-988-9021 or visit davidburketavern.com for reservations.